As the hot summer left, and the colorful autumn leaves started to fall, the class went on its first class excursion to Shiba Seaside Farm in Yokohama.  The 20 children and two moms, along with Ms. Mimi and Ms. Hoshi, boarded the school bus. Off we went!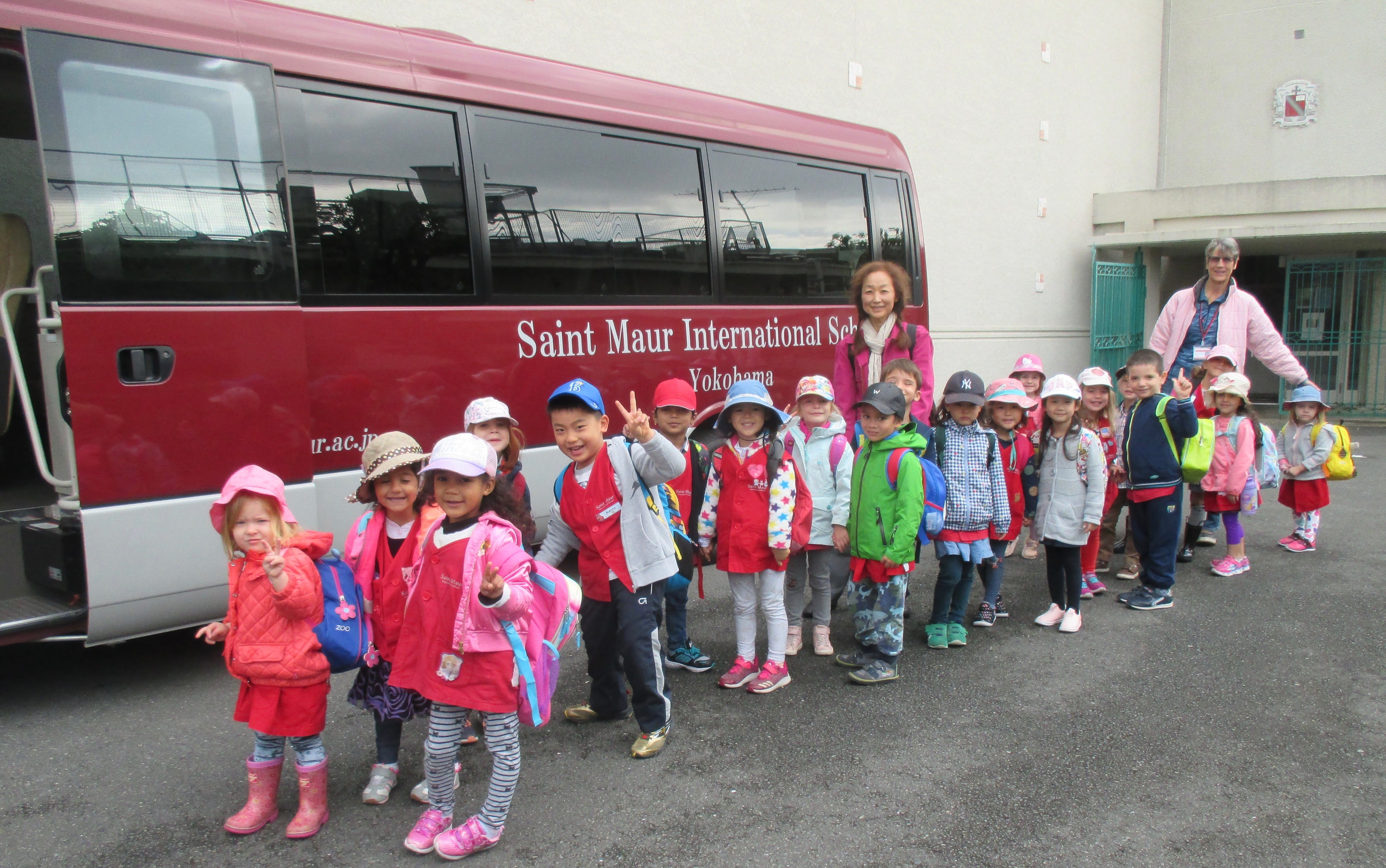 After arriving at the farm, we entered a patch of mikan trees where the children were shown how to pick mikans without using scissors.  The trick was to hold the mikan and… twist, twist, twist until the fruit fell from the branches.   These mikans, rich in Vitamin C, hung low enough for us to pick them.
The first part involved picking the mikans, peeling their skin and enjoying the taste and smell as the class ate near the trees.  Some children loved the sweet juicy mikan so much that they ate three, four, and even more mikans!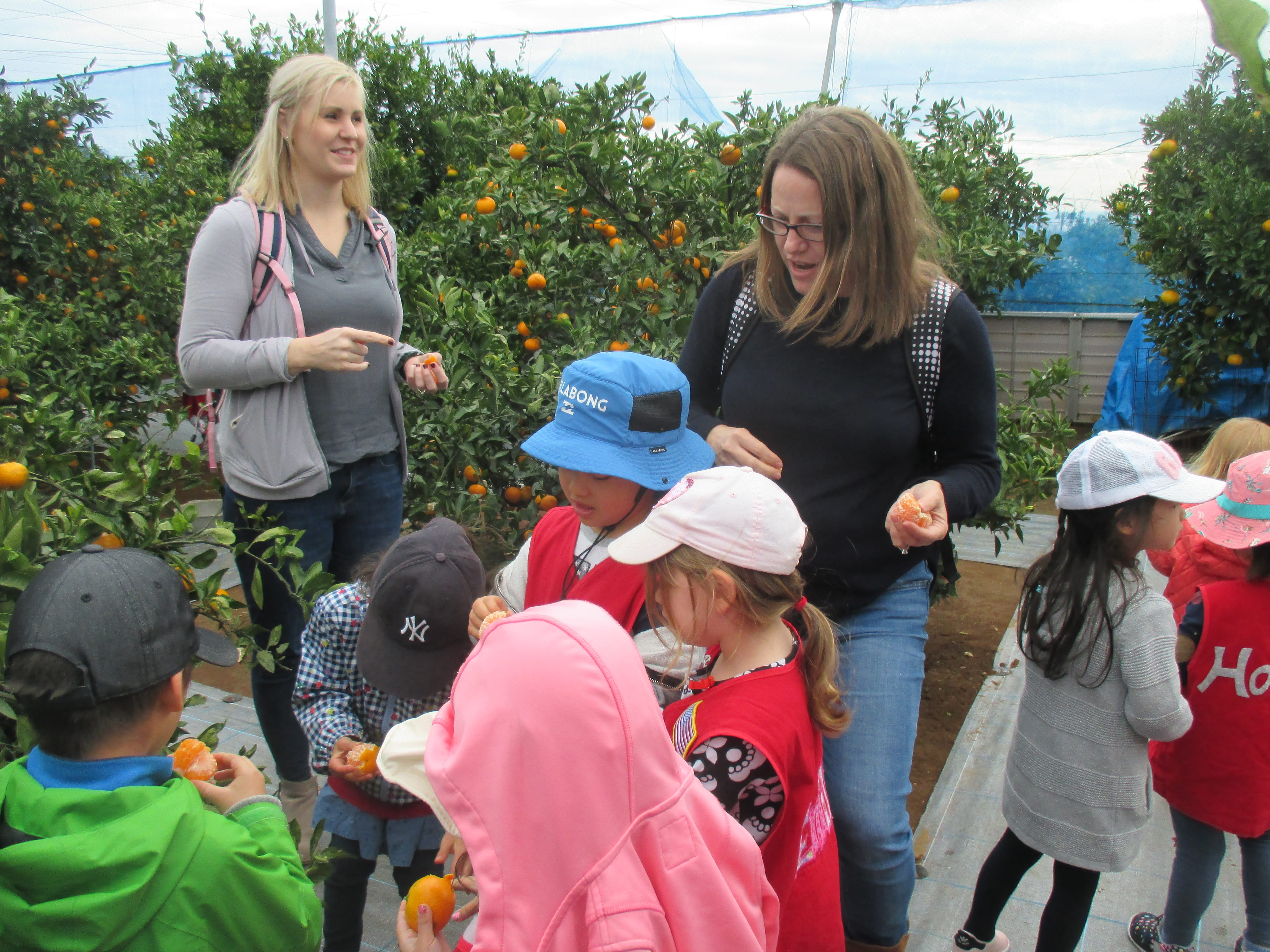 Then it was time for us to pick some more.  We were given a bag and could fill it all the way to the top.  We tried to pick the ripe-looking, orange-colored mikans, not the green ones which had not ripened yet.
"We love mikans, we're still eating!"
Our backpacks on the way back to the school bus were a lot heavier than on the way to the farm.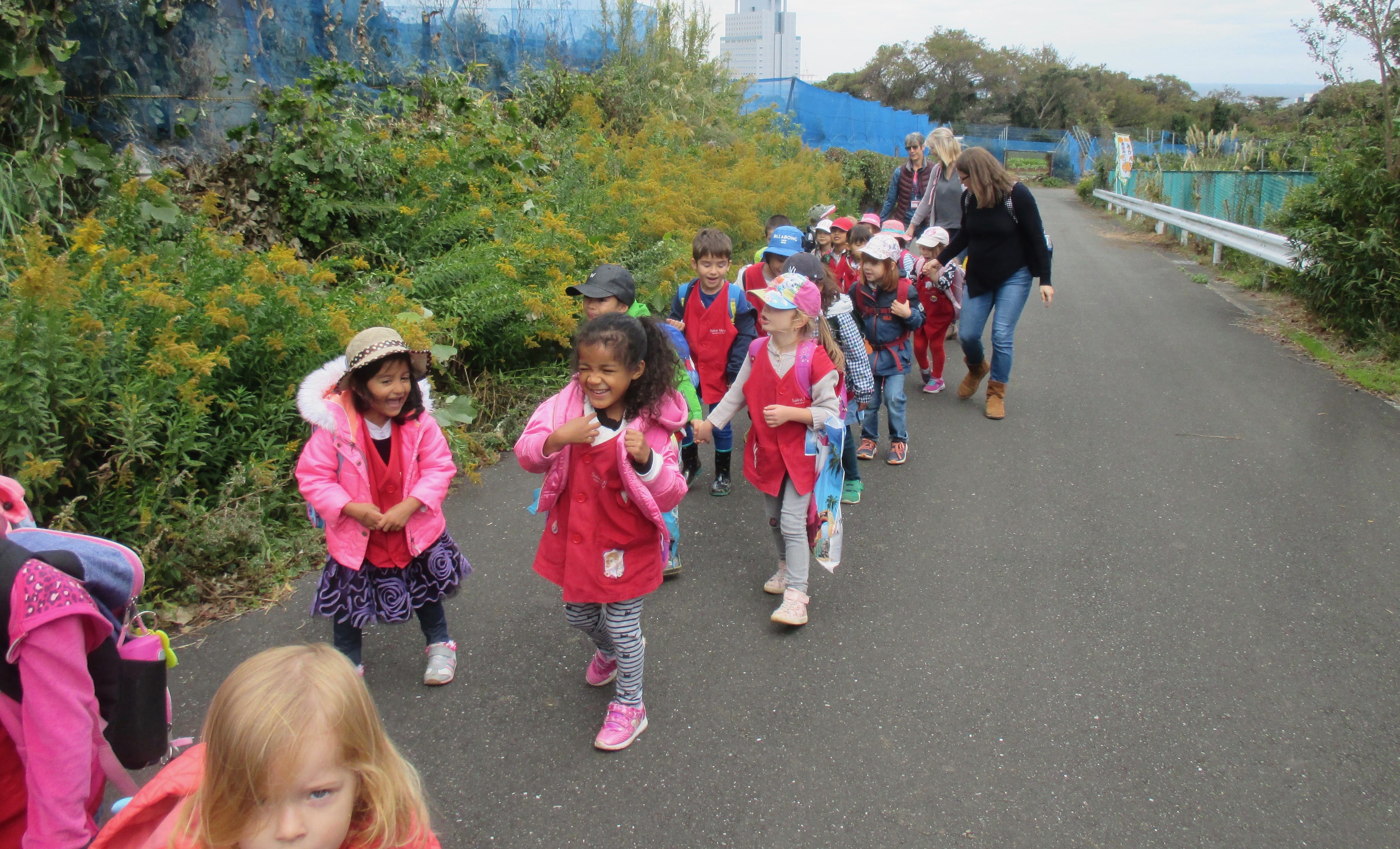 We were getting hungry again.  It was time to have our lunches in the open air.  It was picnic time!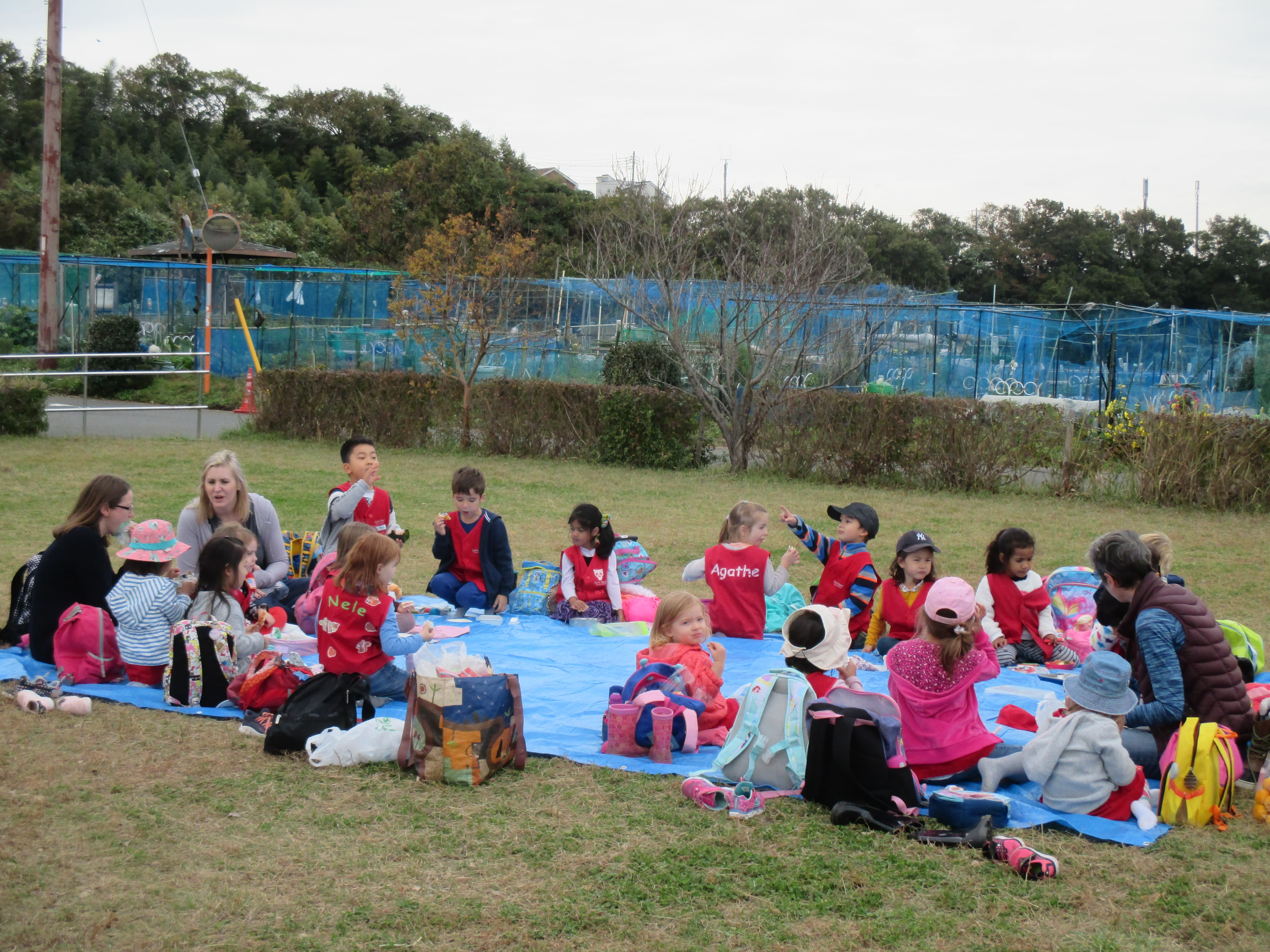 On the way home, some children were fast asleep, lulled by the cadence of the school bus.  Sweet dreams!  Thank you to the two mom-chaperons who helped us all day.  It sure was an exciting excursion.
Elementary sports day:  On November 2nd, the Elementary School had their Sports Day on the field at Futaba Elementary School.  Futaba school is our sister school, and we share the same school badge.  Their campus is located adjacent to ours.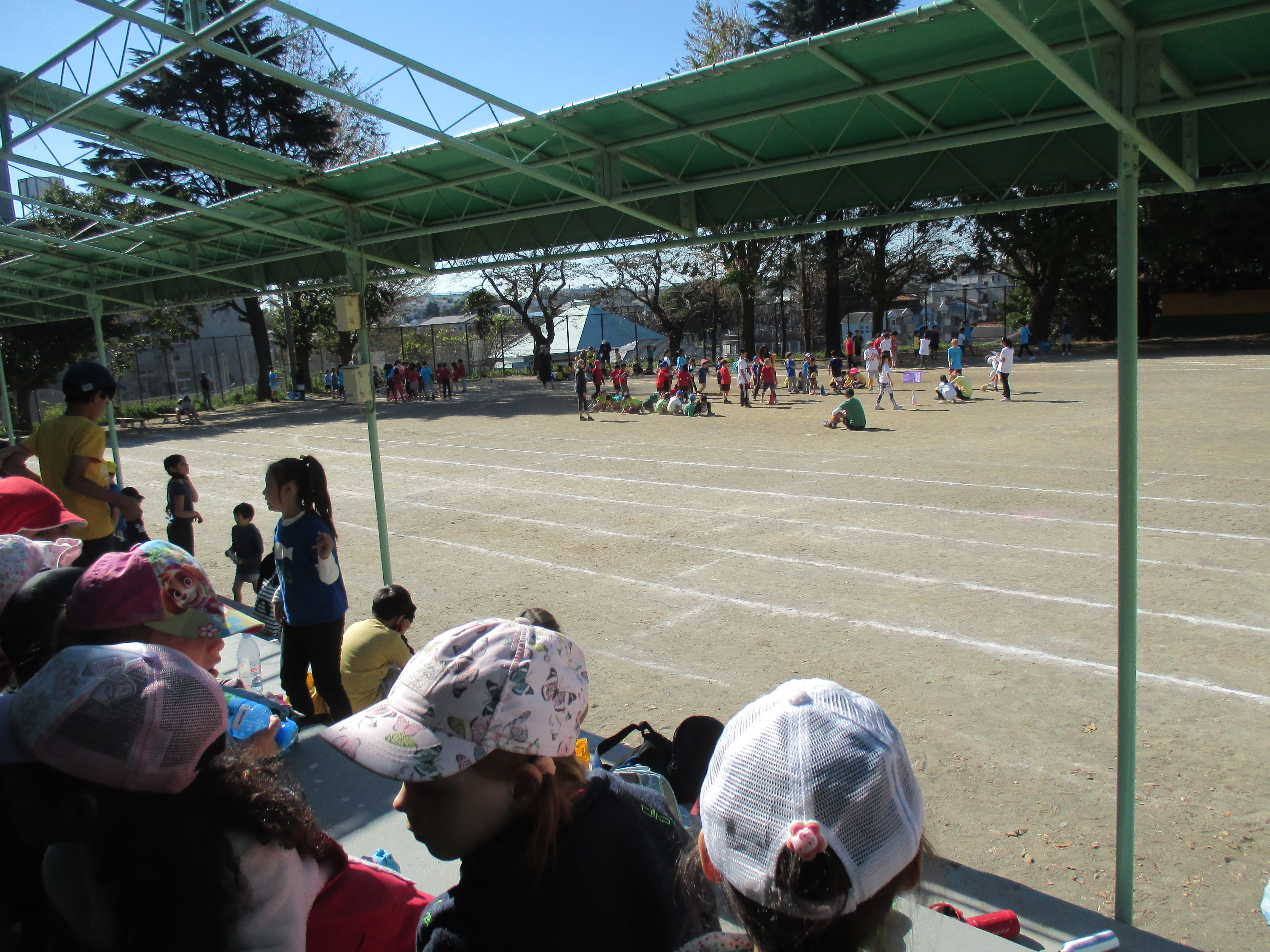 We walked to the field,  watched, and cheered as many of the children have siblings in Elementary School.  They were divided into four different color groups, and they had the color T-shirt of their respective color teams.  Many parents came to cheer them on.