It's that time of the year to celebrate the harvest and to be thankful for all the things we receive from God.  We are thankful that we are healthy and safe, and can come to school every day to be with friends and teachers, to discover and learn about something new. This semester we have been wearing our masks in the classroom. We took pictures wearing masks, put our faces on the puppet fabric, painted the Montessori smocks; and the children made a miniature puppet of themselves.

Painting our smocks red…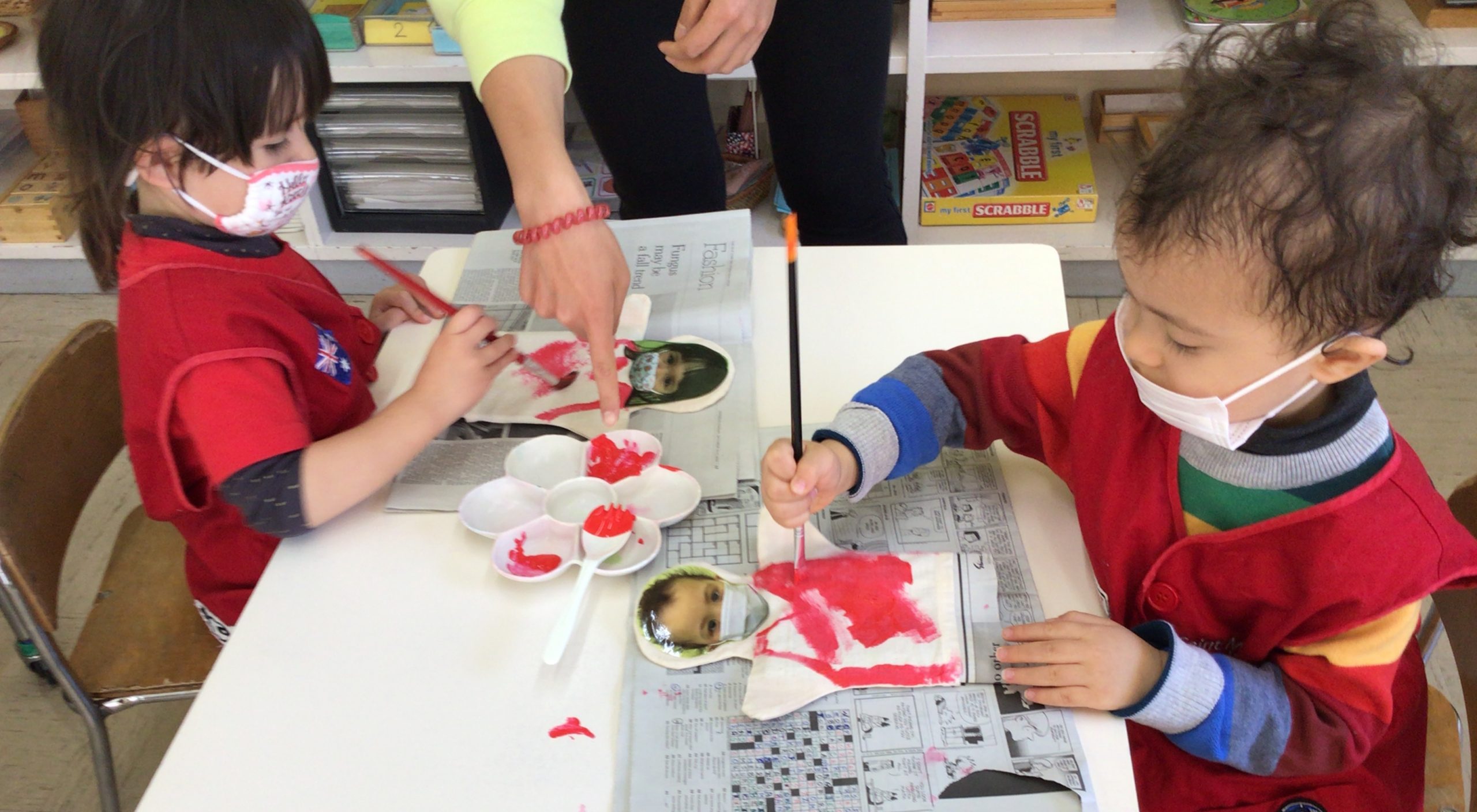 Drawing what's on our smocks…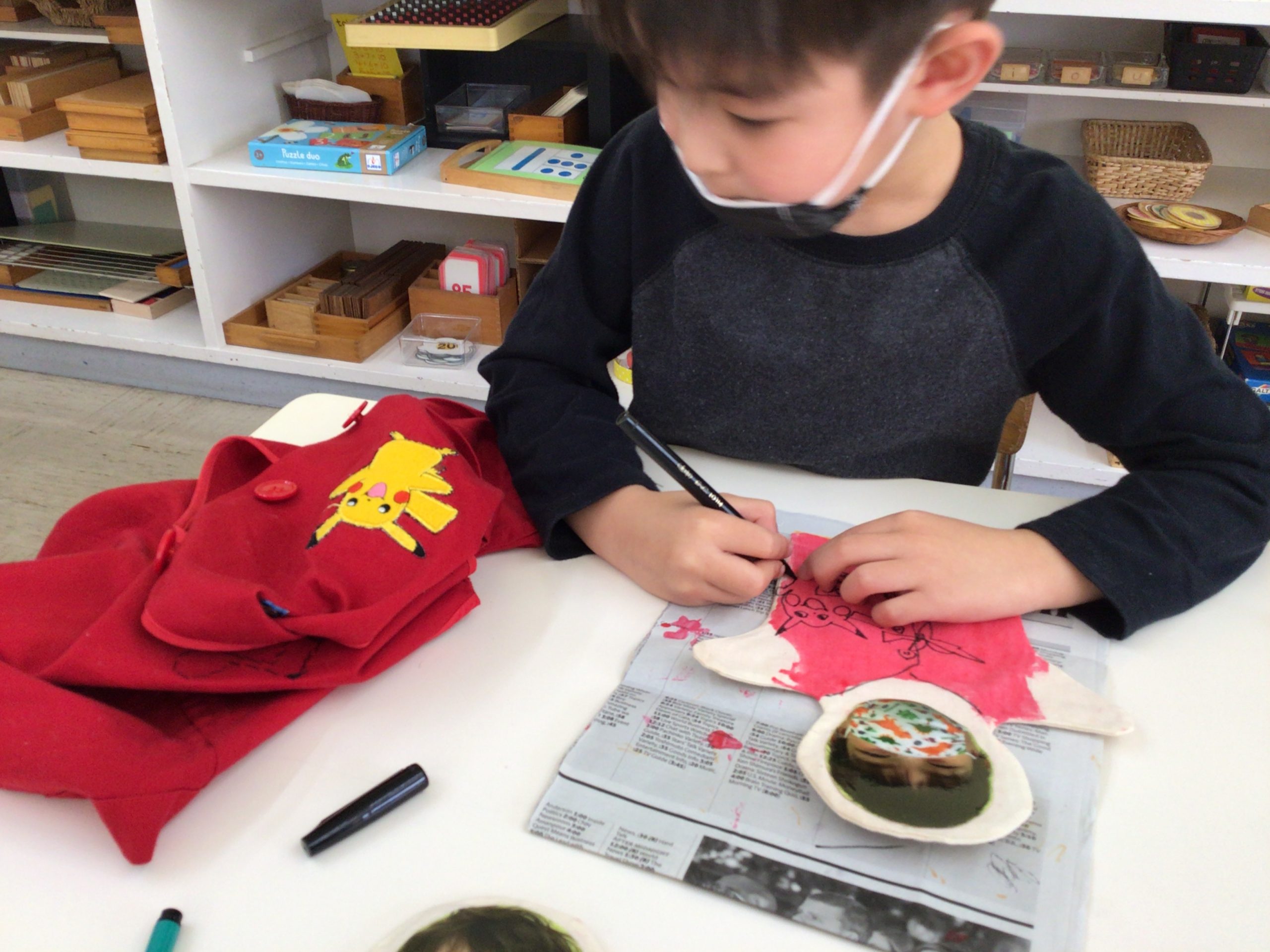 And talking with each other.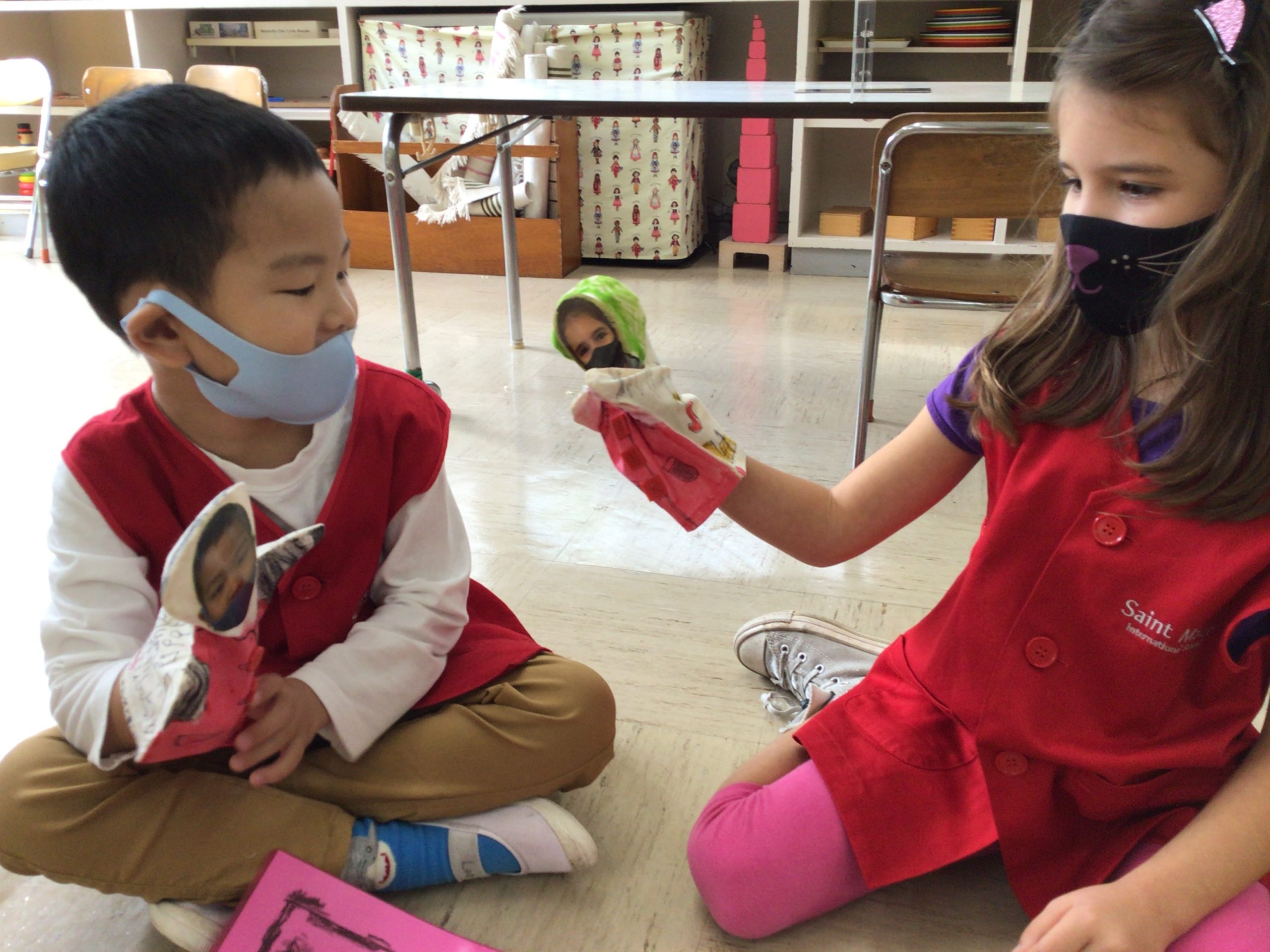 We have three little (real) buttons on our smocks.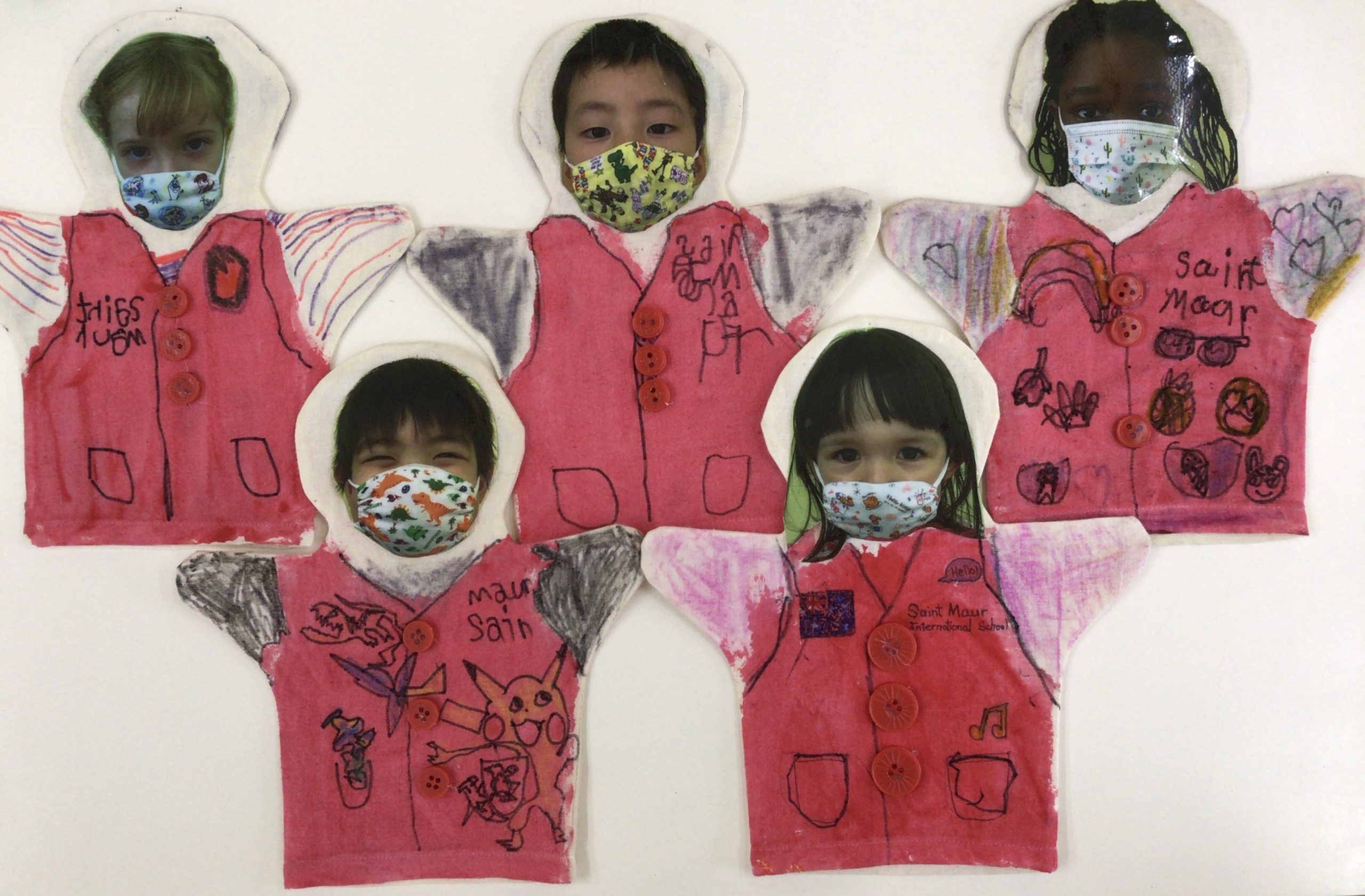 We continue talking about the autumn leaves. Some children picked them up on the way to school.  We are observing the different colors and shapes of the fallen leaves.  In our Montessori Leaf Cabinet, we have drawers of different types of leaves.  Did you know that they all have a name for their shapes?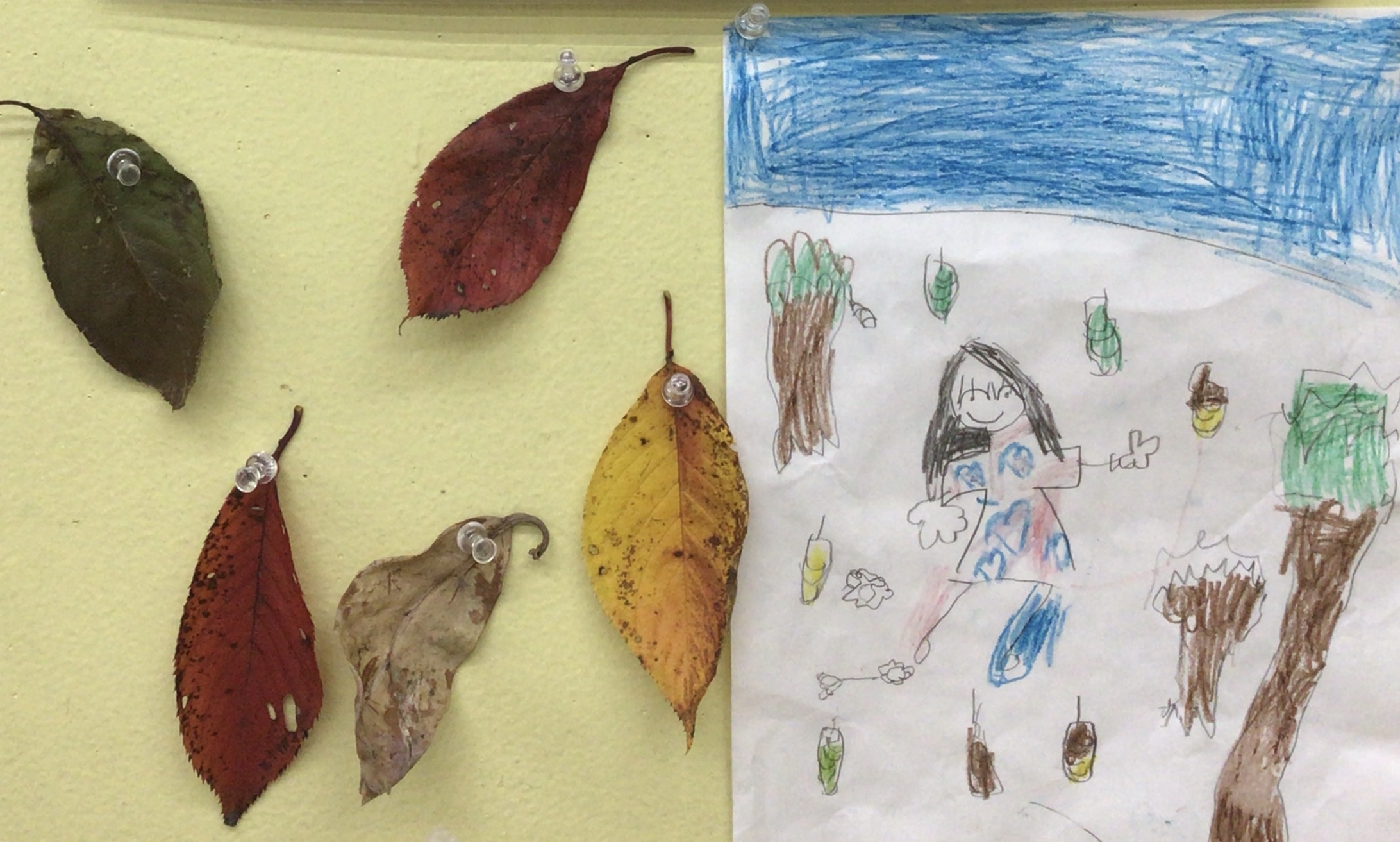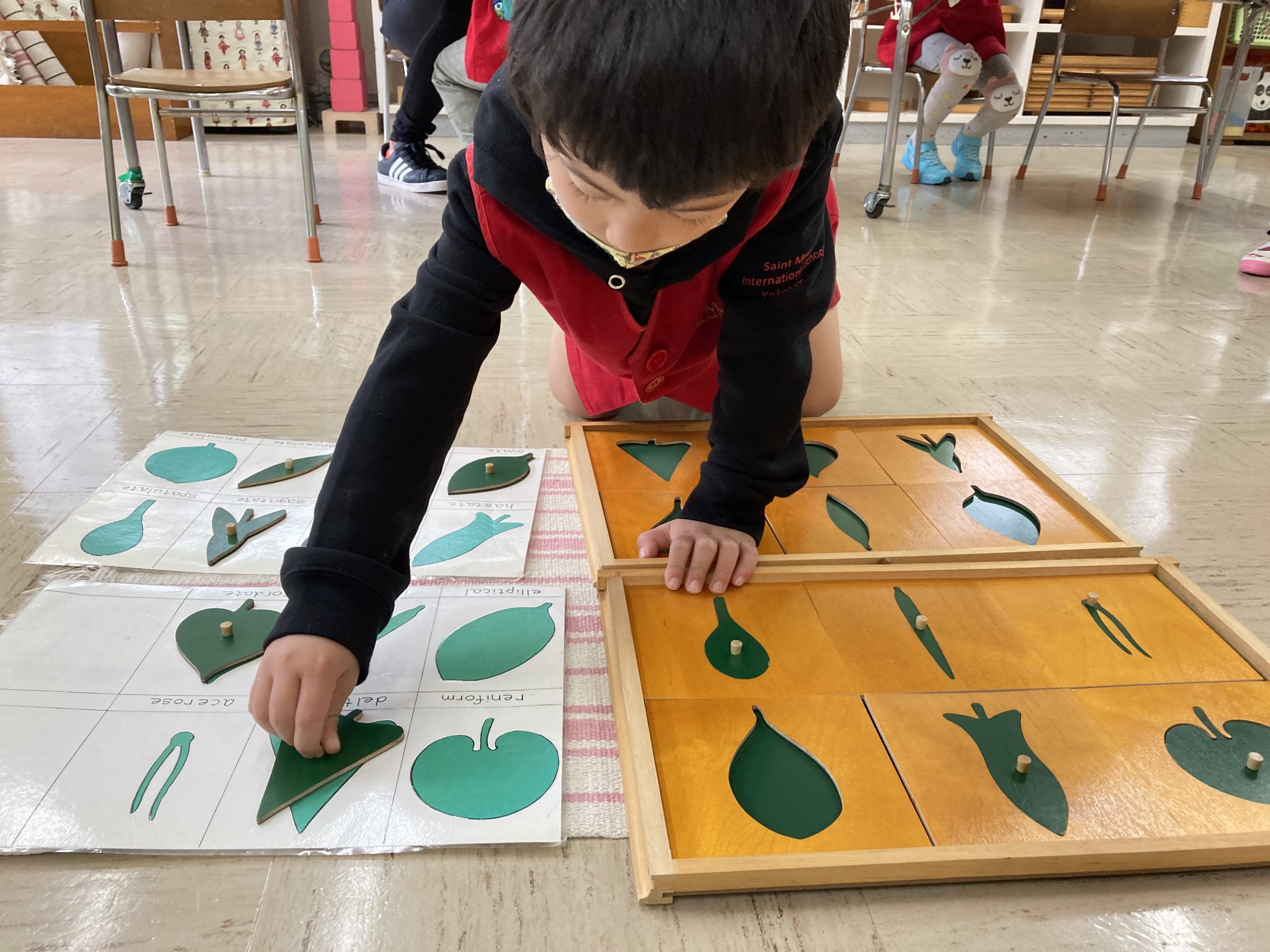 Talking about leaves, something interesting happened during lunch time.  Two children who were eating the school cafeteria lunch that day shouted that they had a "leaf" in their lunch!  A leaf? No way!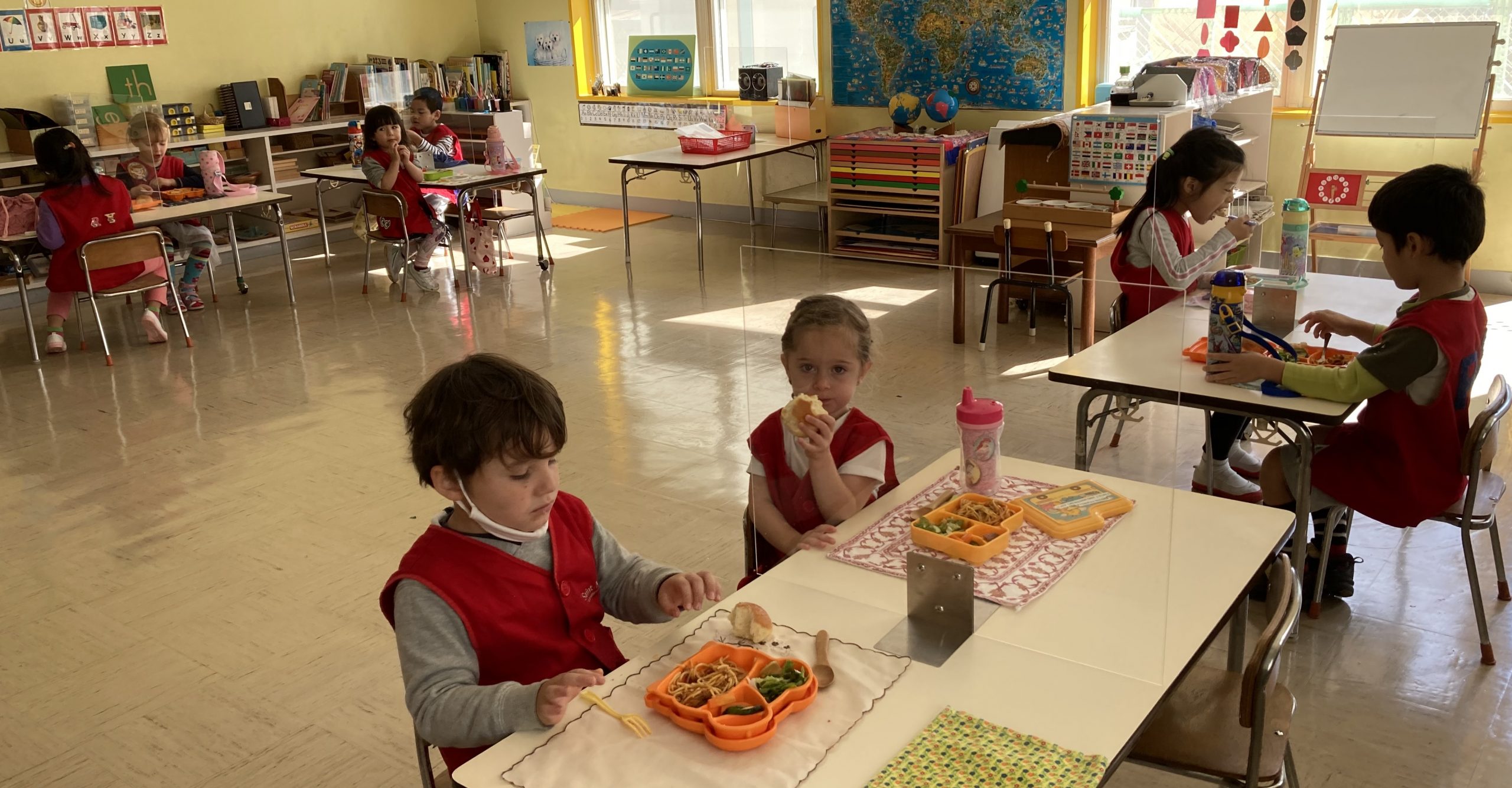 But, yes, it was true.  A little leaf was discovered "in" their spaghetti sauce!  Don't worry, it was a fragrant leaf called a bay leaf from the laurel tree, used as an herb. It helps to make the sauce tastiest, but sorry, you shouldn't eat that leaf!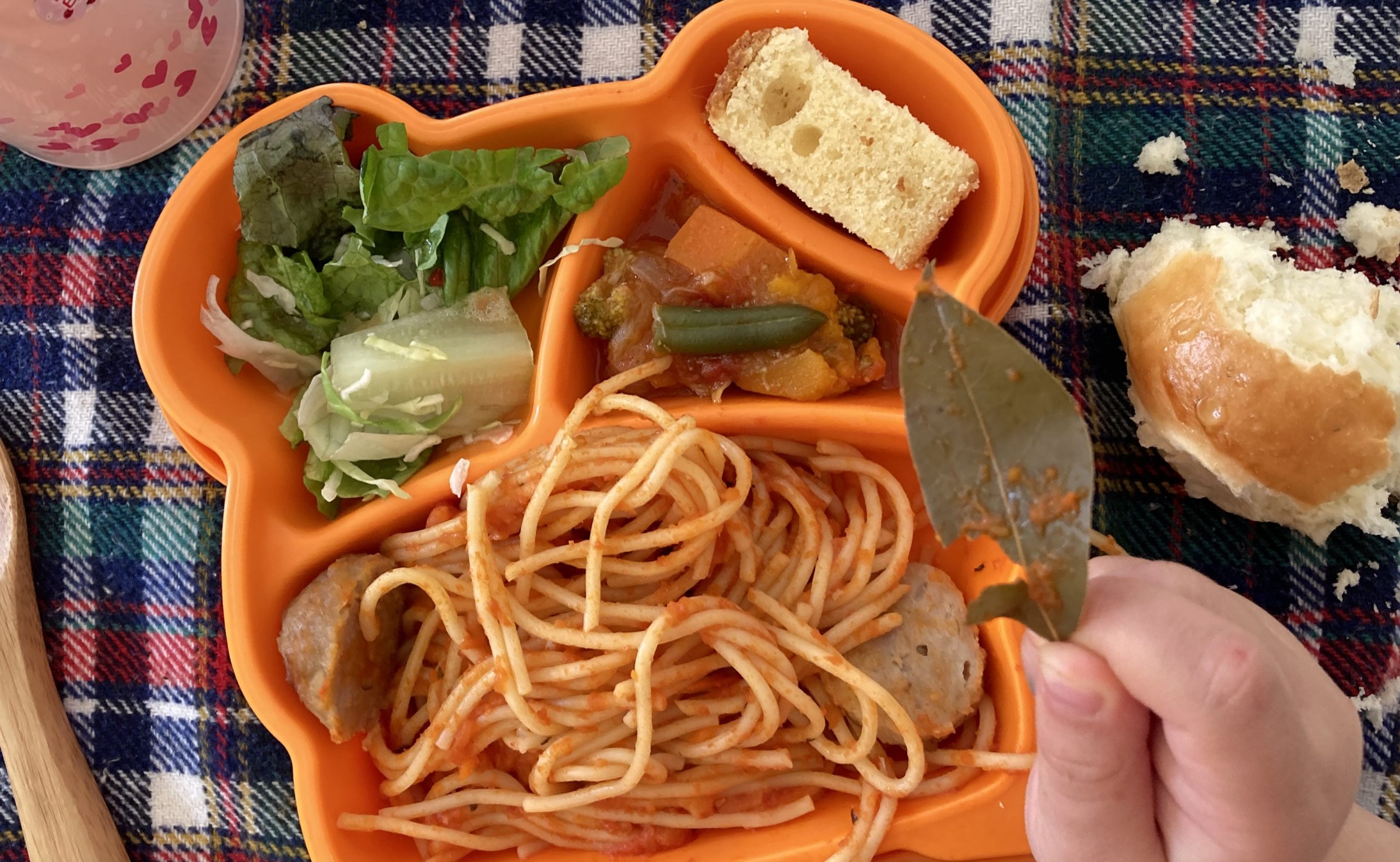 Oh, on another day, something else happened during lunch time.  Our classmate's tooth fell out as she was enjoying her lunch.  Good thing she didn't swallow it!  Can you see her newly lost tooth and the little gap in her row of teeth?  The next day, she told us that when she left her tooth under her pillow, a tooth fairy came to deliver a present… not a coin, but a bill!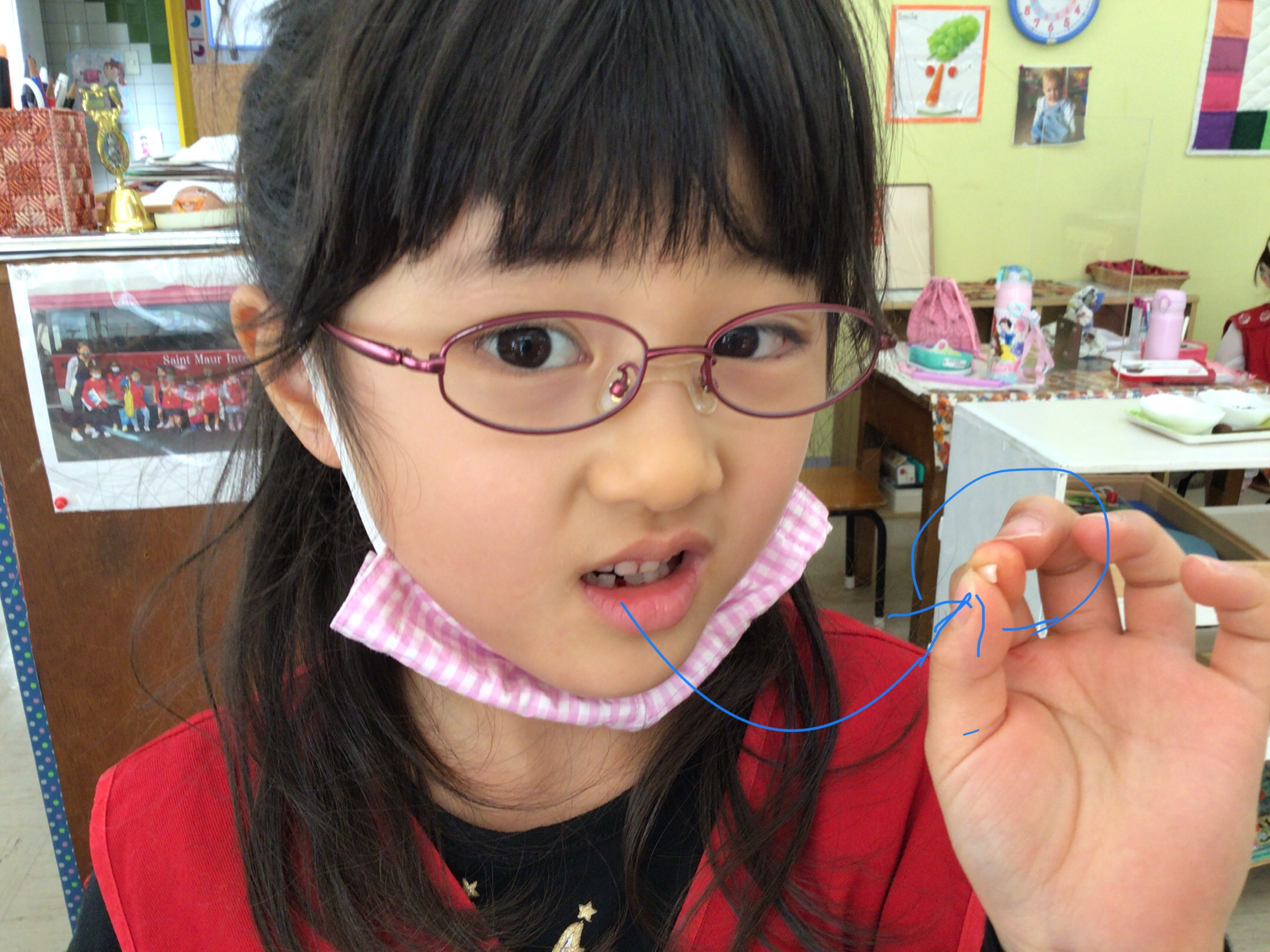 Learning: In our unit on the human skeleton, we are learning that grownups have 206 bones.  Do you know how many bones babies have?  Surprisingly, they have more.  They have 300 soft bones that will eventually fuse together.  We have a life-sized picture of a skeleton to learn the names of the bones.  We named him "Max."  Each of his bones has a scientific name.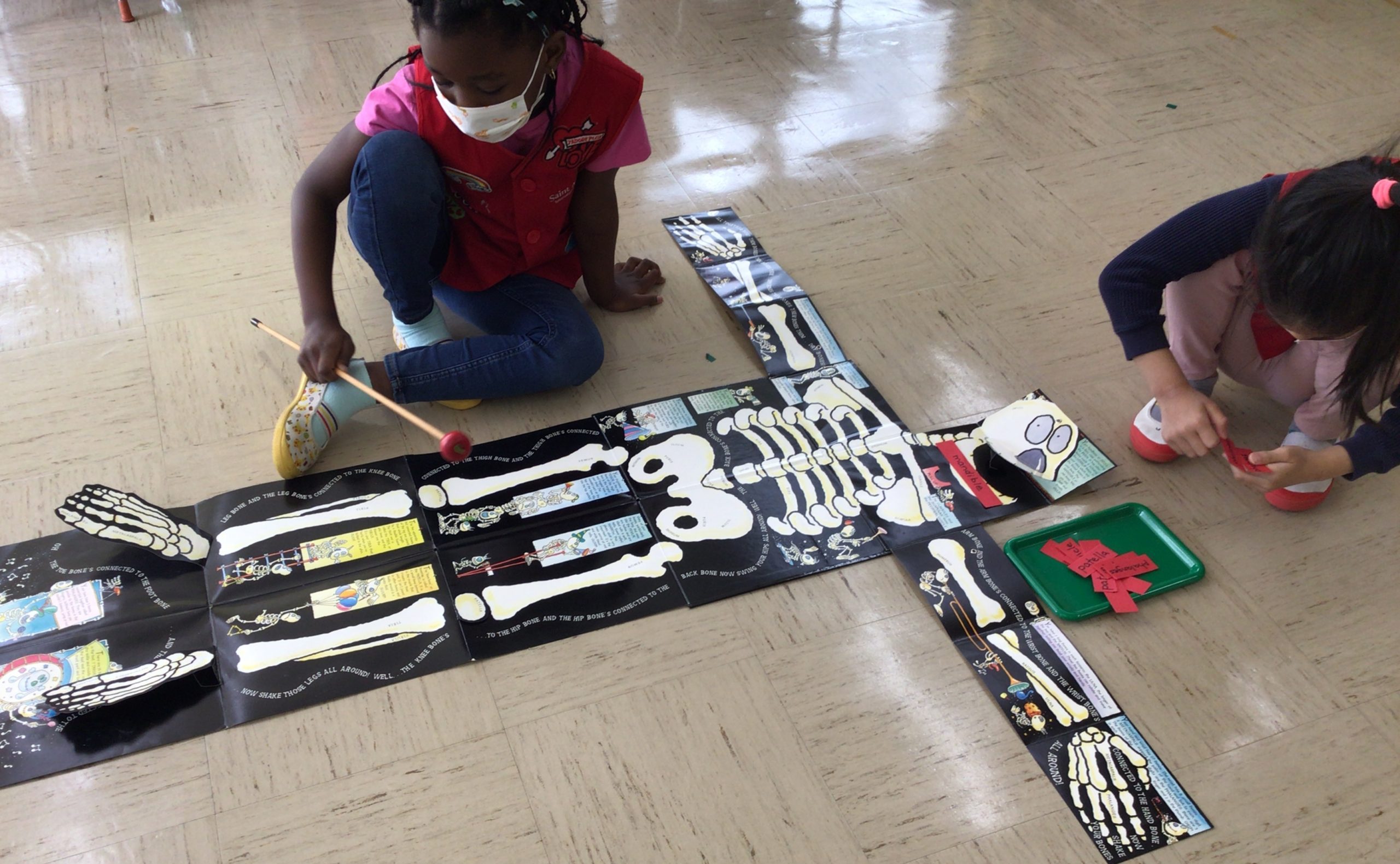 The longest, strongest, and heaviest bone in our bodies is the two thigh bones.  We are learning the scientific name of "femur."  On our knee is the round disk-like bone, a knee bone, called "patella."  We have finger and toe bones called "phalanges"… And the list goes on.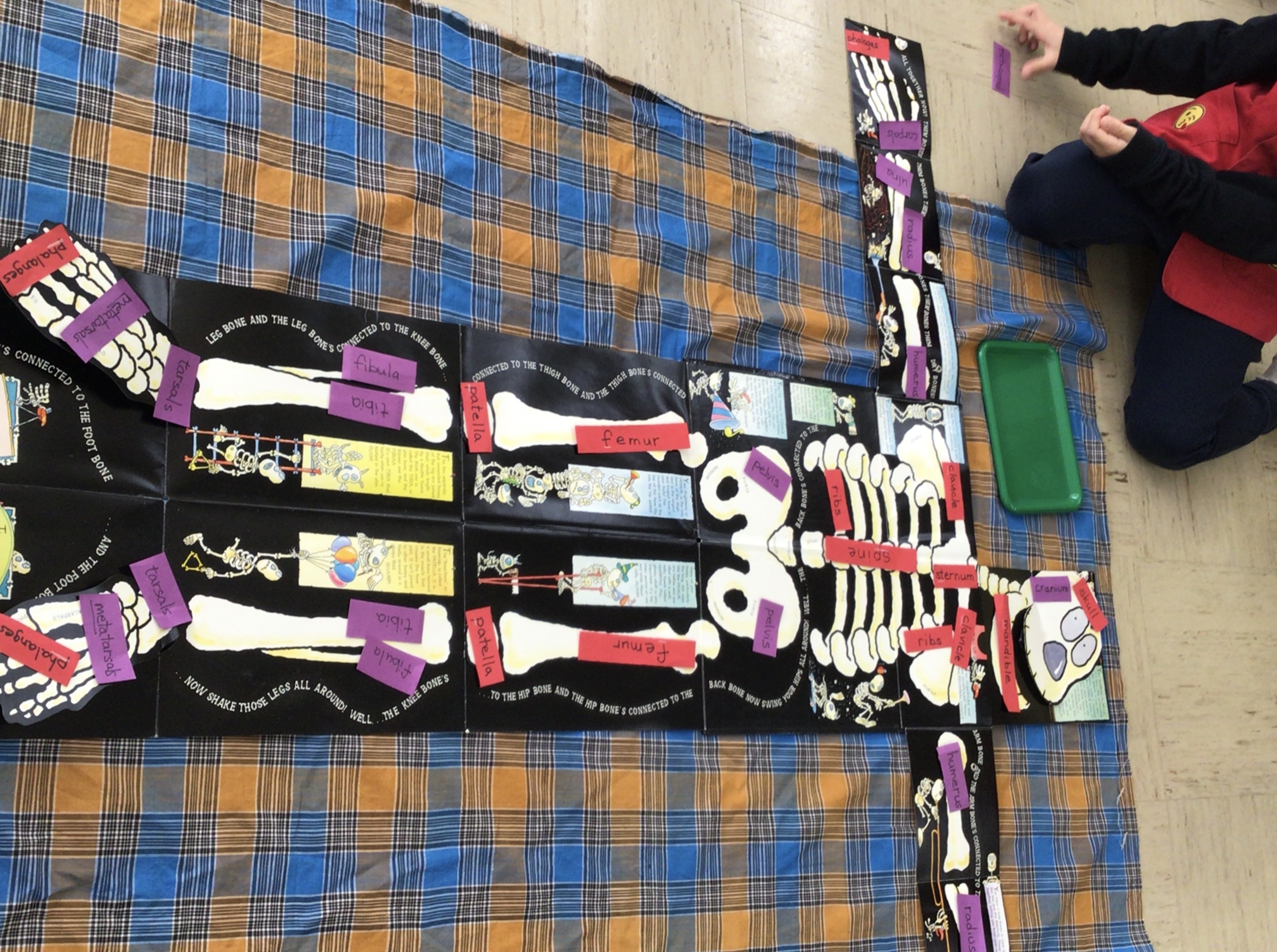 There is a rubbing activity.  It's like magic… When you keep rubbing the paper with a crayon or a pencil, you can see the picture appear as you rub it hard.  There is a hard outlined skeleton picture placed under the paper.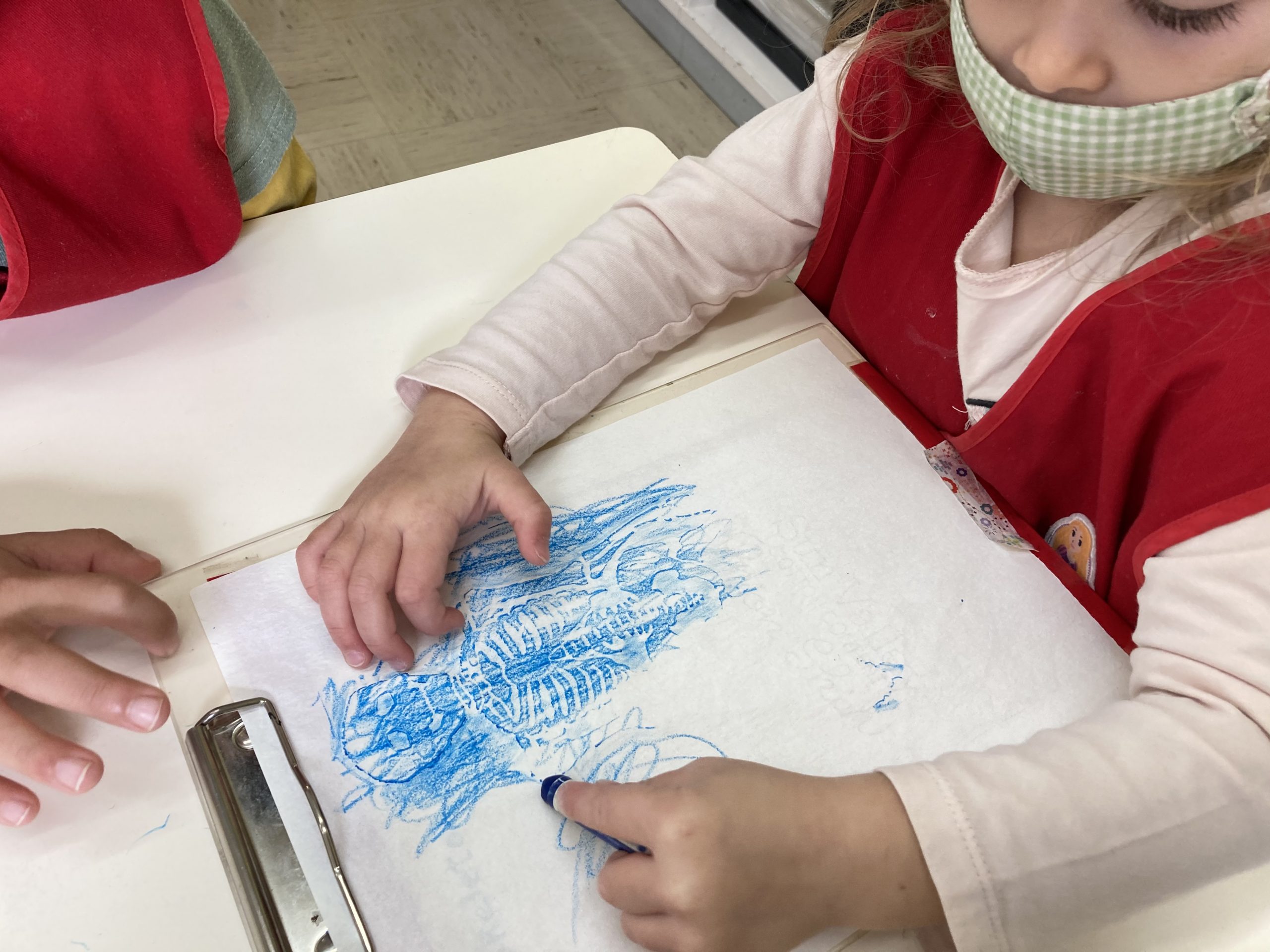 In November, one of our classmates had a birthday and he became the first one to turn six years old in our class. Carrying the planet earth, he walked around the  Sun (a candle) six times.  What does this mean?  Yes, each time the earth rotates around the sun, he turned a year older!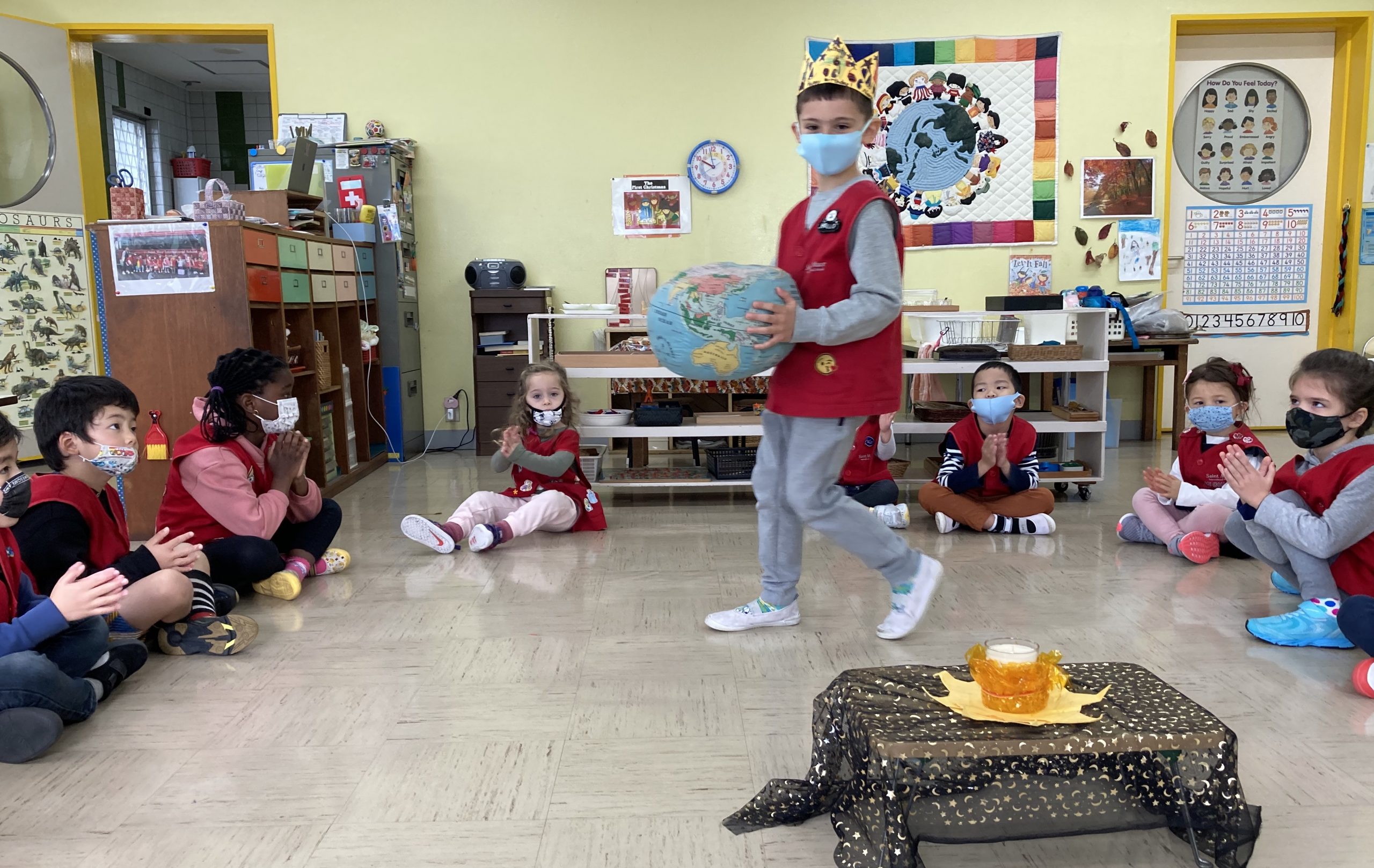 A visitor: From time to time, we have visitors coming into our classroom.  One November afternoon,  a Middle School student, who was actually in Ms. Mimi's Class when she was three years old, visited our class to perform her storytelling entry at a virtual international schools' Speech Contest coming up that week.  It was an amusing story about a gorilla who was itchy and his animal friends tried to help him.  There was a lot of action, and we all enjoyed being the audience.  By the way, it was her first time performing in this Speech Contest, and she ended up with a silver prize. Congratulations!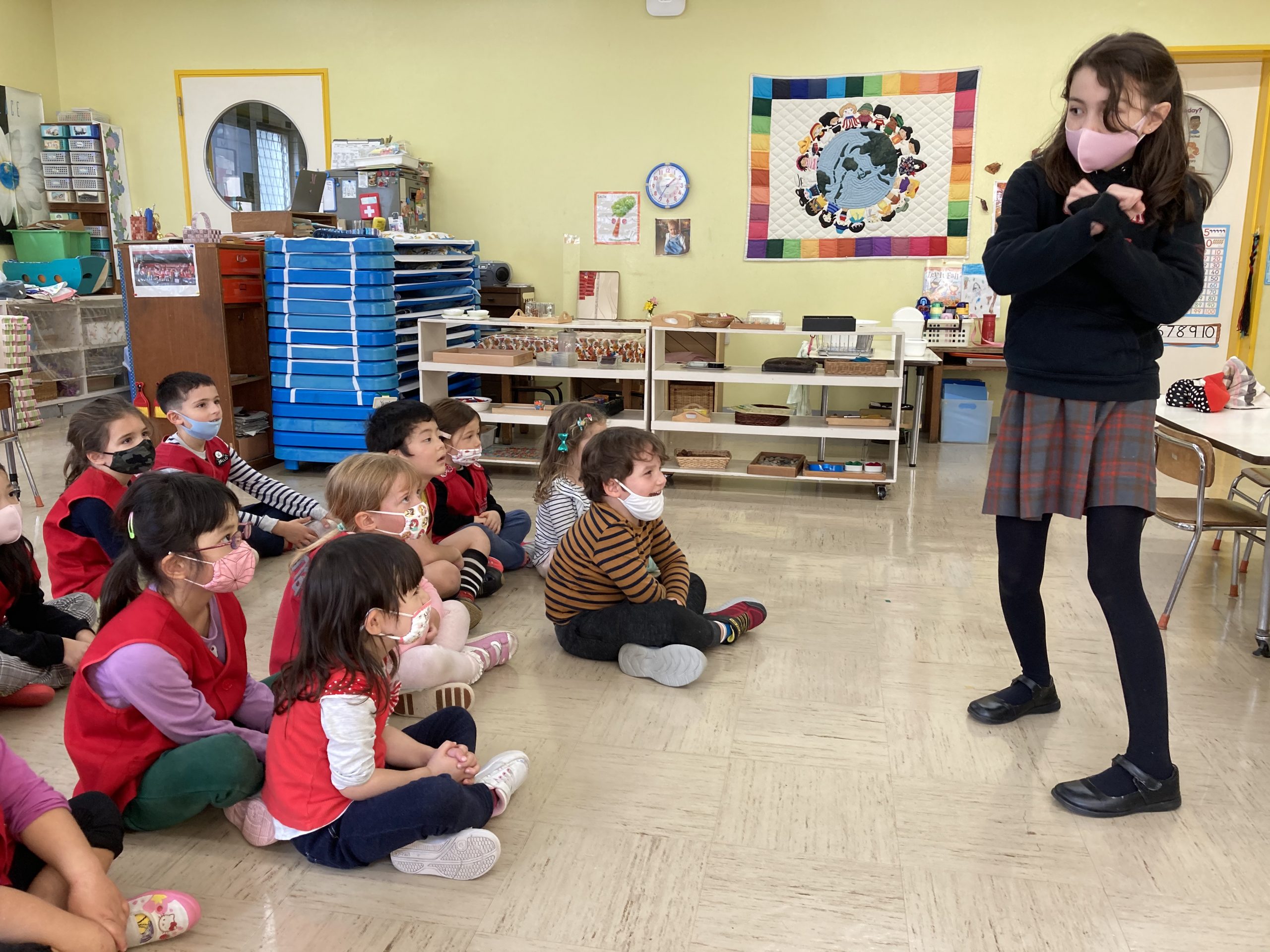 The children take good care of their classroom.  One activity is trimming the plants.
Practical Life activities:  Transferring beans with a pair of tongs.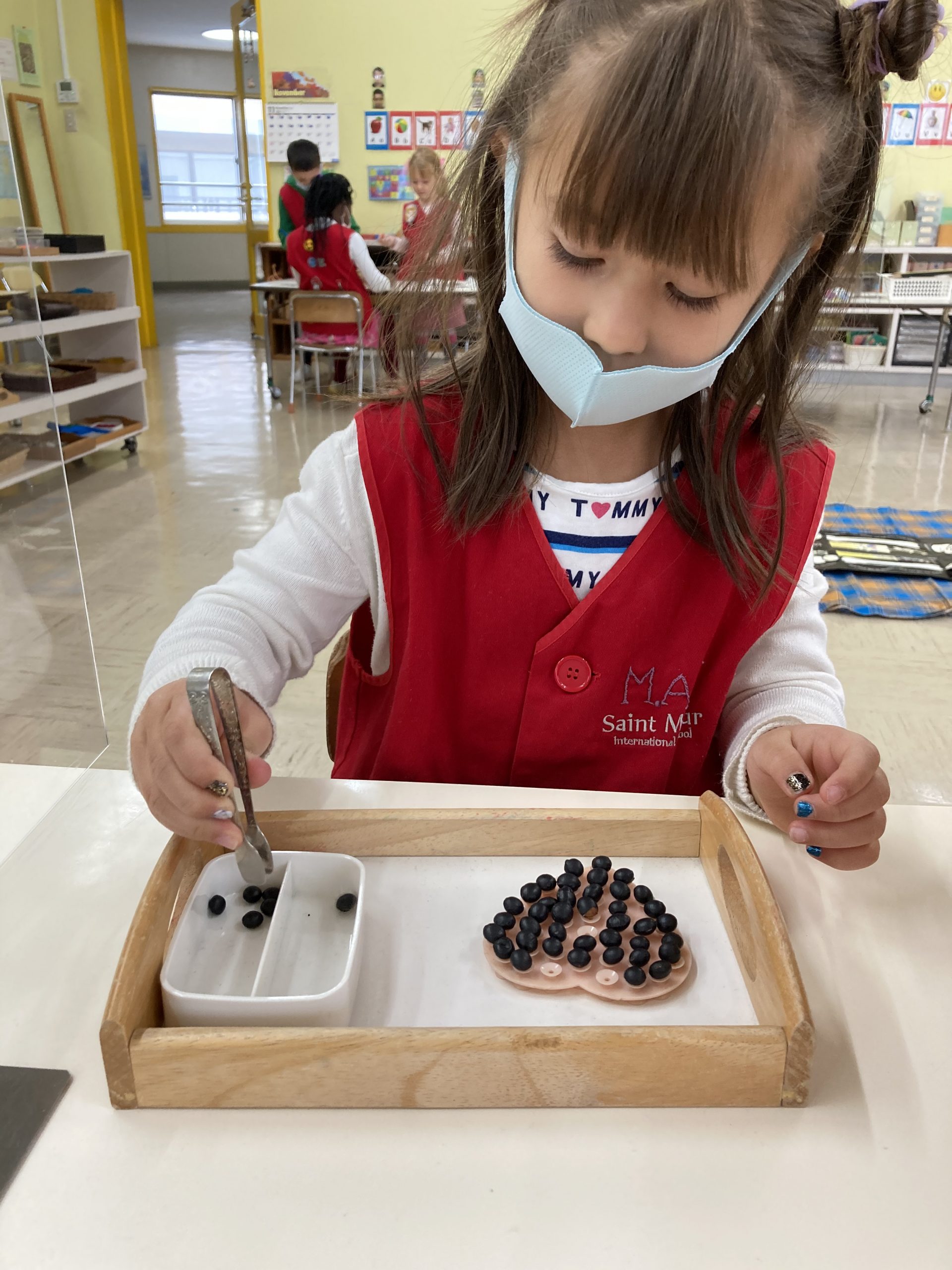 Language activity: Using the Small Moveable Alphabet to write a story.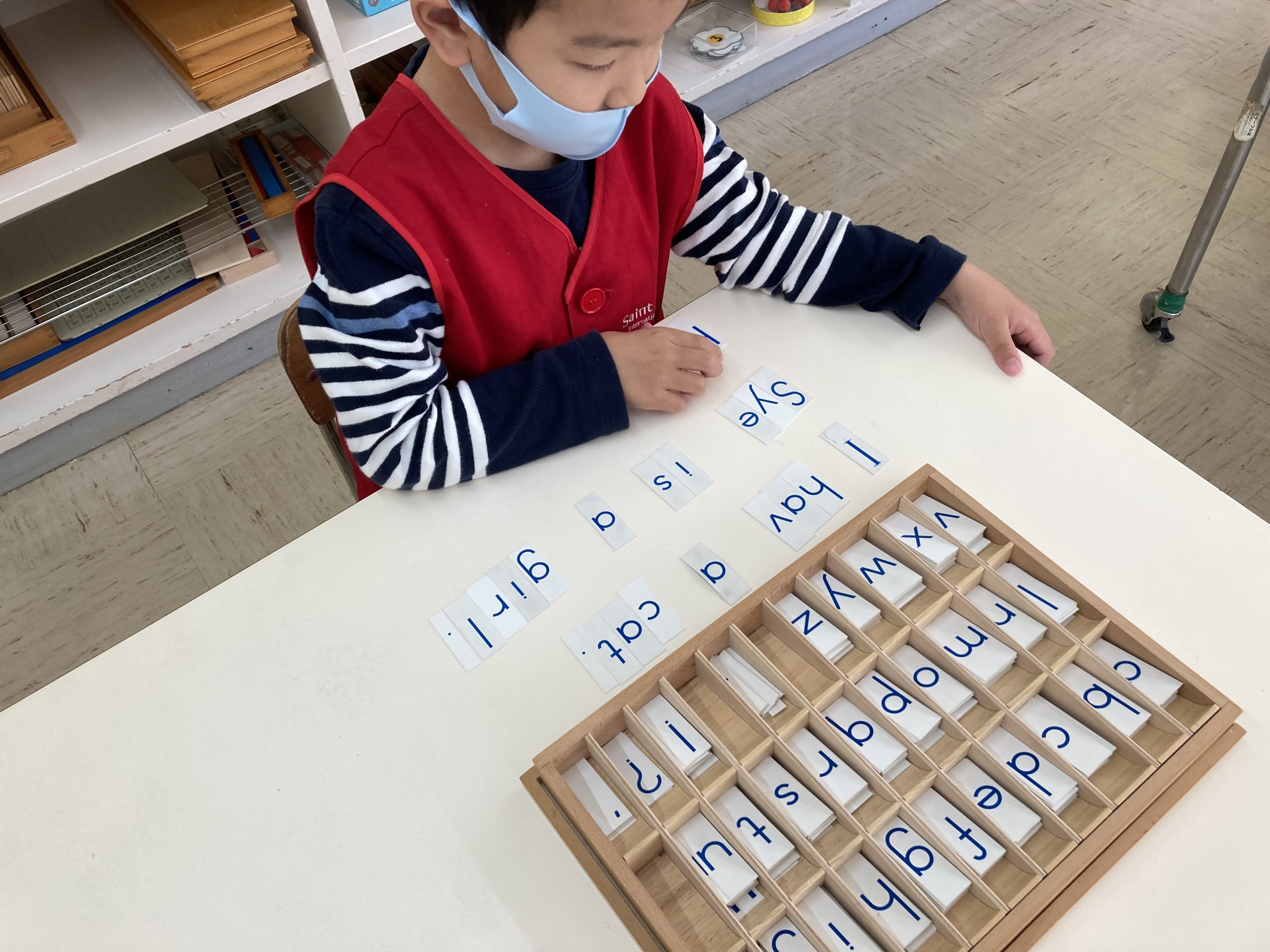 "Can you put a clip on the beginning sound of 'hat'?"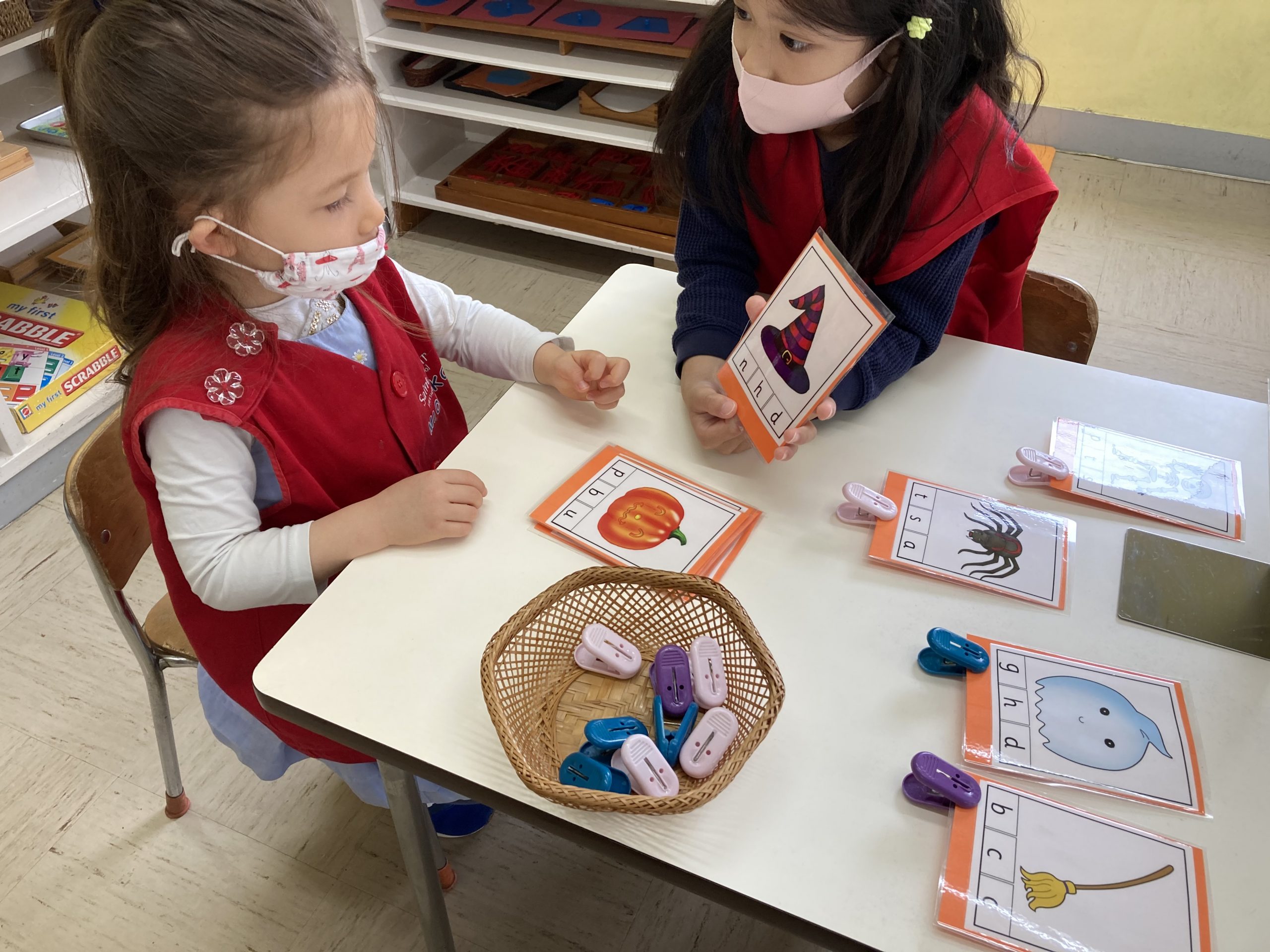 Sharing reading time together in the Library Corner.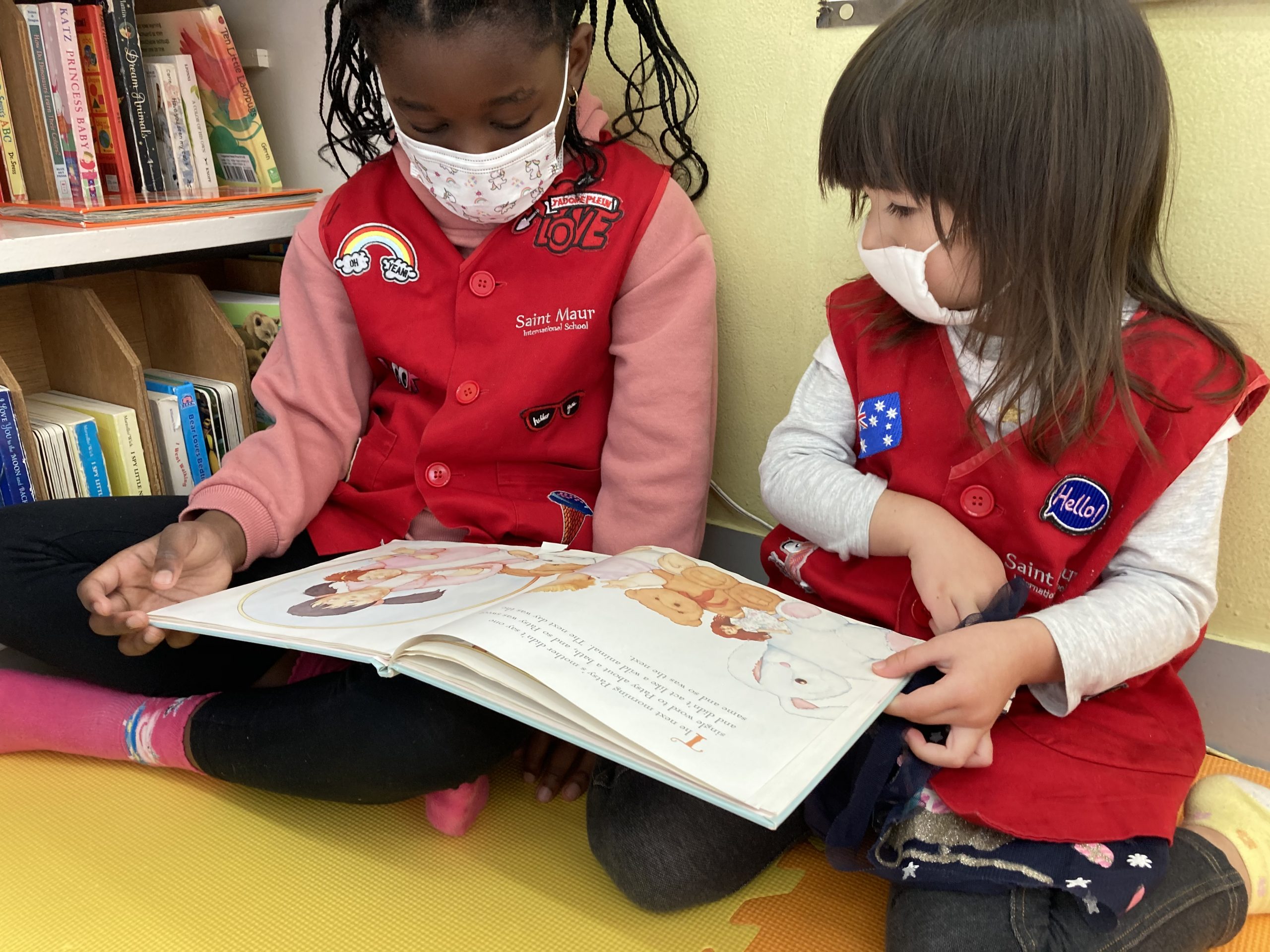 Number work: The Teen Board, matching the quantity and the symbols.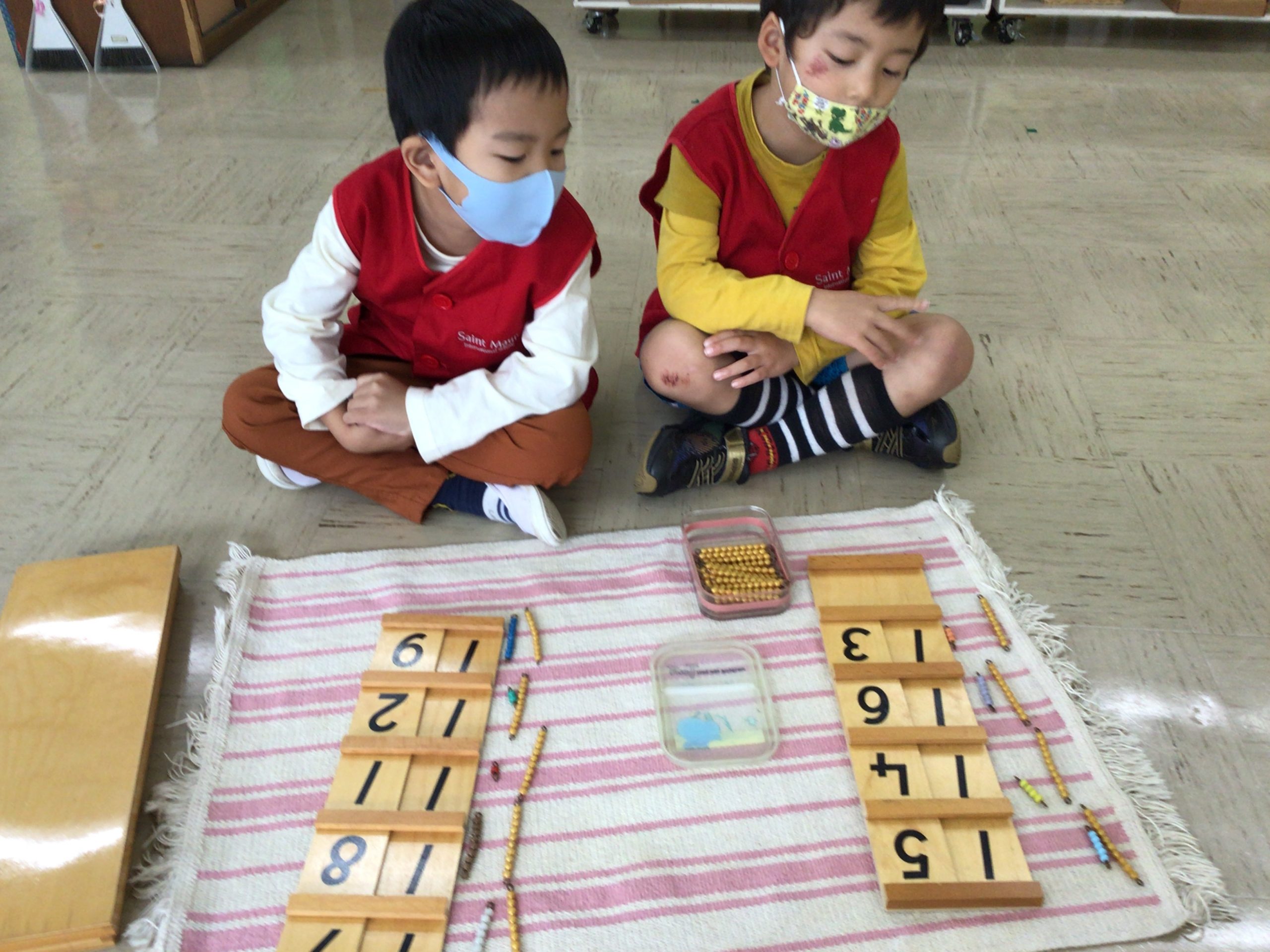 Sorting activity:  Sorting different colors.
Arts and Crafts:  Cutting, pasting, and drawing to make a Thanksgiving turkey puppet.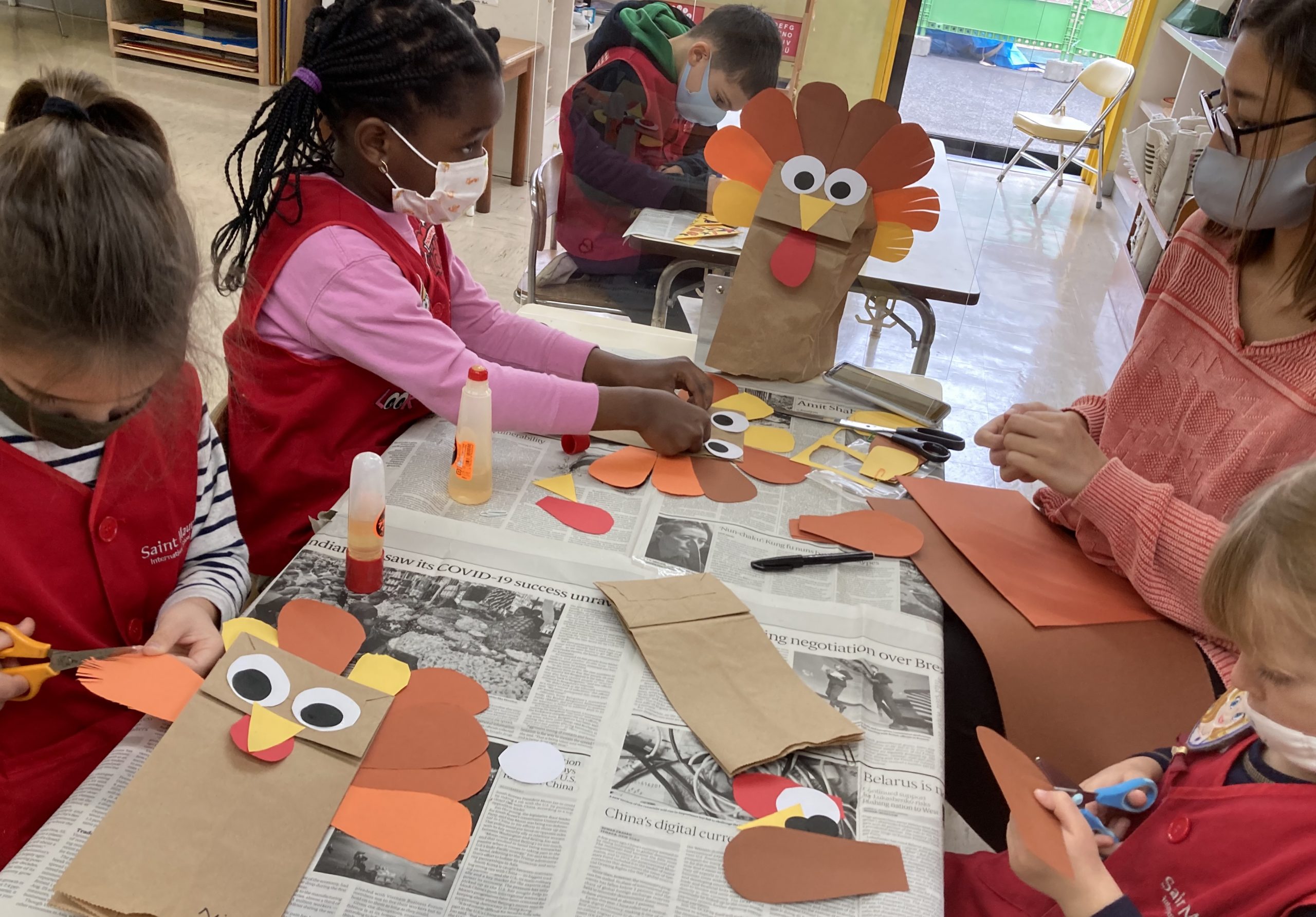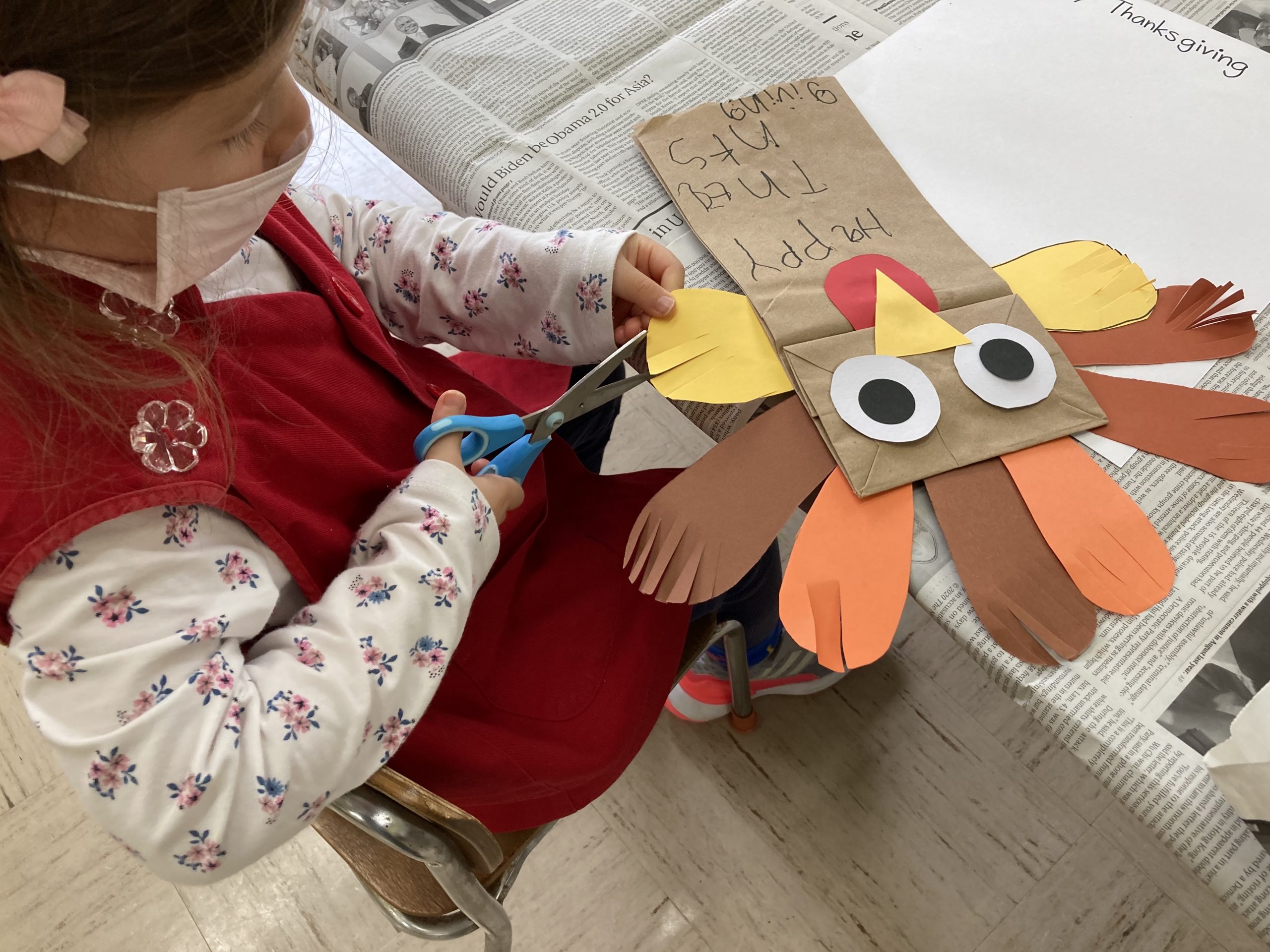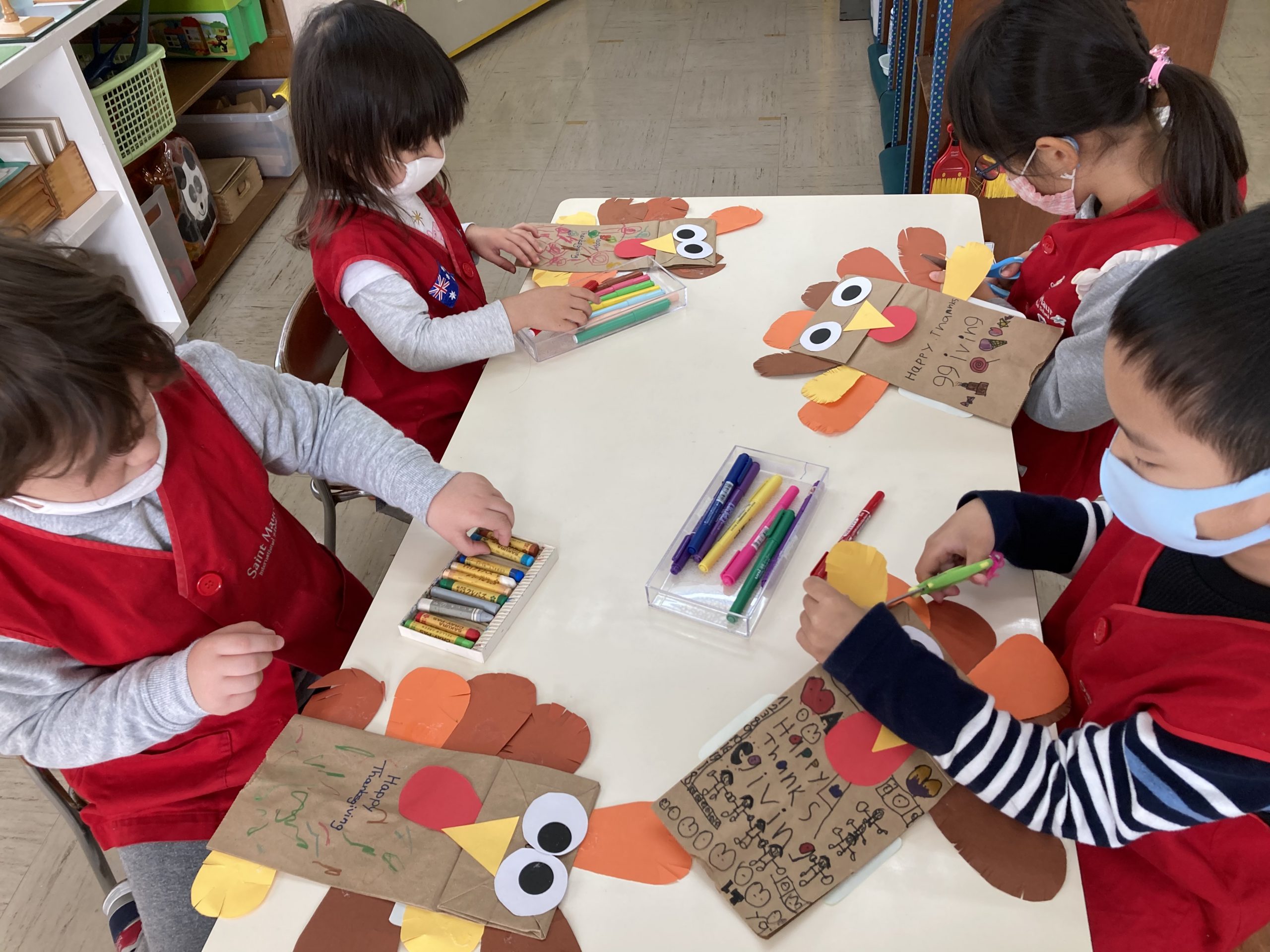 Gobble, gobble… Happy Thanksgiving!