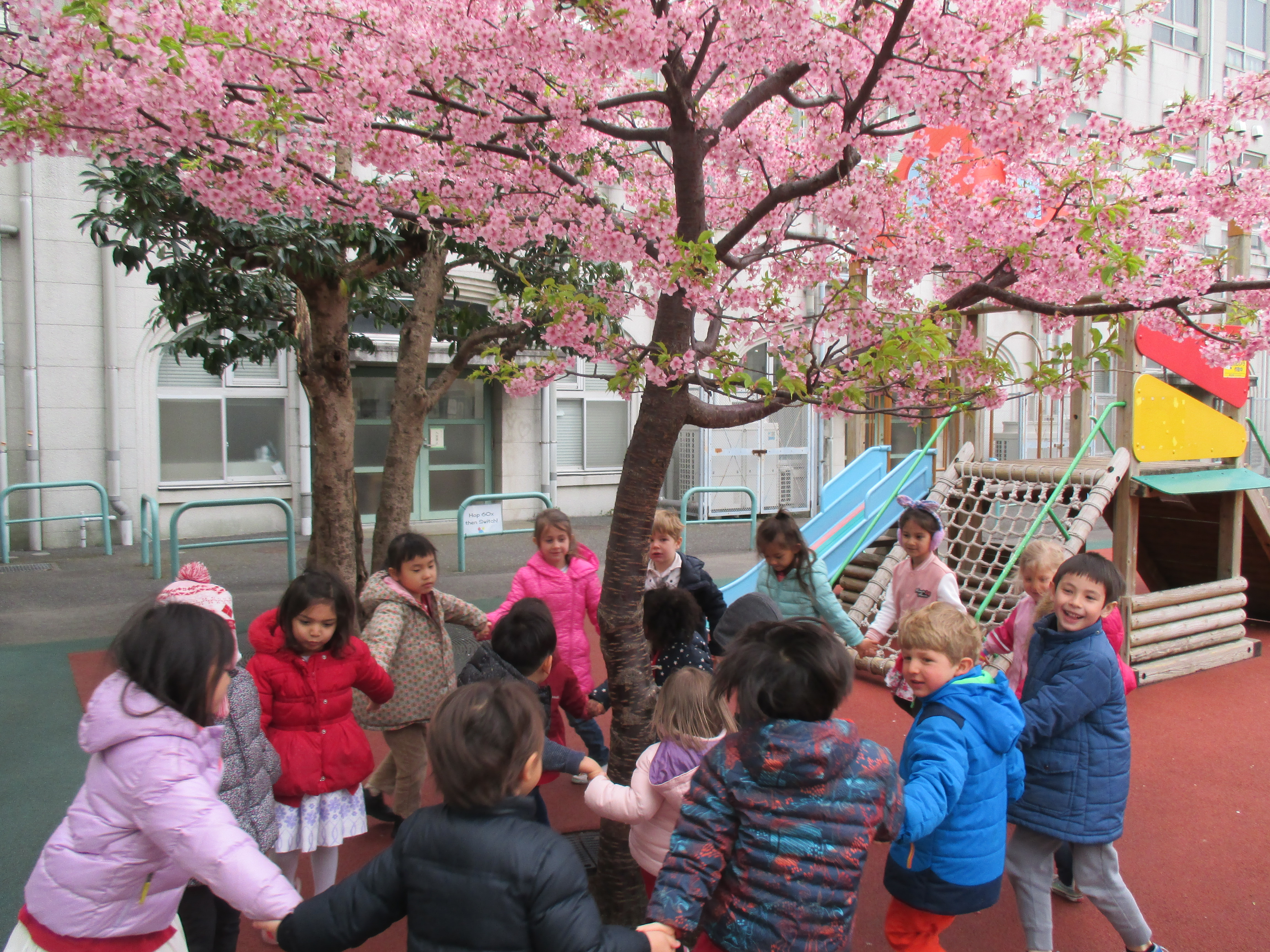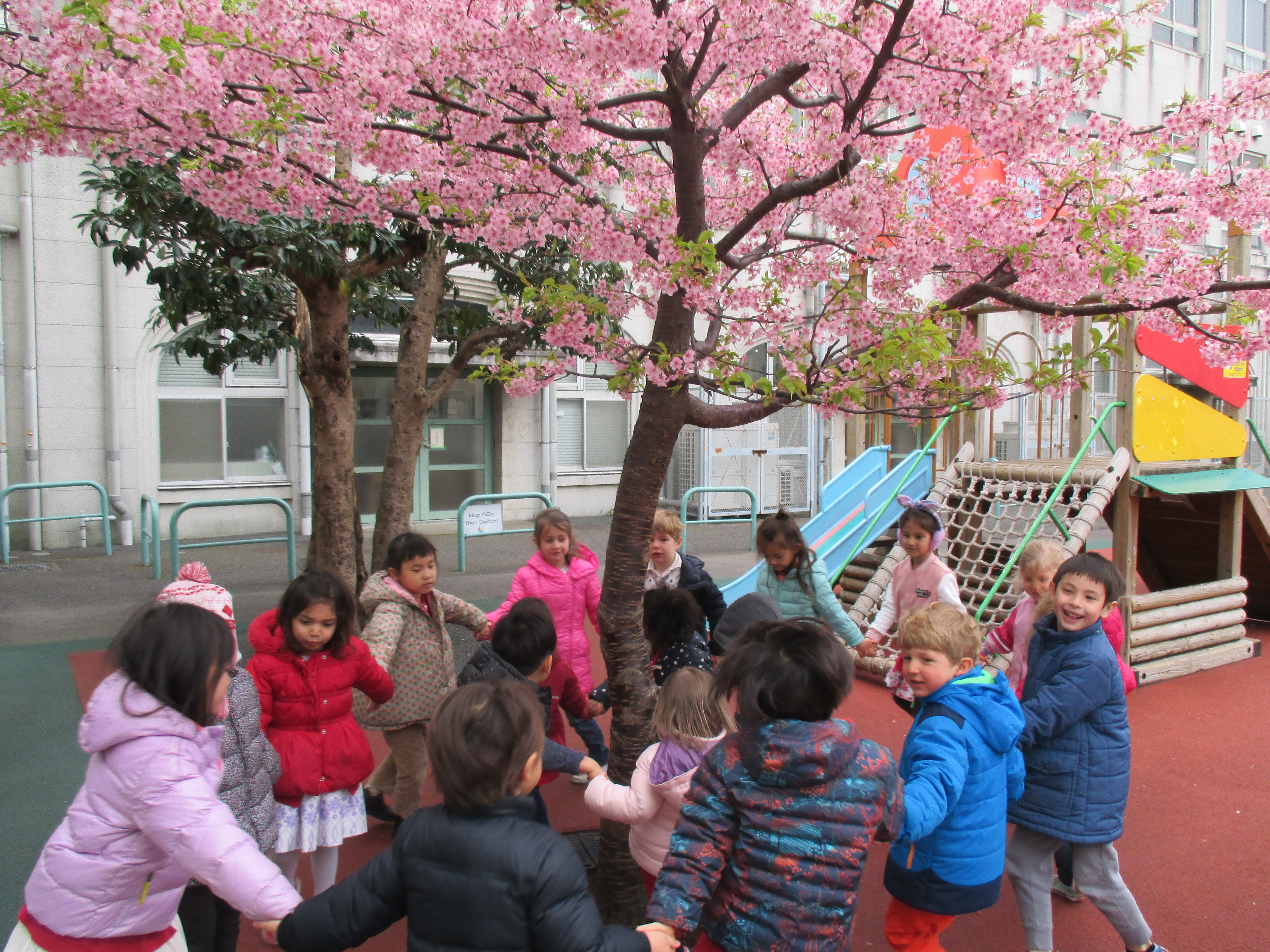 Although mornings and evenings are still chilly, yes, spring is definitely on its way. Look at the early sakura tree in full bloom on our school playground.  And around Sister Carmel's sakura tree are little children dancing to celebrate the coming of spring.
From our classroom we can witness this tree changing with the seasons.  Now it's the most colorful time with blossoms of pink, and the emerging green leaves; with the strong winds, the petals will fill the ground soon. In a couple of weeks, we also won't need our jackets anymore.  The tree continues to grow … and so do the children.
Last month in February, the Elementary School students participated in a Rice Drive. Their Student Council showed appreciation by sharing with all three Montessori classes gluten-free popcorn—passed out in popcorn bags.  Of course, we "love" popcorn!  So on Valentine's Day, Tuesday, February 14th, after reading some Valentine stories, the children wanted to pop some kernels.  The popping sound could be heard inside the microwave range; and, sure enough, the smell of popcorn filled our classroom.  It was decided to take the treat home for Valentine's, along with the cards the children had created.  Popcorn was put into paper cups, and placed inside bags.  Using a twister to seal each container proved to be a bit challenging, as some of the children told us they had never used a twister before.  Each child learned how to "twist" using their fingers.
With the month of March arriving, Girls Day, on Friday, March 3rd, was observed by the children taking home some "arare" in a Hina doll bag that each child had colored.  The second week of March was our annual Montessori Japanese Culture Week.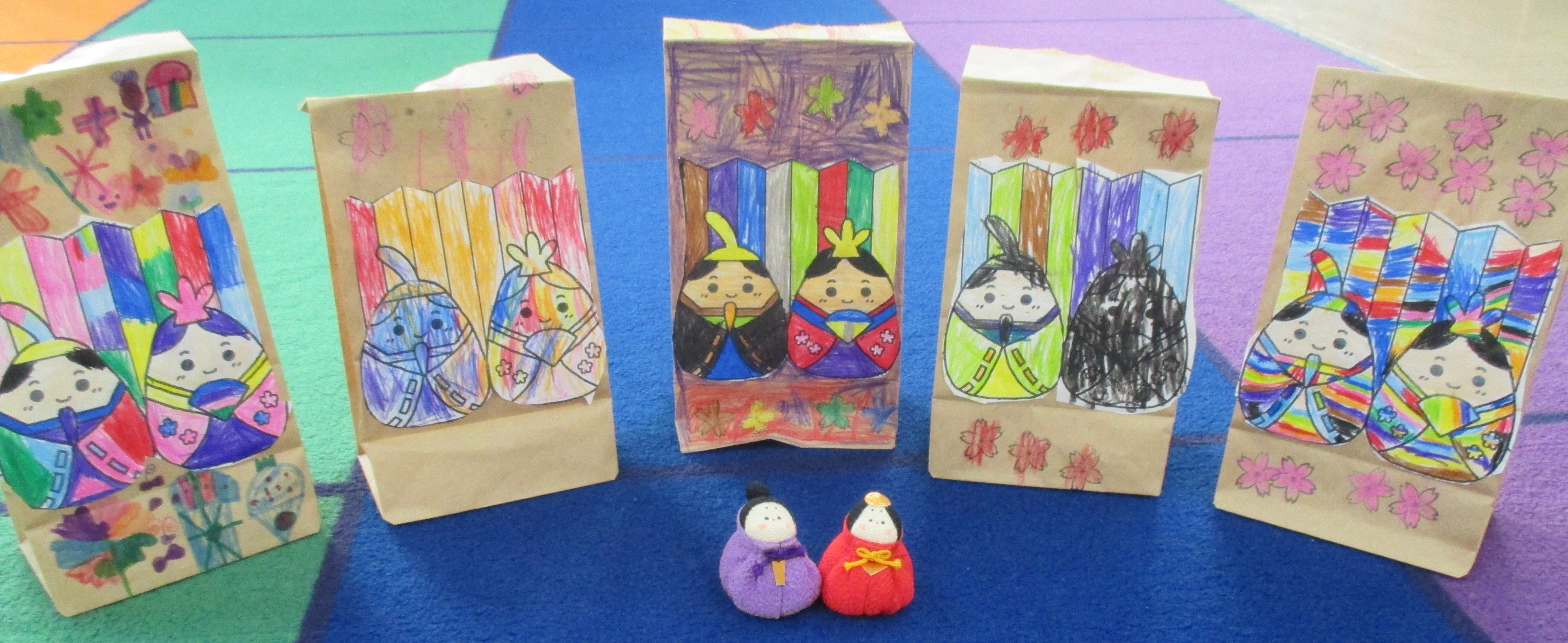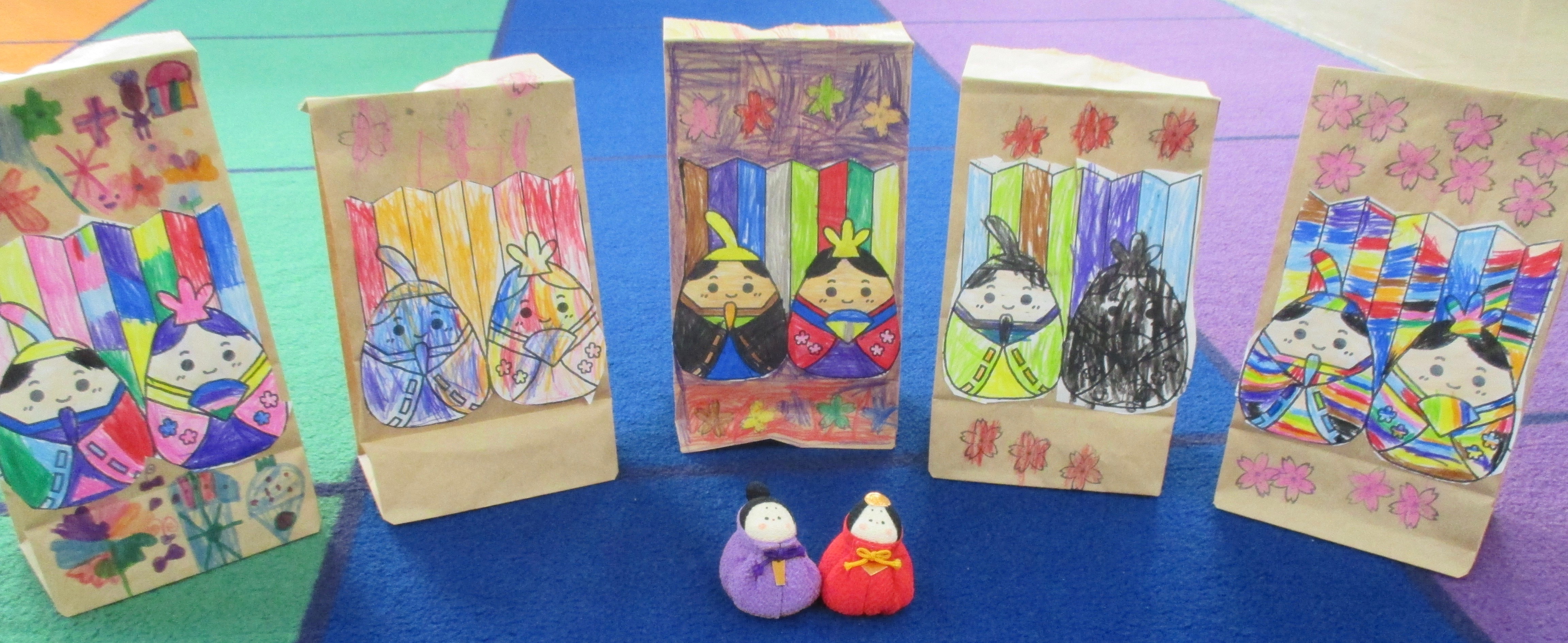 Japanese Culture Week (3/6-3/10):    On Monday, we made some sushi.  Looks good, doesn't it?  Getting hungry?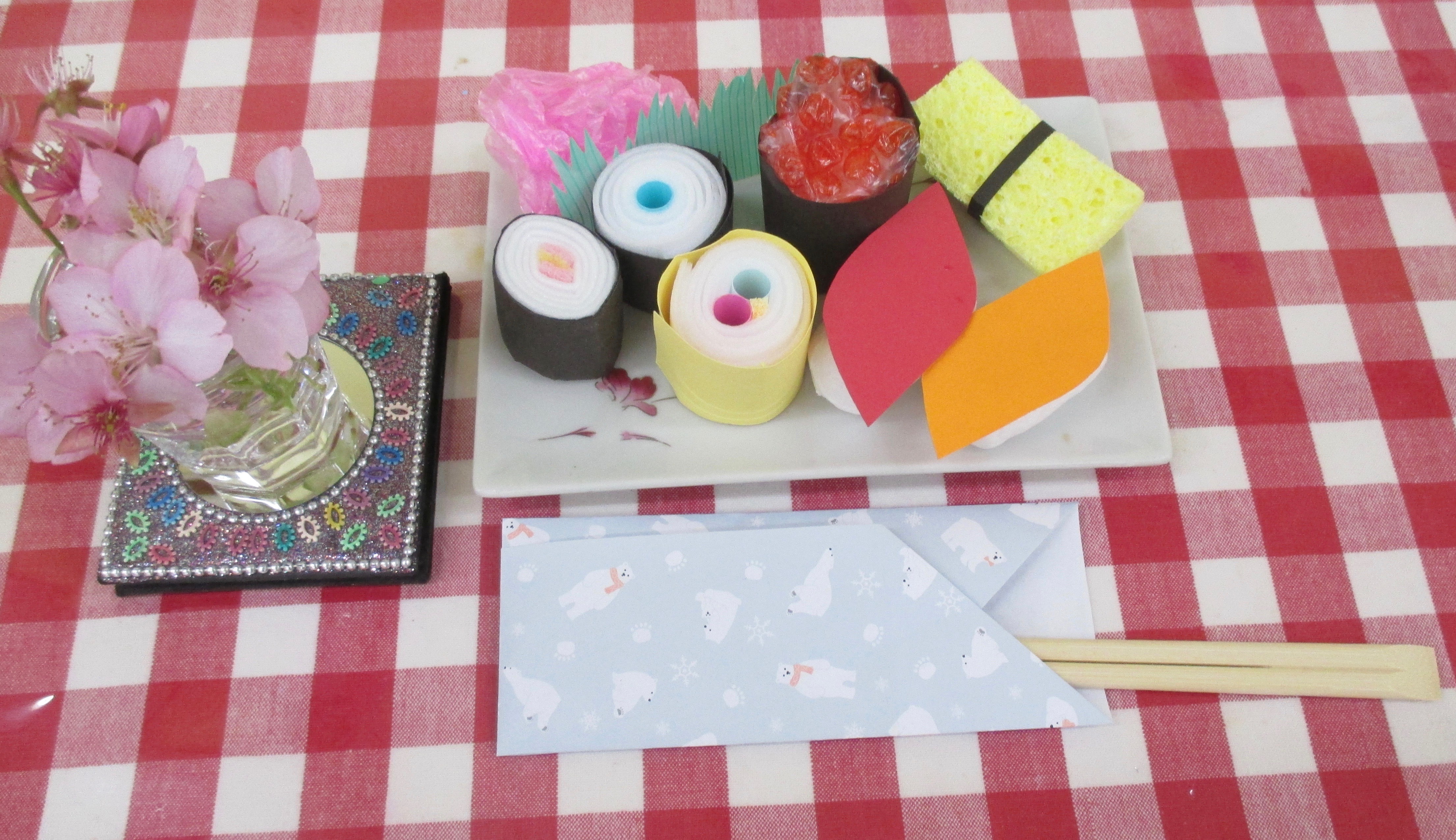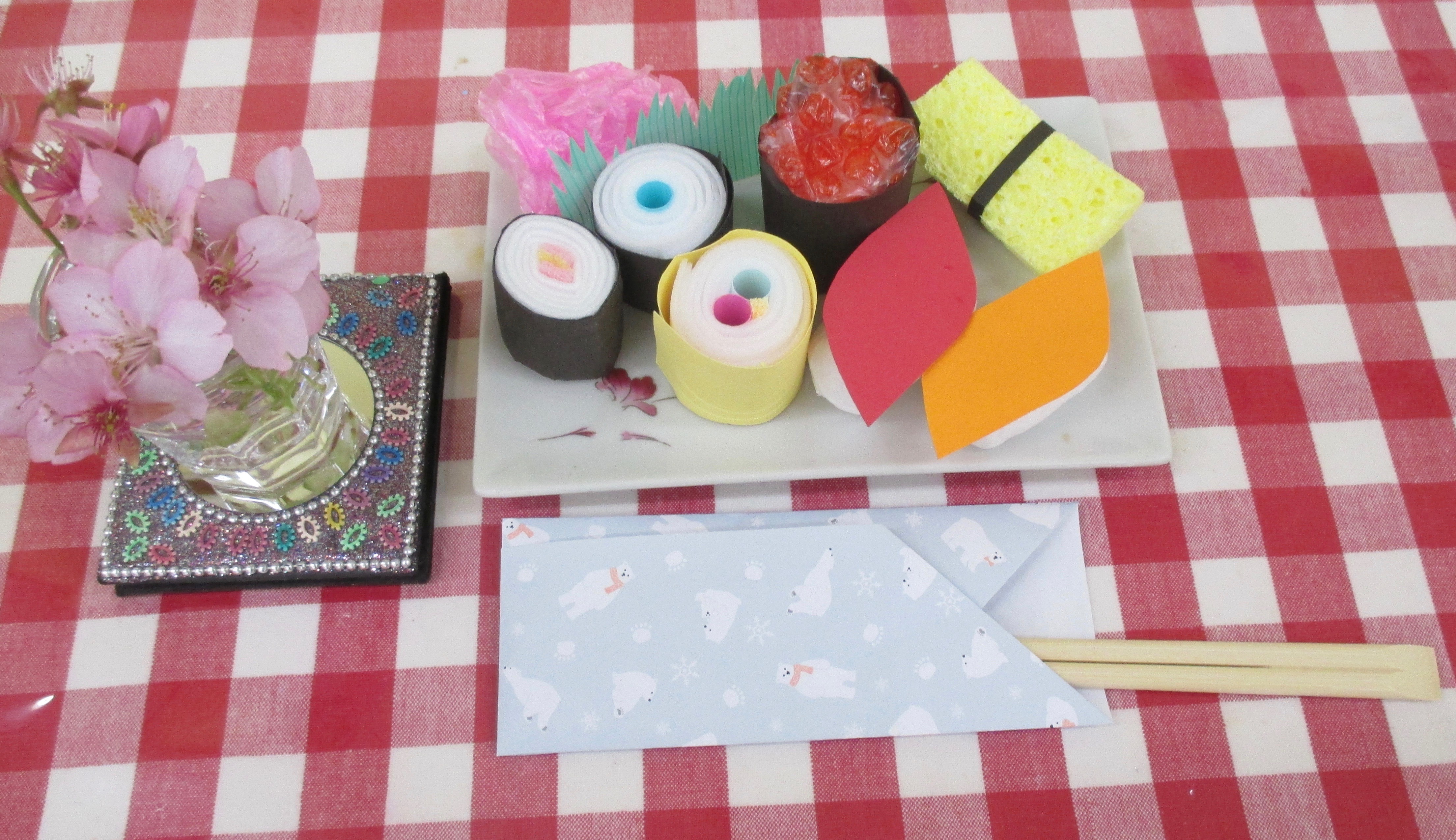 Look closer.  See?  Well, these sushi were made by the children … using styrofoam, bubble wrap, straws, construction paper, tape and glue.  Six moms had prepared the materials for us, so we all had fun rolling the long strips of styrofoam, then putting straws in the center. Tamago (egg) nigiri was actually a thin piece of yellow sponge!  Ikura (salmon eggs) were bubble wrap colored with red markers.  Oh, they all looked so real, and so much fun to make!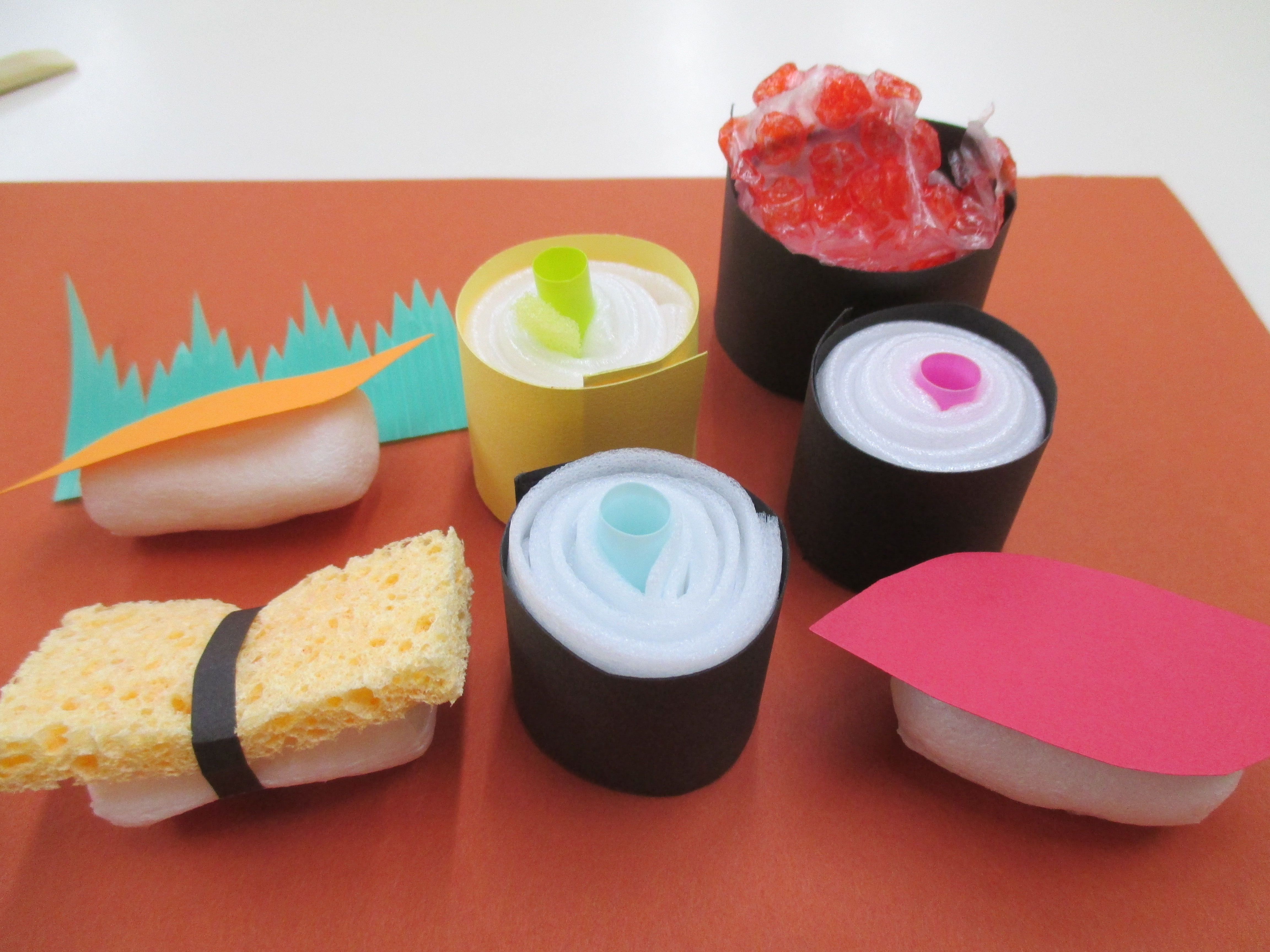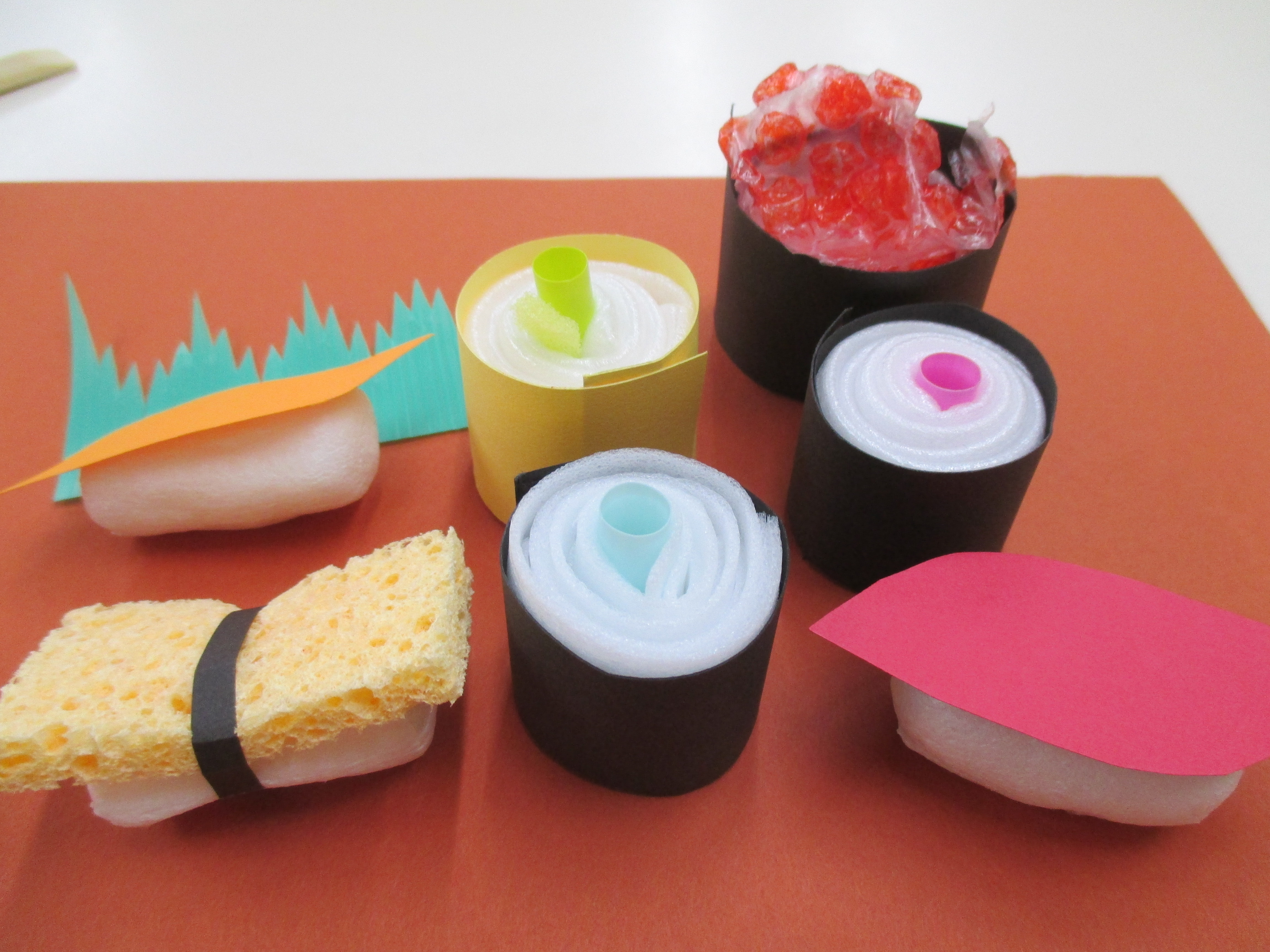 We went to different table stations to create a variety of sushi.  When all was done, we packed them to take home.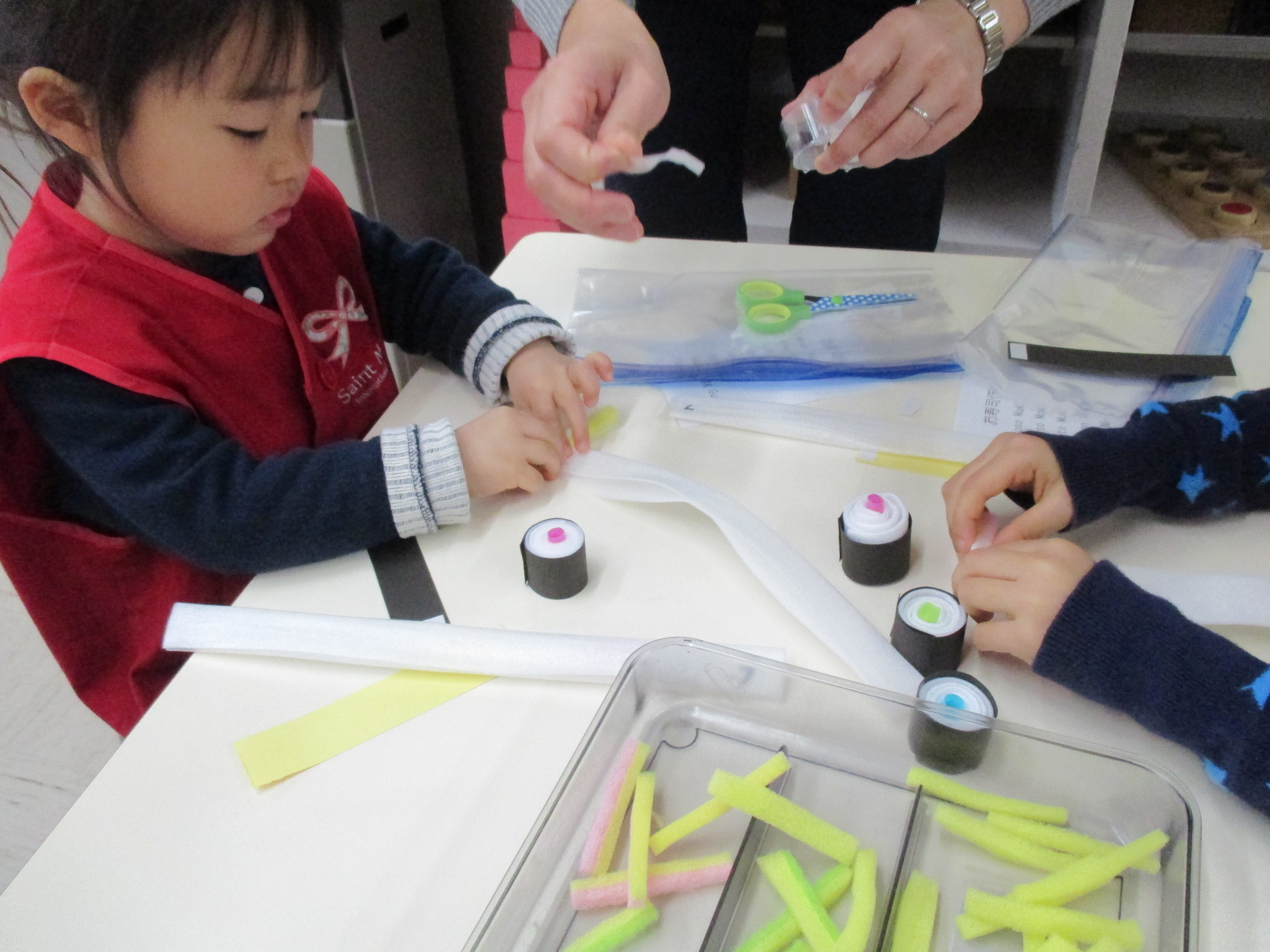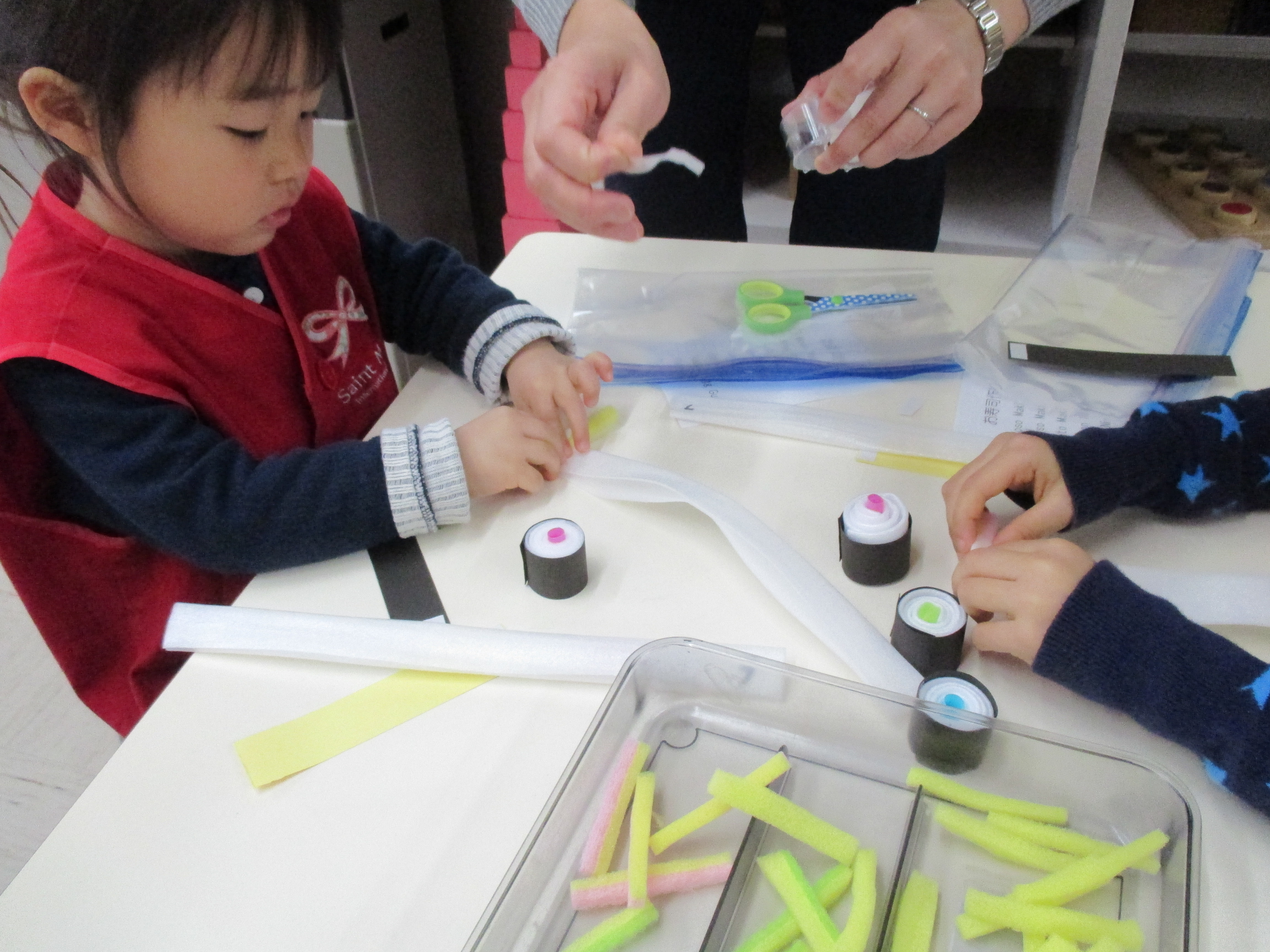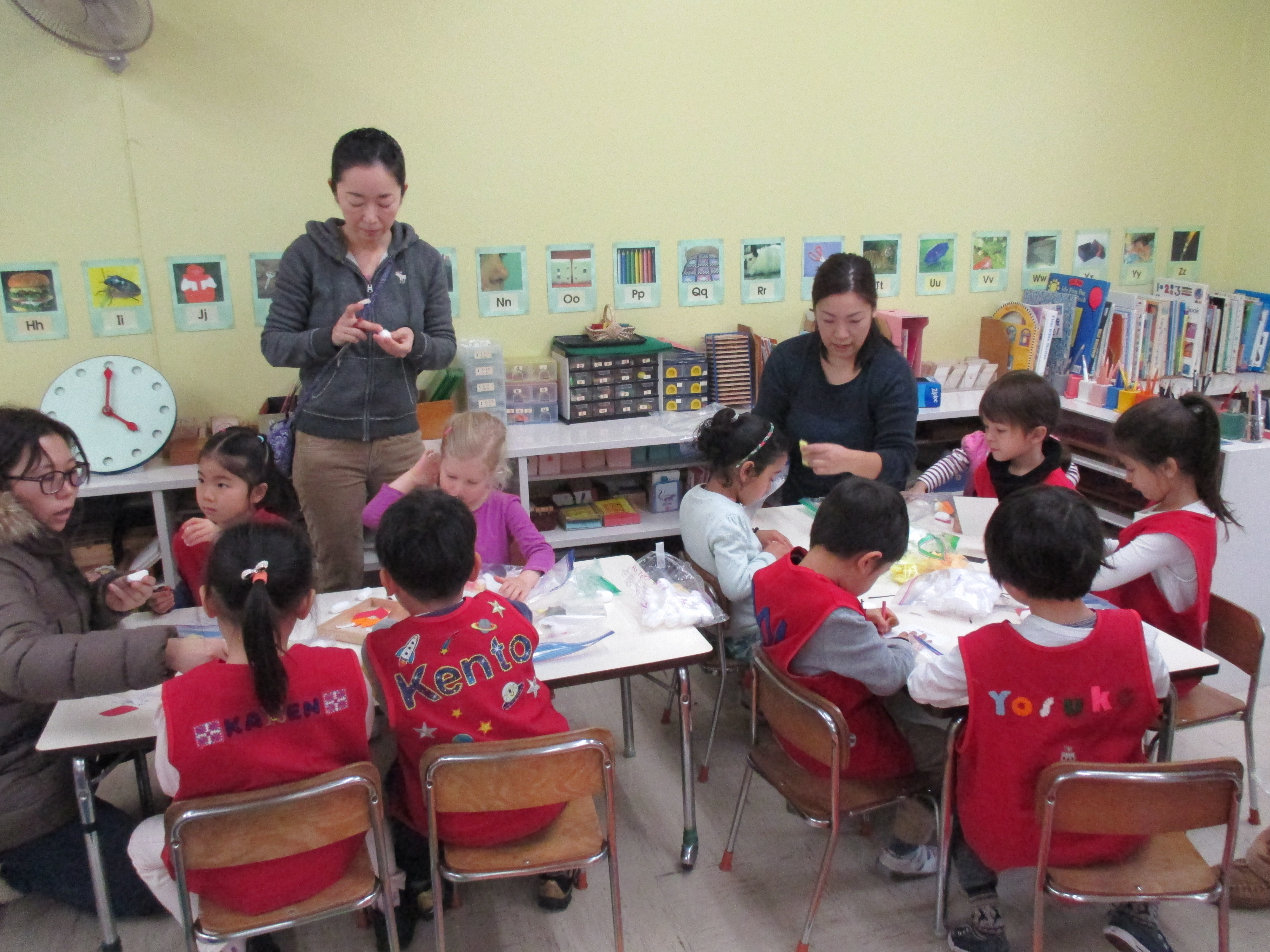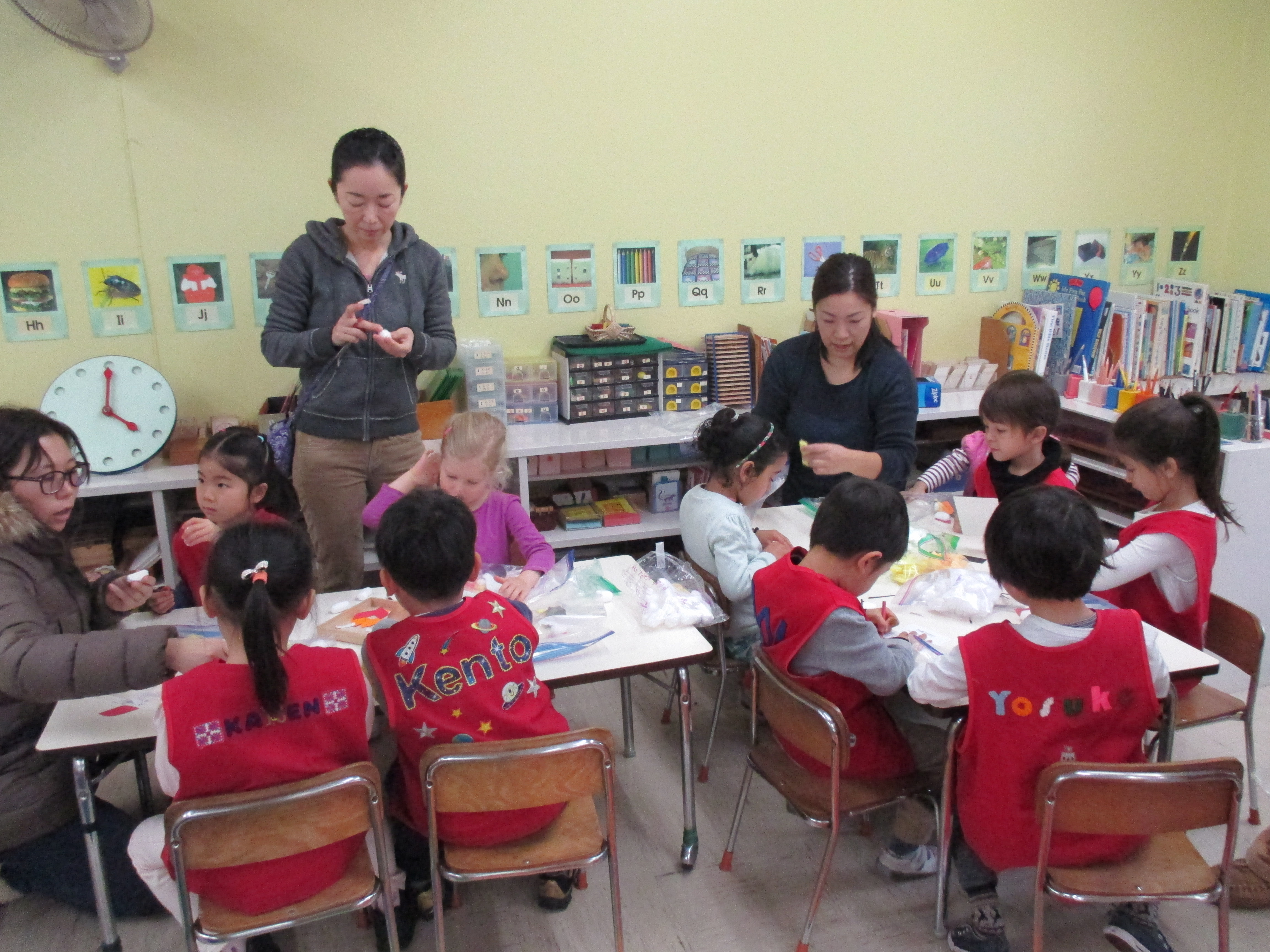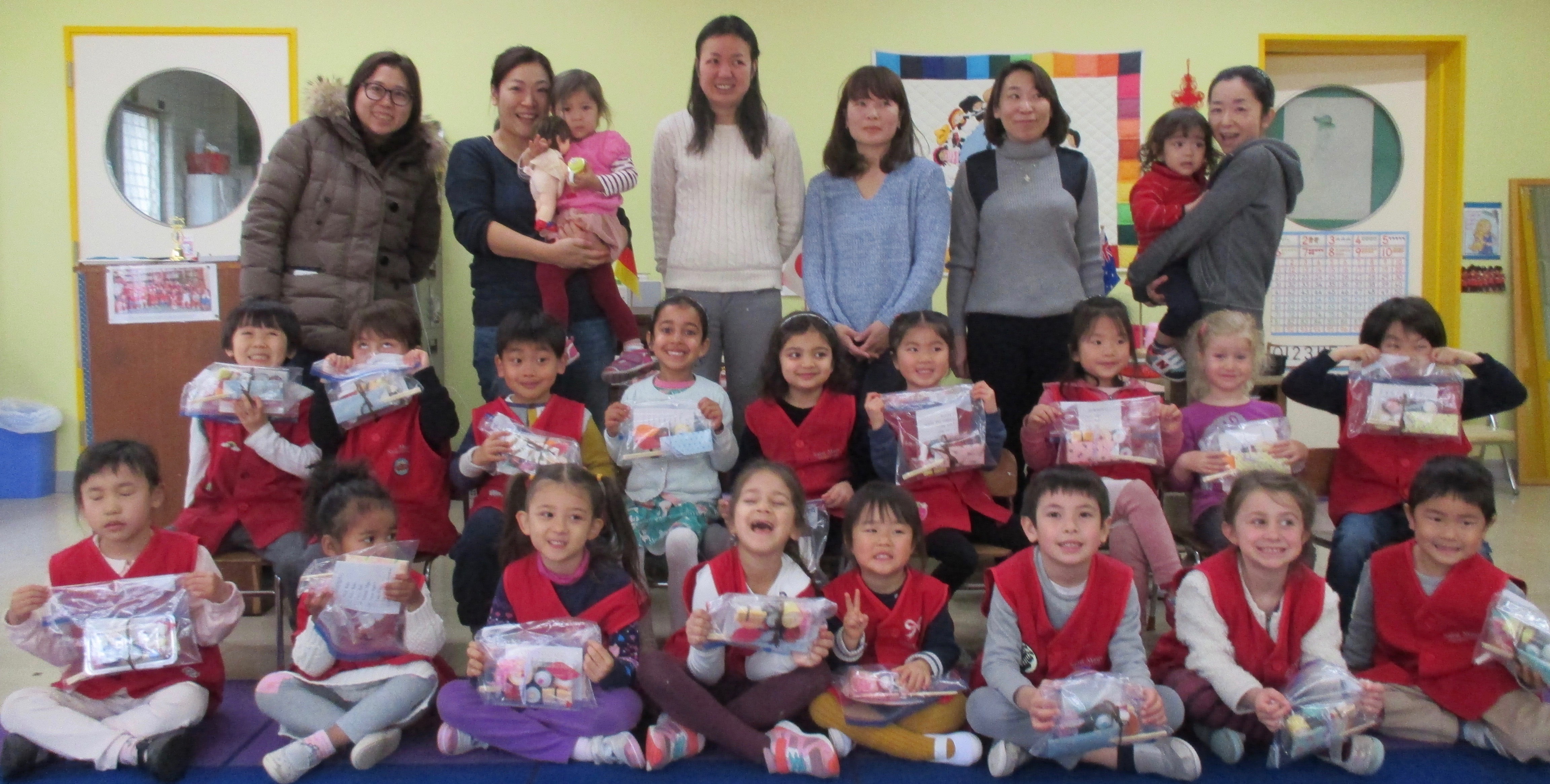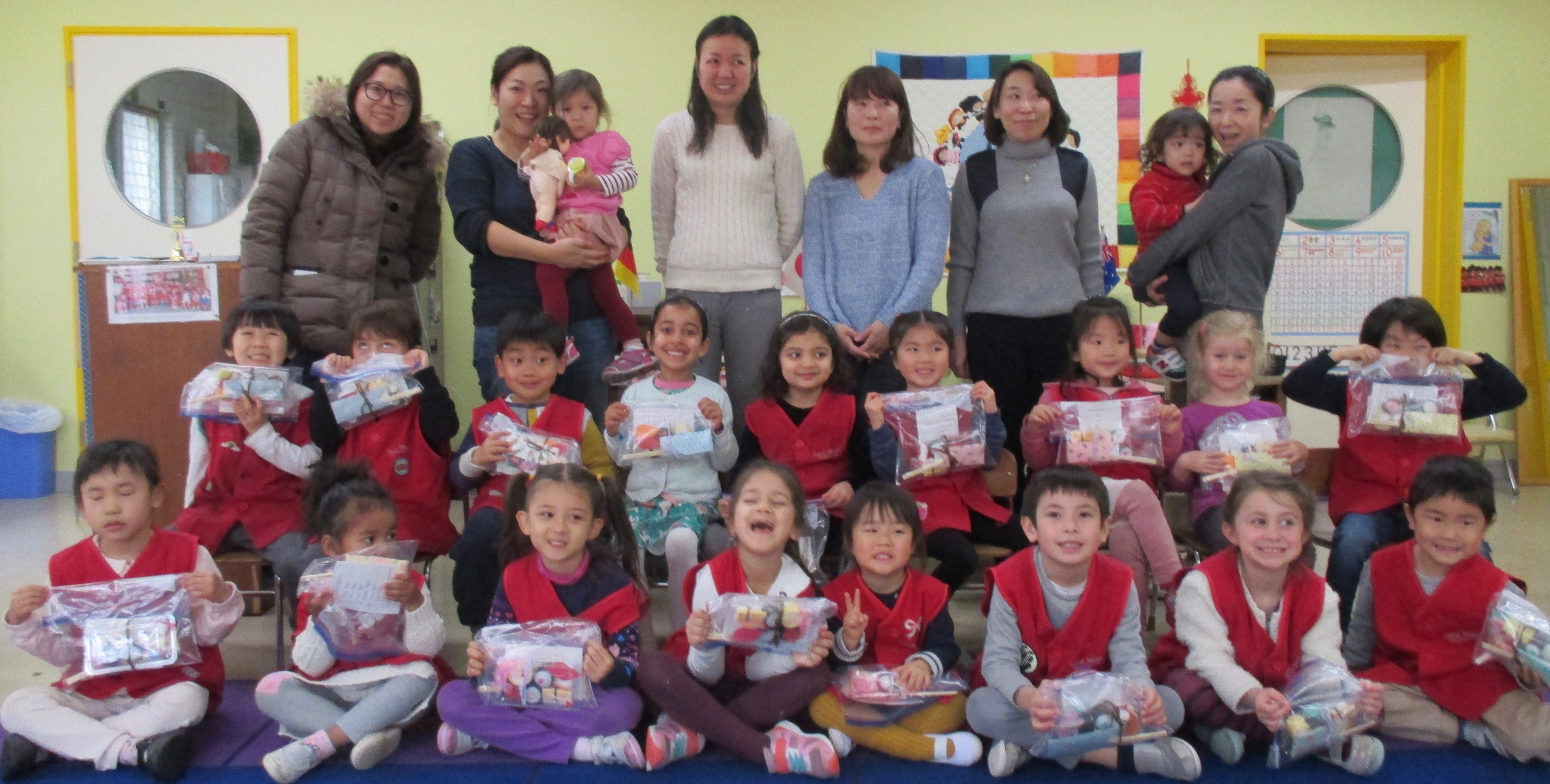 Then on Wednesday, March 8th, three moms introduced us to a famous Japanese traditional story called "Momo Taro" ("Peach Boy").  We watched the kamishibai way of storytelling within a wooden frame, as the moms took part in reading the lines by different characters.  Their babies were also listening along with our Montessori children.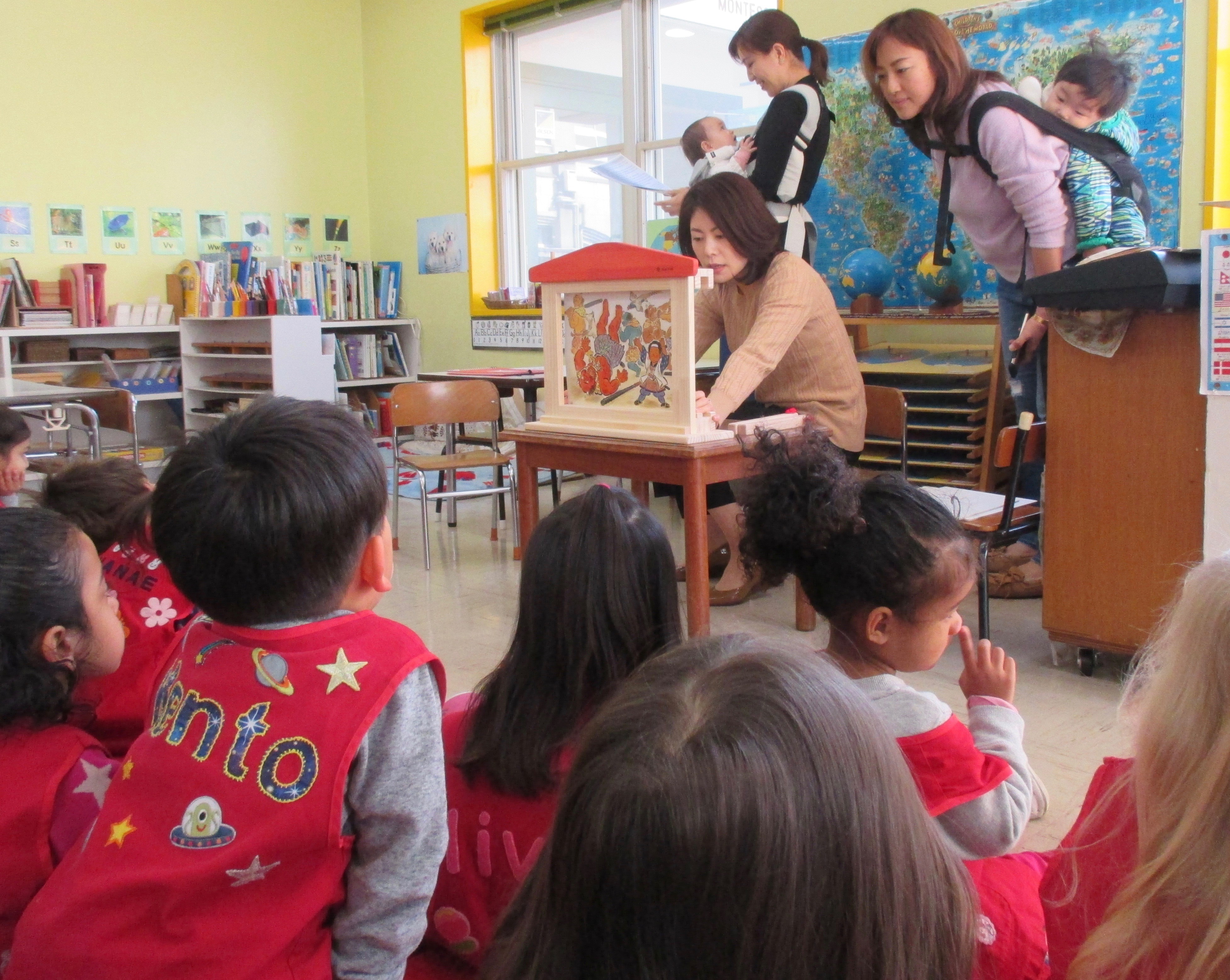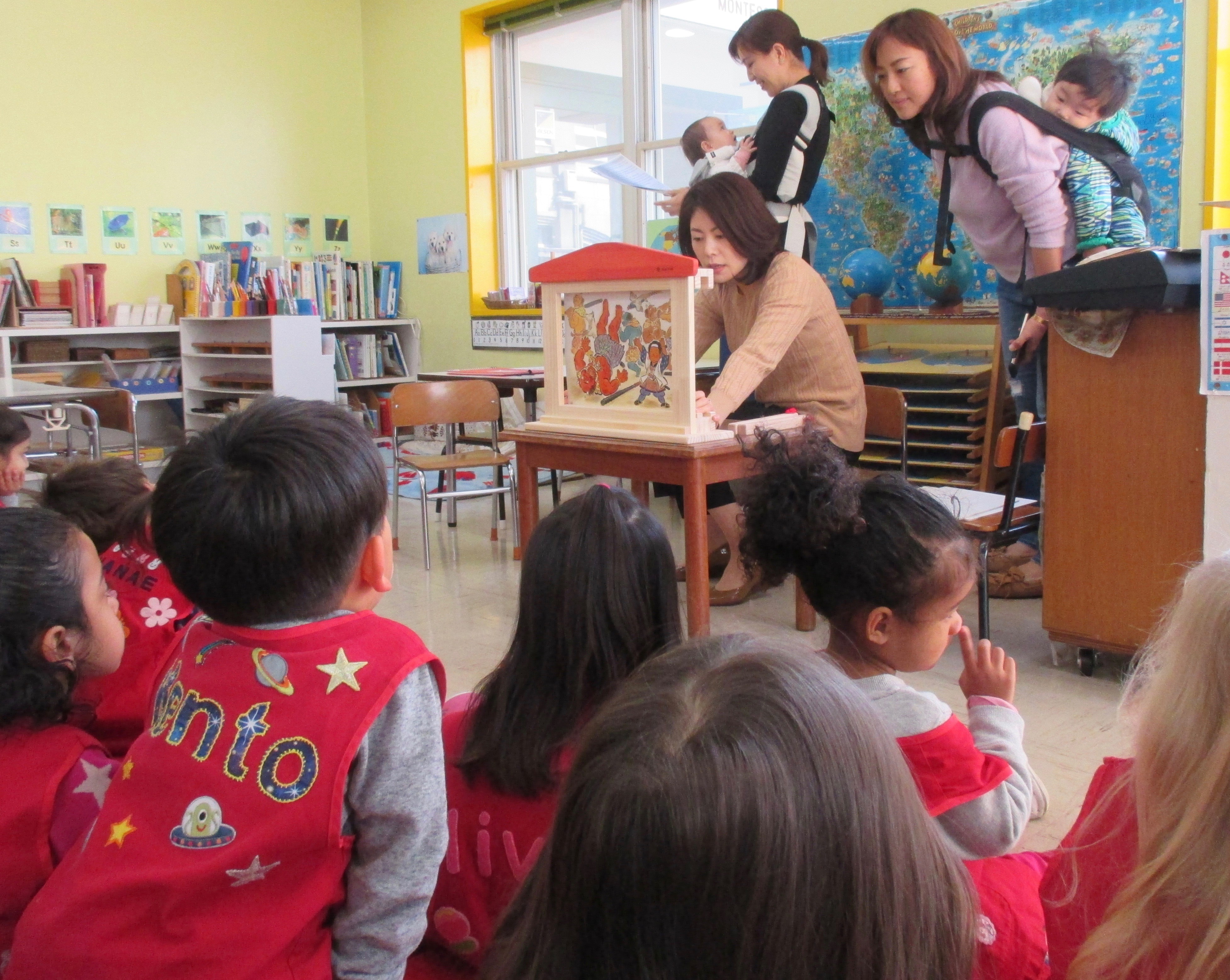 After the storytelling, the children drew a picture of the peach that had drifted down the river, the strong healthy Peach boy, and of his adventures with the ogres to save the villagers.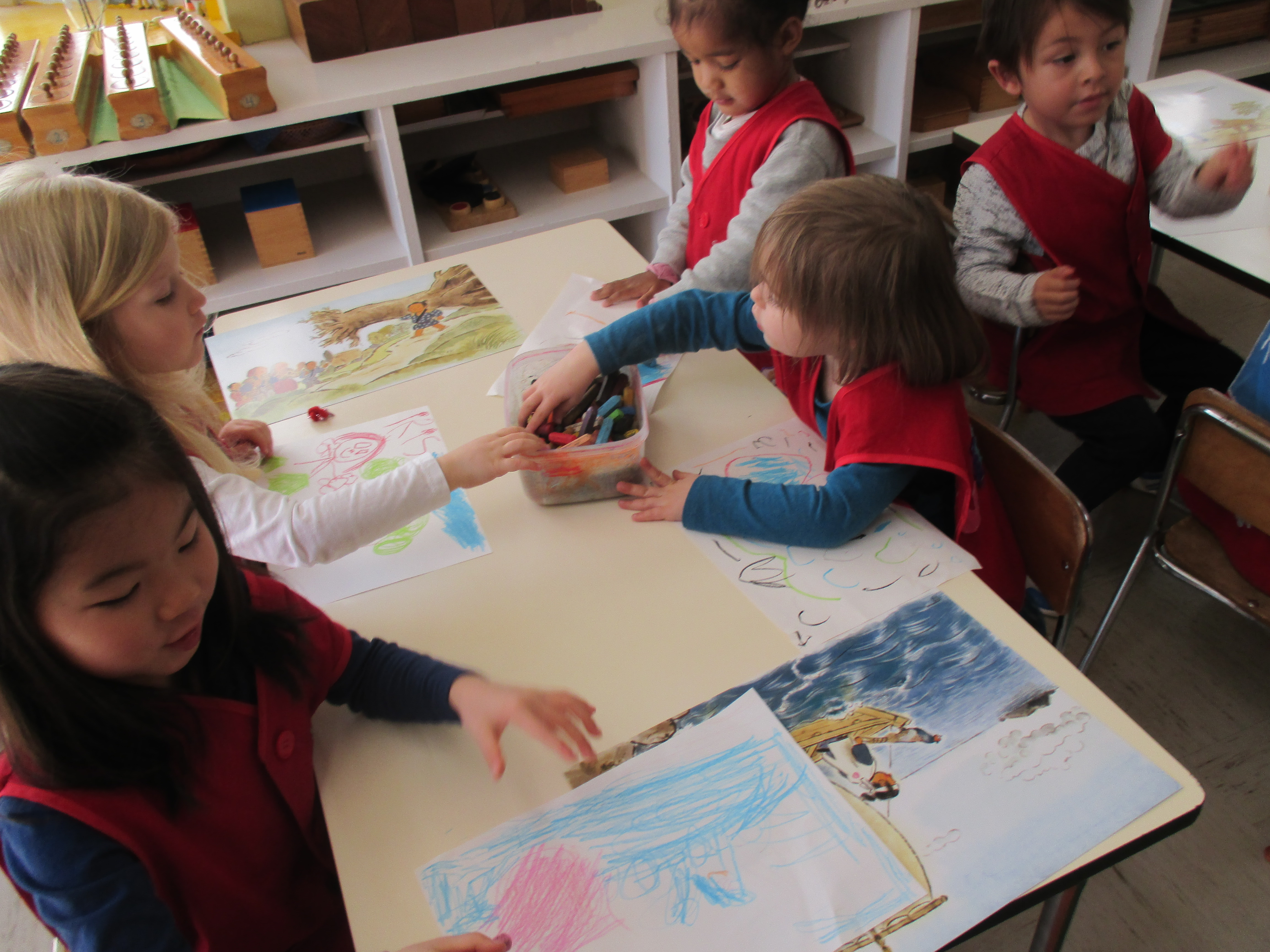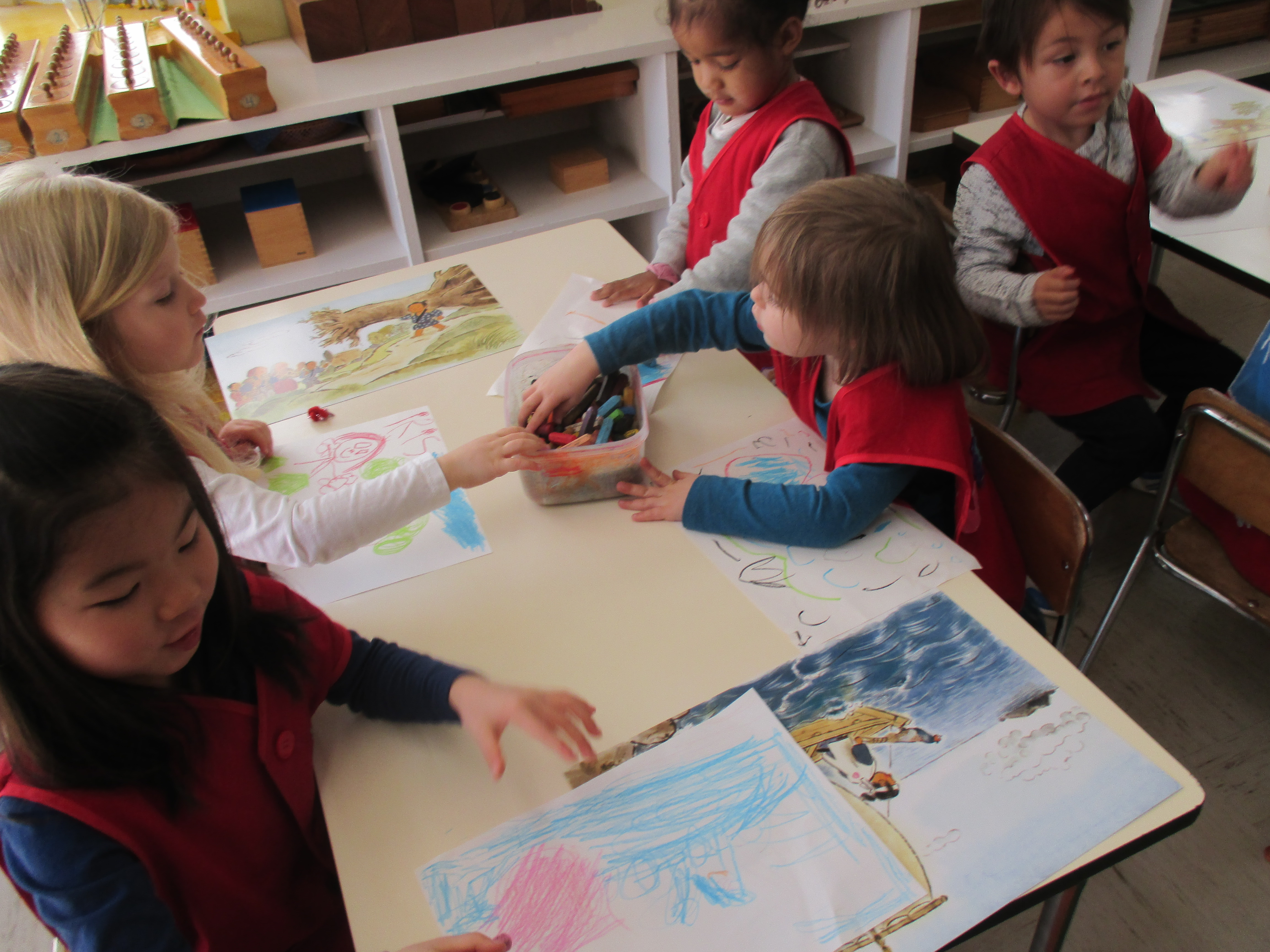 On Thursday, March 9th, we made a pretty sakura collage and designed our own name slips.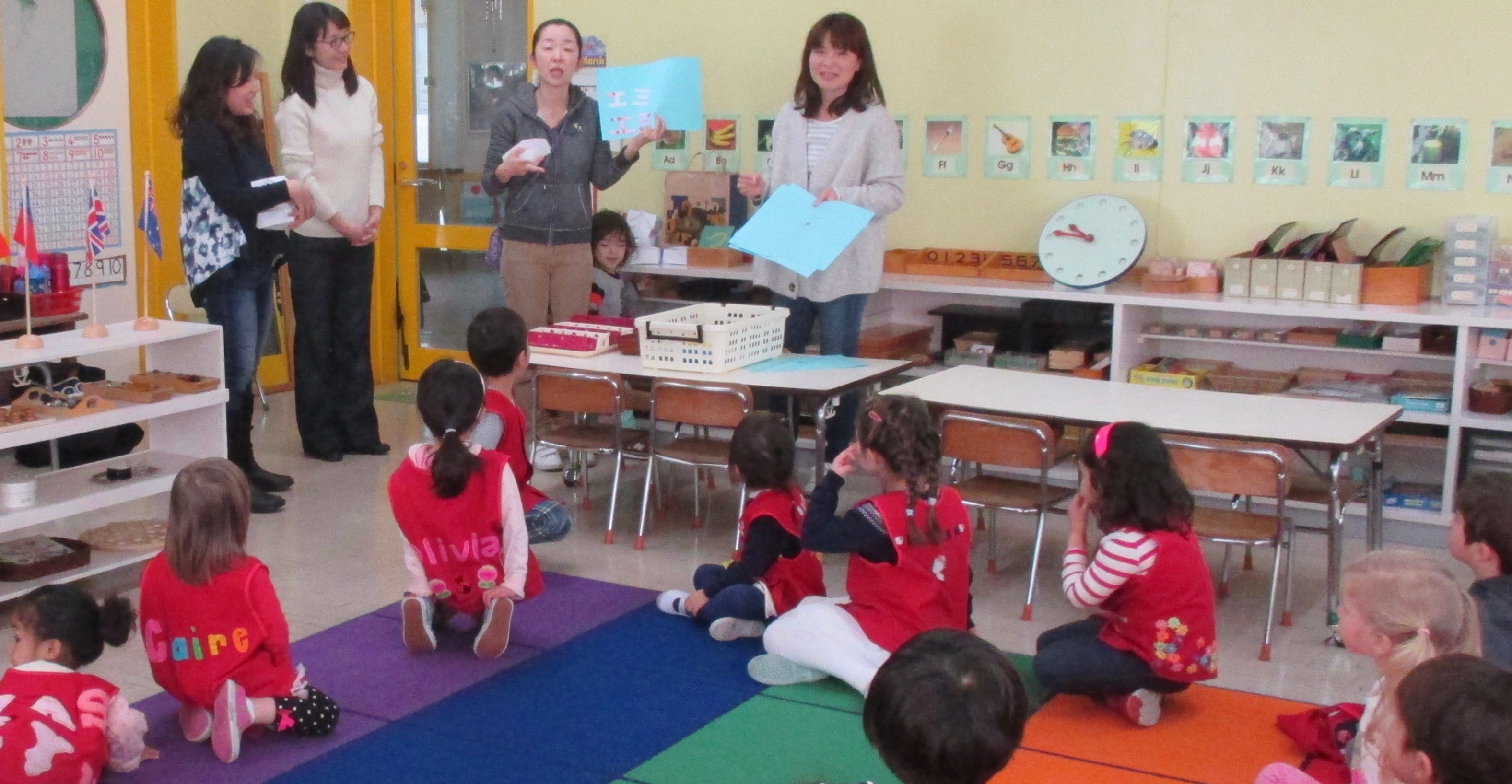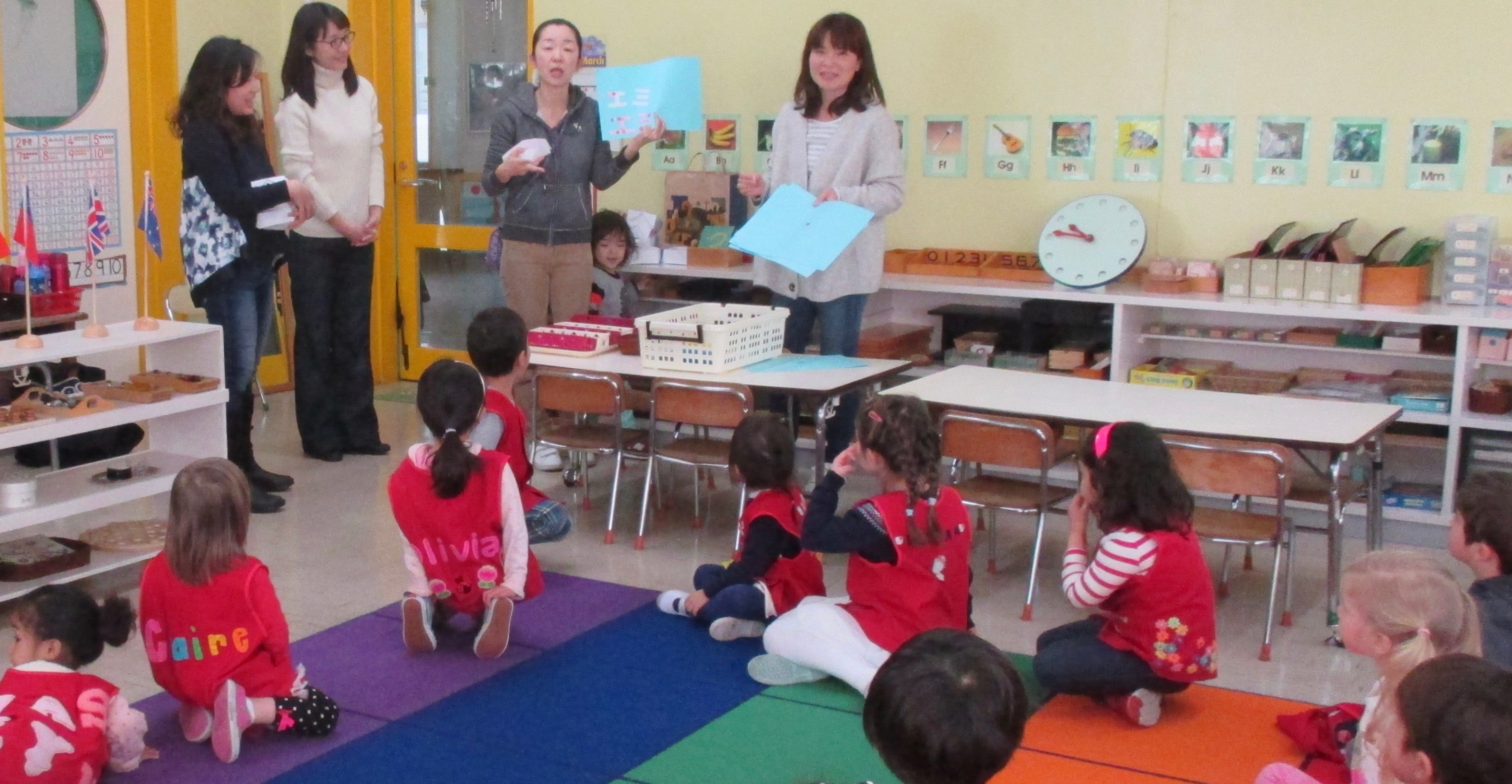 On the last day of Japanese Culture Week, Friday, March 10th, all three Montessori classes participated in a parade, walking around the Upper Rec Hall in Japapnese costumes. The parents also were treated to the children performing two songs: "Twinkle Twinkle Little Star" with Japanese lyrics, and "Gu, choki, pa " (the "Stone, paper, scissors" song).  In the afternoon, we stood on stage in the Fine Arts Auditorium to perform these two songs once again, this time before the Elementary, Middle School, and High School students.  We felt proud to be a part of the all-school collaboration for Japanese Culture Day.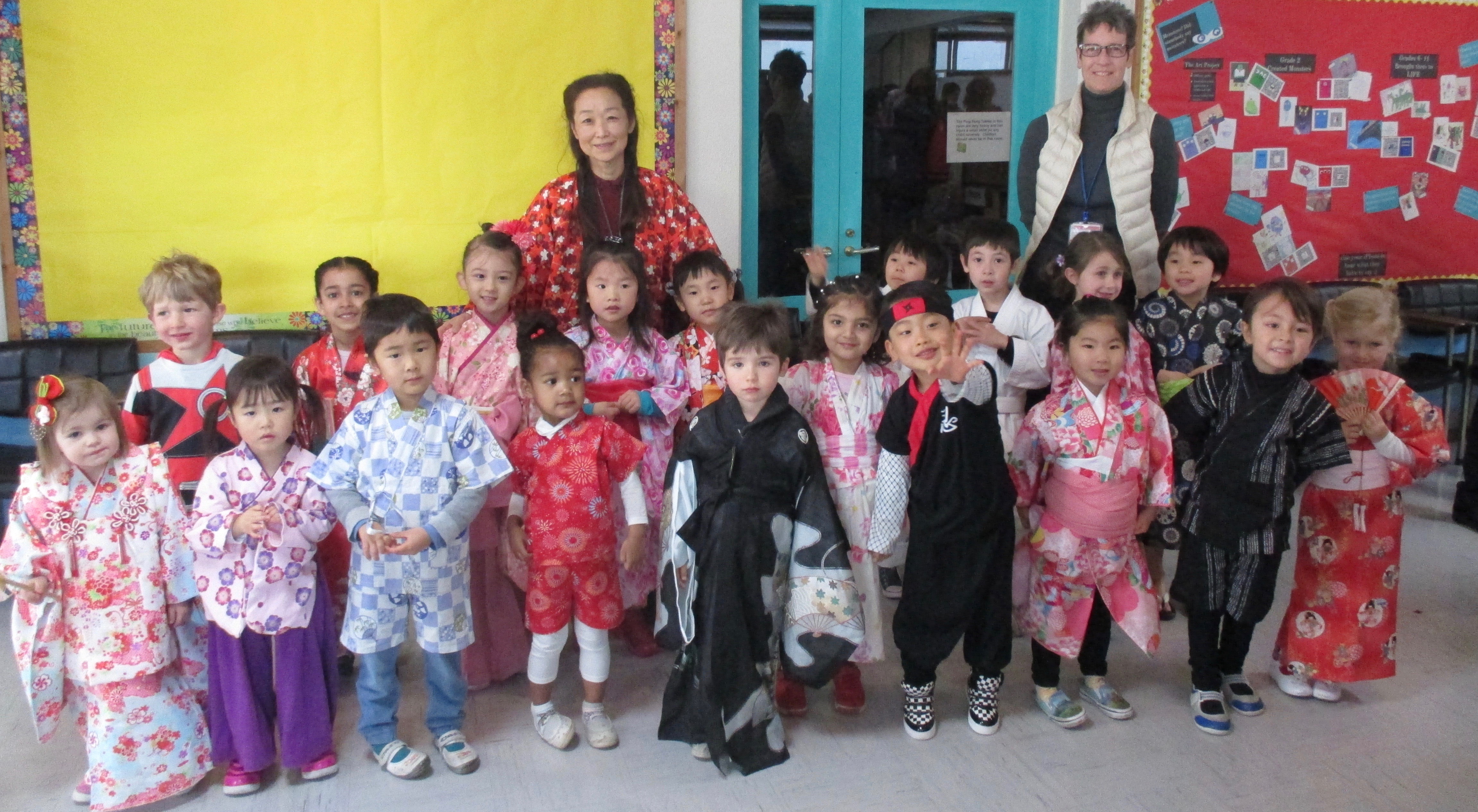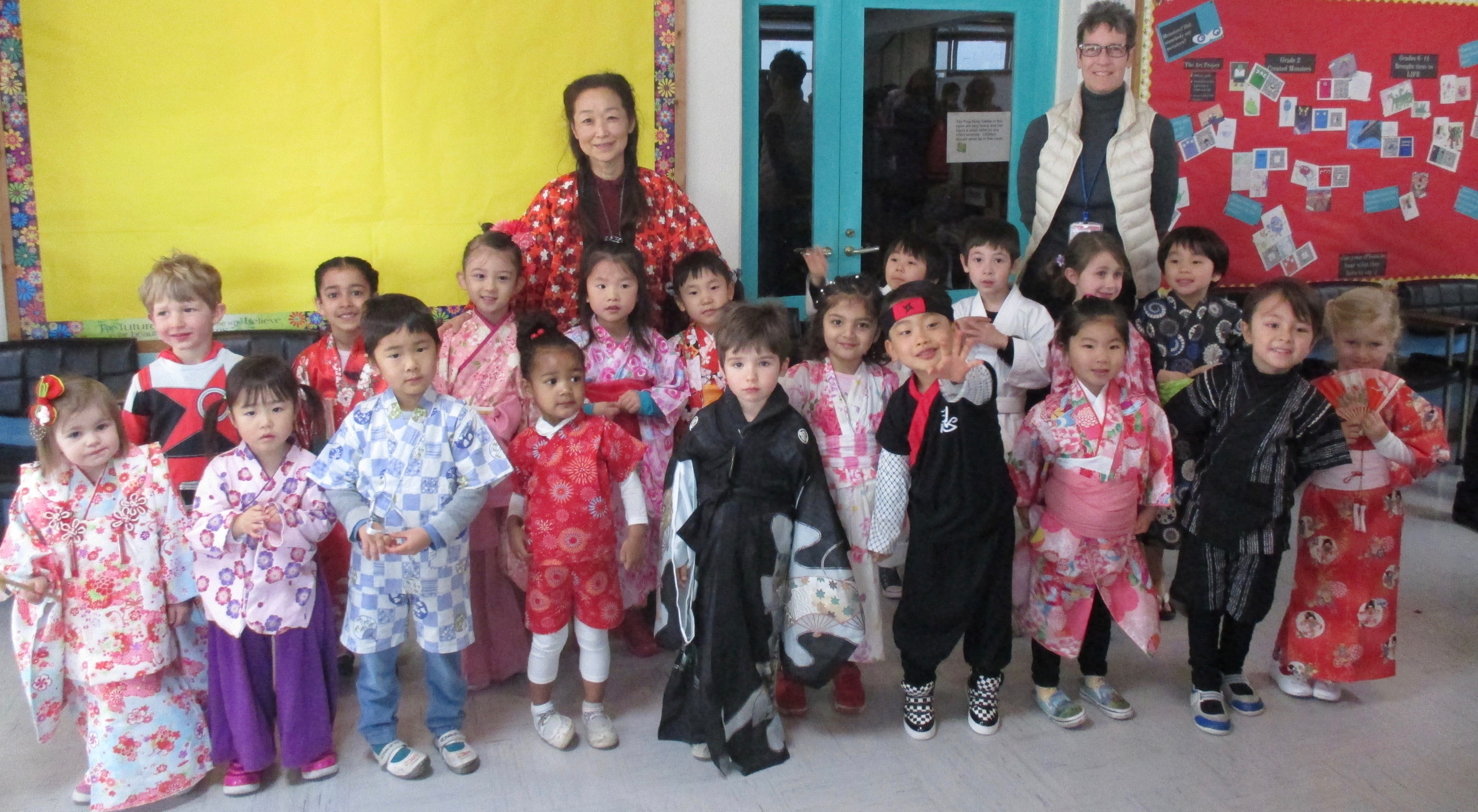 Earlier, on Tuesday, March 7th, the Montessori children, 4 years and older, were invited to watch an Austrian Ballet Performance, along with our Elementary School and younger YIS students, in the Fine Arts Auditorium.  It was the well-known story of "Cinderella," which the children enjoyed watching such a visual production.  What a full and fun-filled week it has been!