The Gummy Bear Experiment
In IPC we are learning about the scientific method.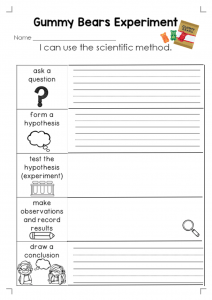 First, we asked the question: What will happen when we put a gummy bear in water?
Next, the students agreed on two hypotheses:
We think the gummy bear will shrink
We think the color will change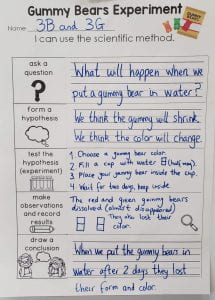 We observed that the red gummy bear in 3G and the green gummy bear in 3B both dissolved in the water. We also noted that the color of the gummy bears faded. Our conclusion:
When we put gummy bears into water for two days they lost their form and their color.

From there we expanded our experiment and observed five different gummy bear experiments!  We soaked them in: soda water, salt water, sugar water, baking soda water, and lemon water. What data did we collect? What did we conclude? Ask a 3B student to find out!