Japanese culture week is always such a fun time in our classroom to experience, learn and enjoy all the wonderful and special activities that we love about living in Japan.
Our first activity was making our very own kaleidoscope!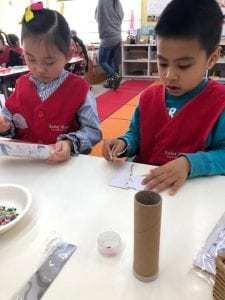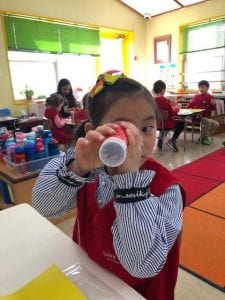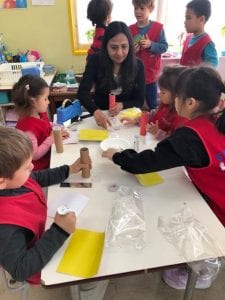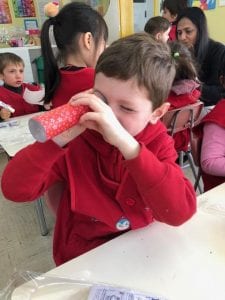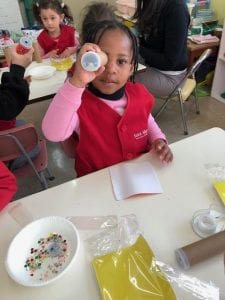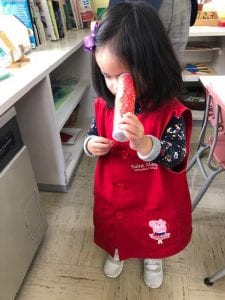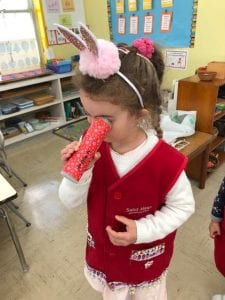 Then we enjoyed listening to a traditional Japanese story called, "Omusubi Kororin" – The rice balls and the mice, read by one of our class mum's.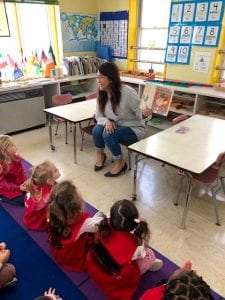 Right after our story we stood up to get our bodies and brains moving and energised with some exercise or as it is known in Japanese as, "Rajio Taiso."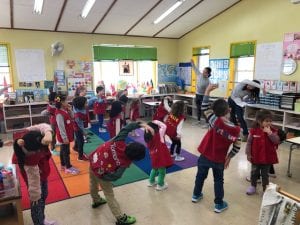 We all received a medal and an apple juice for our hard workout!!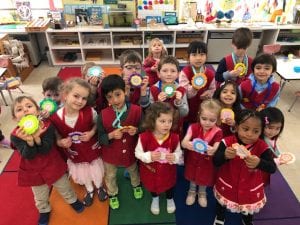 Our next fun activity was presented by these four masked class mums.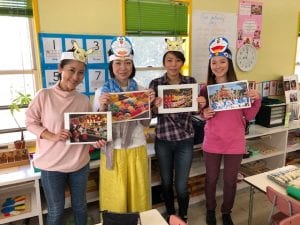 Have you ever been to Bon odori during the summer time in Japan? It's a special celebration when people come together wearing their summer kimono called the "yukata" usually worn after having an afternoon bath. At the festival you can dance to the songs with a taiko- drum player sitting high up on a stage as you dance in a circle with family and friends.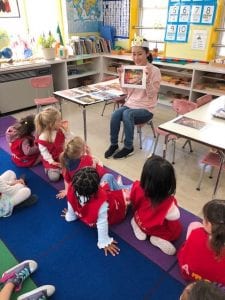 We were given  directions to guide us on what we would be doing at our in-class Bon odori.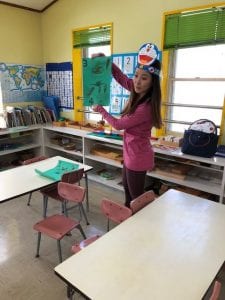 Our first activity was to make our own mask which children love to wear at the festival.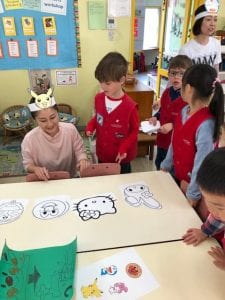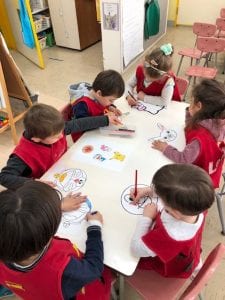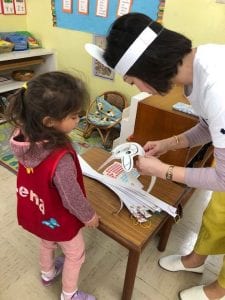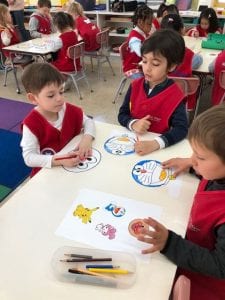 Next we made delicious "choco banana" which is very popular at any Bon odori!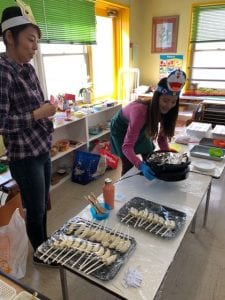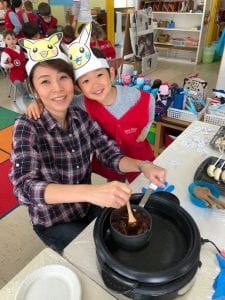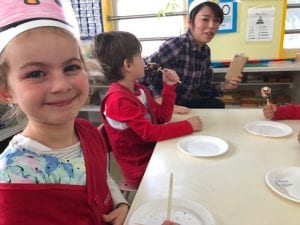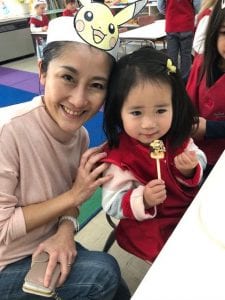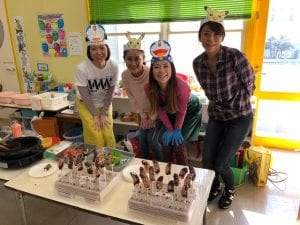 The children engaged in such a peaceful activity here to end off our week of Japanese activities. Each child was given a beautifully prepared paper with his/her name written in Japanese. Their job was to paste paper cherry blossoms(sakura) inside the lines.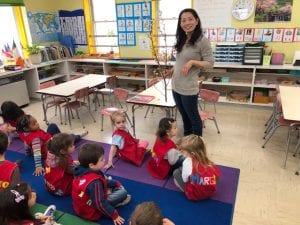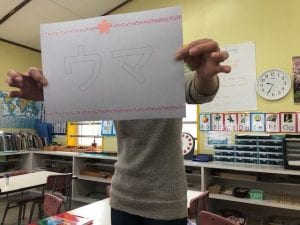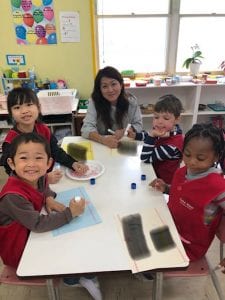 The children had such an enjoyable and enriching week of activities that highlighted the many cultural experiences we can experience from living in Japan.
We appreciate all the mother's who organised and prepared such thoughtful and meaningful activities with our students. It was such a lot of fun! Domo arigato gozaimashita
___________________________________________________
Japanese Culture Day- whole school
On March 22nd our Japanese department organised a whole day of activities for Montessori to grade 12 students. 
We had the pleasure of watching a talented and energised group of champion taiko players in our auditorium, known as "Dako on."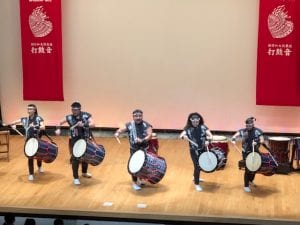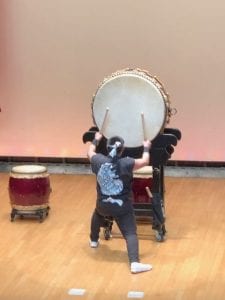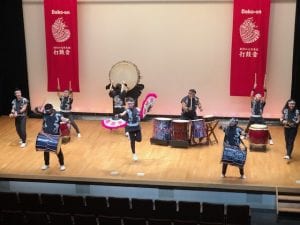 Then we walked up to our gym to watch the "Aikido" in action.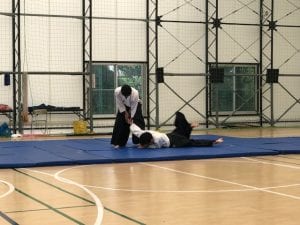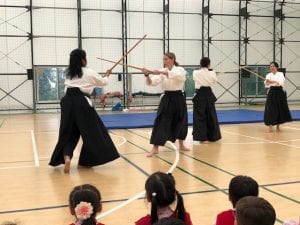 It was fun watching one of our classmates perform his moves and show us what he has learnt being a red belt.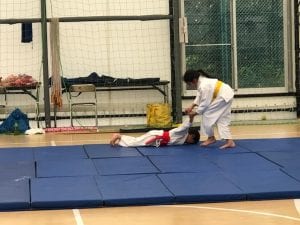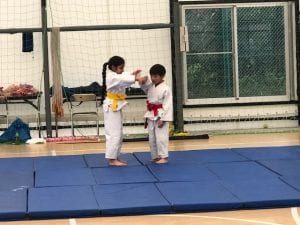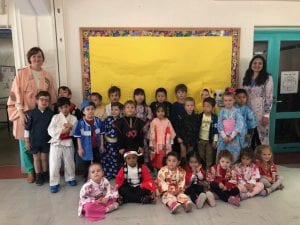 And here we all are as a class wearing our Japanese costumes in celebration of the end of our Japanese culture week with a parade and a song sung to our parents. To our class families, please enjoy the blossoming sakura blossoms wherever you may be these spring holidays!