The month of February was filled with a variety of activities and special days to celebrate. The first was a Japanese one known as, Setsubun on February 3rd. On this day according to the Japanese lunar calendar it is the day before the first day of Spring when people wish good luck into their lives and homes, while farewelling any bad luck in the form of an "oni." We made masks to symbolise our oni and said the traditional chant, "Oni wa soto, fuku wa uchi." As a child wears the mask, he/she throws  dried soybeans at the oni who comes to their home (usually dad dressed up!).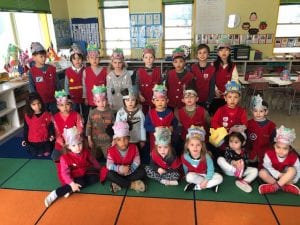 In our class we also enjoyed eating the the same amount of soybeans as our age to bring  good luck into our lives.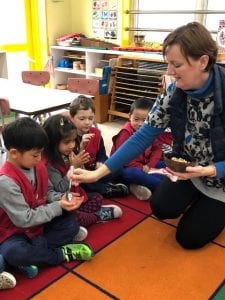 Right after Setsubun we welcome more luck into our class each year when we celebrate the Chinese New Year. We had a circle time presentation of the Chinese door decoration that people in China like to display and what the words written in Chinese mean: "Spring is coming, you are going to have a lot of luck." Also, "You will have a long life." And the one across the top of our door says, "May the God's bless all your family with luck and peace."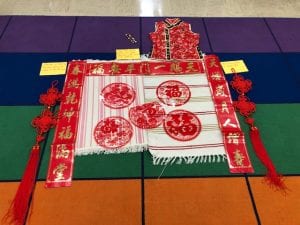 Then on February 14th we put a lot of love into making a Valentine cards for our family and enjoyed some sweets treats with our classmates.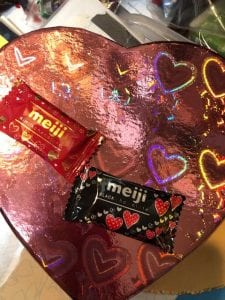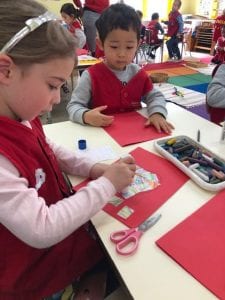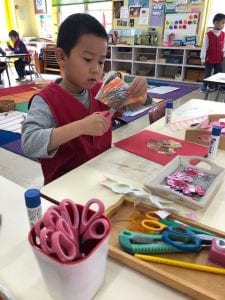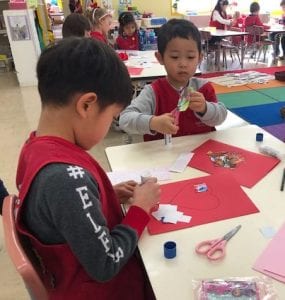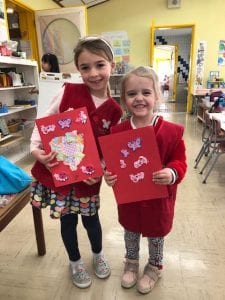 An activity that the whole school was involved in for International Day, was to draw your country's flag. These were then taken and mounted within a frame that now proudly sits on the back wall of our school cafeteria.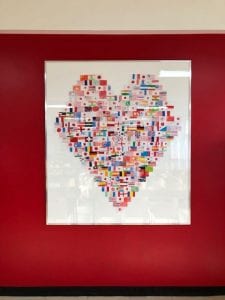 Then after our day of LOVE….it snowed!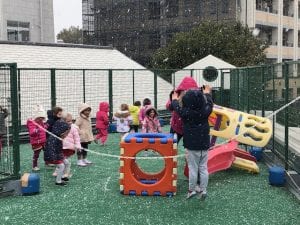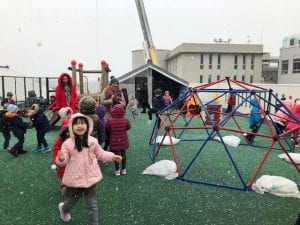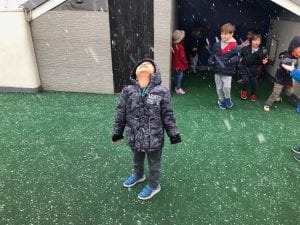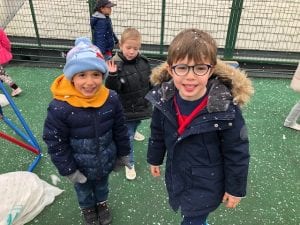 There is always such great interest to learn about the world around us. This is very much the case in our classroom, where the puzzle maps are a popular  activity with our older 5 and 6 years olds. Each continent and its countries need to be learnt by name and then pinned around, strengthening both an awareness for the countries place in the world and the child's fine motor control, when using the punch pin. It is a big accomplishment to be celebrated when each map is completed because it also symbolises a child's focus and his/her developing concentration skills.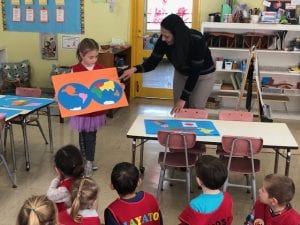 The continents puzzle map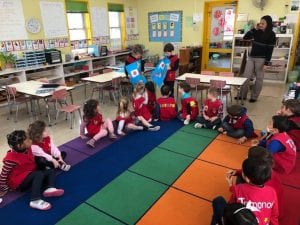 Japan puzzle map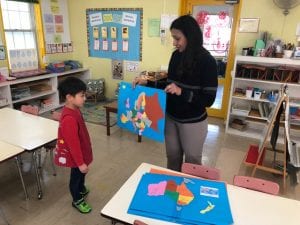 This student is sharing the countries names for the map of Europe. Well done to all of our classmates and for sharing your hard work with us!