Hello everyone,  I hope you had a nice weekend–lots of rain on Saturday but beautiful on Sunday!  It's Ms. Sallie's turn for a story today.  I hope you'll enjoy Pat Hutchin's The Doorbell Rang.
      Click here to see the story.
* Do you like cookies?  What is your favorite kind?
* Have you ever made cookies with your mommy or someone?
* Do you think it was nice of Victoria and Sam to share with so many children?
* Do you remember how many cookies Ma made?
* Do you remember how many children came at the end?
* If the story had another page at the end, who do you think rang the doorbell?  Ding Dong!!
Sharing Activity
You can play a sharing game by yourself, with your dolls, with your family or any group of something…
You will need:
Someone or something to share with (from 2 to any number your wish)
Many objects to share, such as blocks, beans, acorns/nuts, jellybeans, etc.
What to do:
Count the number of objects you have to start with.
Share equally 1 for each member you are with.  (One for you, one for you, etc.)
Count how many each person/doll got when you have finished sharing.
Here is a sample: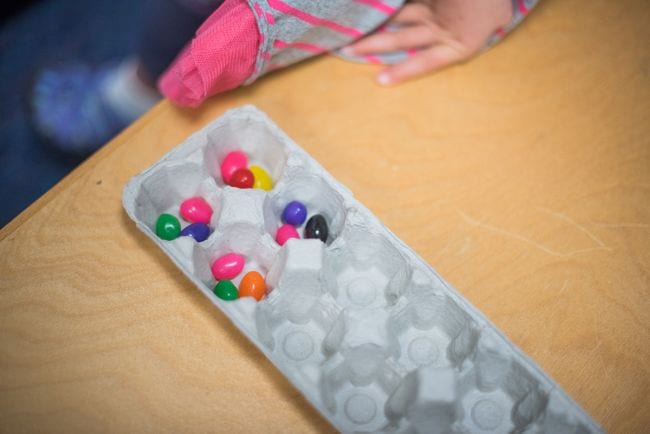 Sorting/Sharing jelly beans into egg cartons (shared between 4 sections.
If you want to try some baking……
3-Ingredient Sugar Cookies
Well, four, if you count sprinkles or chocolate chips.
1
stick plus 2 tbsp. salted butter
Sprinkles / Chocolate chips (optional)
Preheat oven to 325°. In a large bowl using a hand mixer, beat butter and sugar together until light and fluffy, then stir in flour.
Form the cookies into 1″ balls, placing them about 2 inches apart on a baking sheet. If using sprinkles, flatten cookies into a disc shape and top with sprinkles.
Bake for 15 to 17 minutes, or until the edges of the cookies are lightly golden.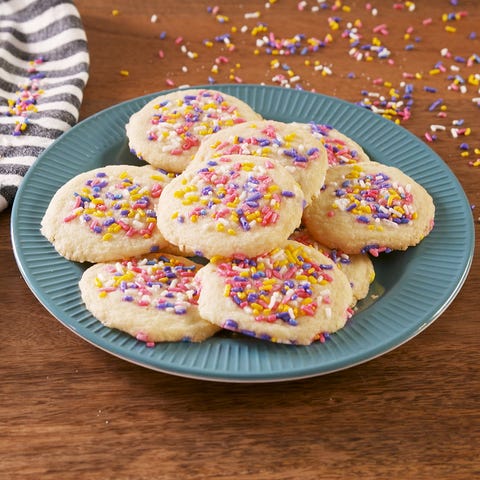 Until next time….bye bye!