On the eve of our Christmas concert for both the Montessori & Elementary students we thought it was a perfect time for our class to start "trimming the tree" in our classroom. A classroom tradition enjoyed every year. It was an opportunity to learn new vocabulary not always used throughout the year, but ones that are seasonal words.
These being: tinsel, baubles and ornaments. We also played a memory game with our decorations!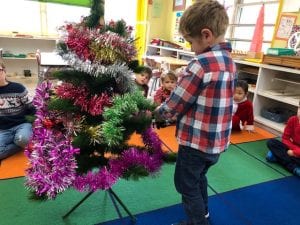 Everyone sat in a circle and waited their turn to choose if they would place tinsel, baubles or an ornament on our tree.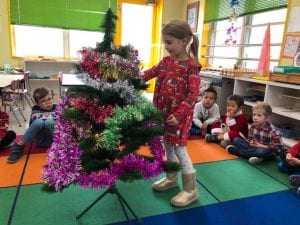 Trimming the tree definitely gets us in the mood for celebrating Christmas with family and friends. With it being just around the corner, this gave us the idea of making our very own tree that we could decorate and personalise for our own family to enjoy!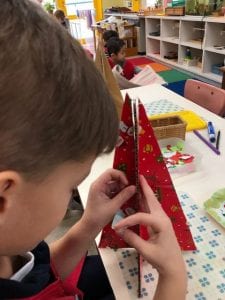 Our younger classmates admiring all our beautiful Christmas trees.
*******Christmas Pizza Party********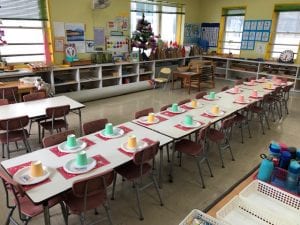 The children were so excited for our annual end of year "Christmas Pizza Party." Each child helped set his/her table setting with a napkin, plate and cup. We also talked about what good table manners are when we enjoy a meal together. A "Please" and/or "No thank you" when we are being served some food. We also enjoyed background Christmas songs as we ate cheese pizza, sliced apples (very popular!) and potato chips with some juice…..and cream puff for dessert later!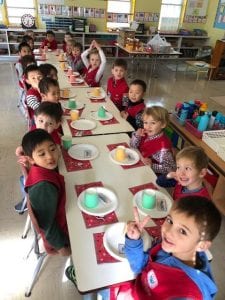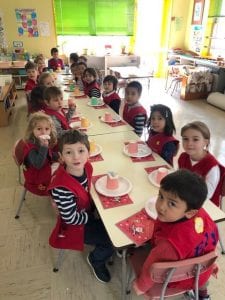 On our last day of school for this semester we were invited to the Chapel with Mr A for our Christmas celebration. We watched the story of the "First Christmas Night" and then we talked about Christmas being about love. This then lead into a group discussion about how our parents love us and all the things they do for us to show their love. Some ideas said by the children were that our parents," Cook for us, play with us, wash our clothes, make our lunch and care for us when we are sick." After this we sang some songs from our concert and wished Mr A a Merry & Peaceful Christmas.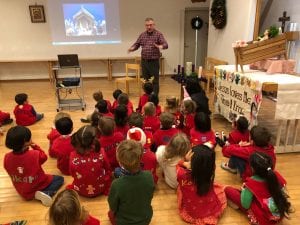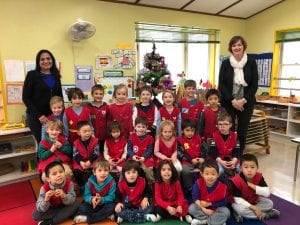 We have had a very productive first semester of learning with our classmates. Sadly, we have had to farewell classmates who we have really loved playing  and learning with in class and during recess and special activities together. To our friends and families who will be relocating, please know that you will always be part of our Saint Maur Family!
A peaceful Christmas season and A Happy New Year.