Japanese Culture Week is always a wonderful week of interesting activities and experiences that are carefully planned and presented by our parent community. This year we enjoyed an activity everyday and ended it off with a costume parade. Celebrating the many cultural activities from our host country of Japan is always such an exceptional time to stop and enjoy what this wonderful country has to offer and what new things we can learn from each other as a school community.
The week before the children enjoyed making crafts for 'Hinamatsuri– Girl's Day.' The girls made their very own placemat that involved colouring, cutting, pasting and placing their pictures. Once this was done glitter was added to give it that extra sparkle and then it was laminated.
The class agreed that the girls would make their own placemats to celebrate their special day on March 3rd and then (the boys who also made the same thing but not laminated) the boy's would make their very own placemats for "Boy's Day," on May 5th. Everyone agreed and understood, so we got to work!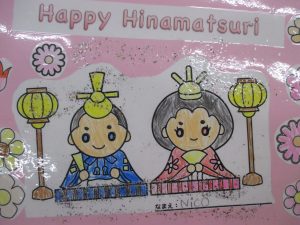 Sitting older children with younger children reinforces the Montessori theory of the older modelling to the younger and in the process learning from one another.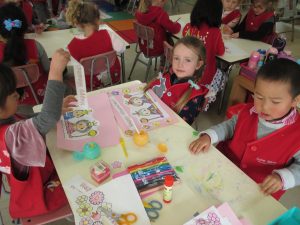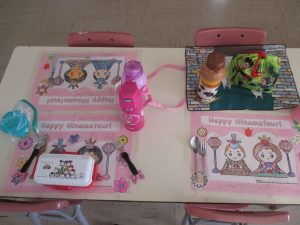 Our classmate Jenny had a great idea for the girl's to use their placemats at lunch time on "Girl's Day". The boy's were fine with this knowing that they would also do the same on "Boy's Day."
Then on the first day of "Japanese Cultural Week"  the fun activities began!
Wash Tape Activity
A Washi tape activity was presented to the class by Ryo's mum who showed the children how paper tape can be ripped into small pieces and then stuck onto pictures that she had prepared.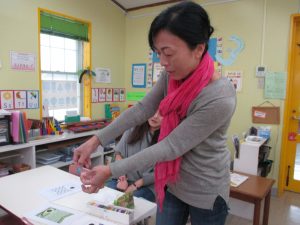 Here is the wonderful support team of mothers who gathered together to assist the children.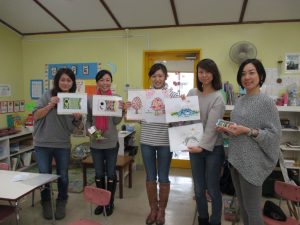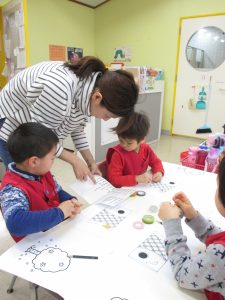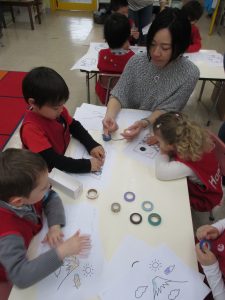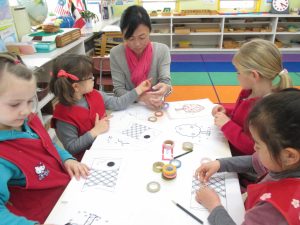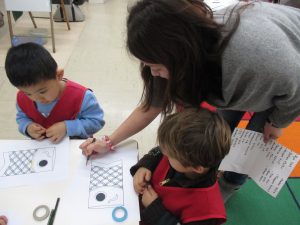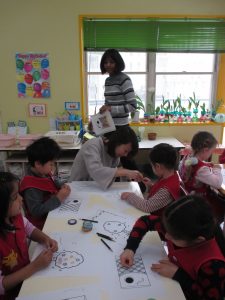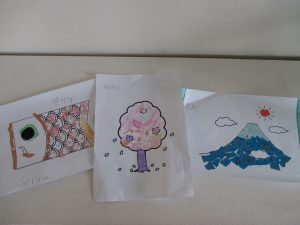 At the end every child had completed their very own koi carp, cherry blossom tree and Mt. Fuji. It was a great fine-motor activity, that developed creativity and concentration.
Radio Exercise (Rajio Taiso)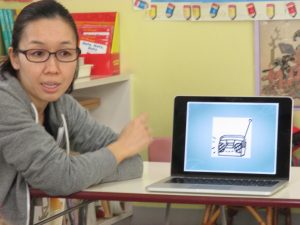 The children were  introduced to "Radio Exercises" that was initially started in Boston, USA. It then found it's way to the Japanese people as a way of keeping fit and healthy. It airs each day at 6am NHK channel 1.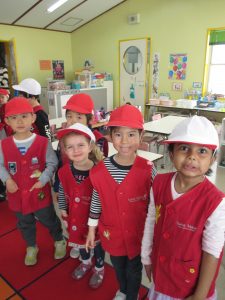 In Japanese schools they support the need for healthy bodies and minds so part of their curriculum is to provide this opportunity for the children to be active. We were told that they wear a red cap and line up with their arms bent beside them to walk orderly in a line. So we did the same to get in the spirit of doing our own exercises.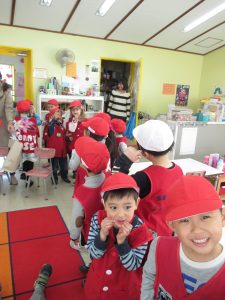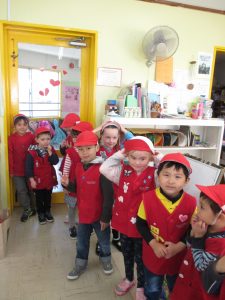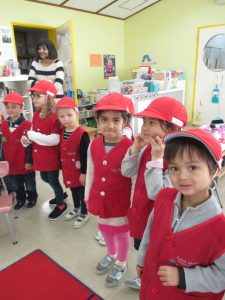 On a sunny Spring morning we used our roof playground and followed the exercises from Toshi's mum and her energetic assistants.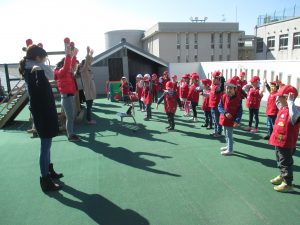 At the end of our session the children were given a beautifully folded origami medal for their efforts and a refreshing "Yakult" yoghurt drink. Yum!
Apples!
Our next presentation was about the delicious world of apples that are grown here in Japan. Both Serina and Mile's mum entered the classroom with the popular song, " I have an apple, I have a pen……." Perhaps you know it, if not ask your child, its quite popular in our classroom! What a fun way to make an entrance!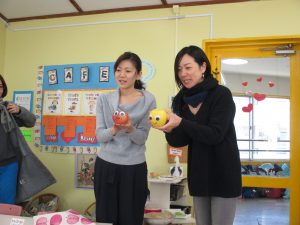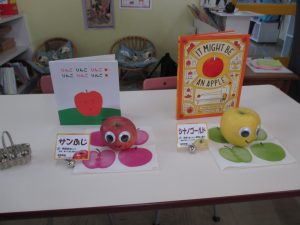 Mile's mum spoke about two types of apples grown in Japan known as, "Fuji" and "Golden Delicious", and they lived up to their names of being delicious when all the children had a crunchy, munchy taste test.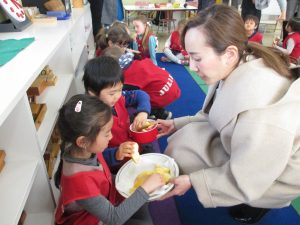 We were shown how to write the word apple (ringo) in Hiragana on our own papers.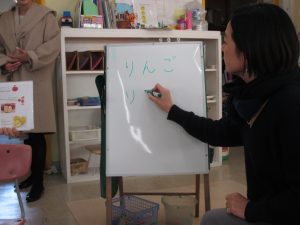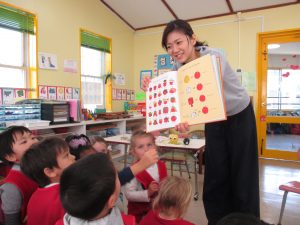 And we also enjoyed a very imaginative book about a little boy and an apple he found on the kitchen table. It's been a popular book for the children to sit and re-read again and again with a classmate.
Cherry Blossom Tree- Sakura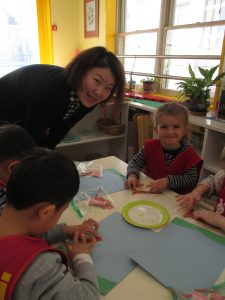 Spring time in Japan is such a beautiful time when the cherry blossoms show their display of flowers. Ryan's mum presented a very peaceful activity for the children that involved pasting and then creating their own cherry blossom tree. She provided pre-cut out tree trunks, branches and cherry blossoms to paste.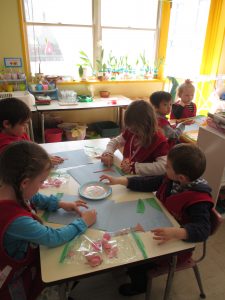 It was so very quiet as the children concentrated on their own masterpieces to take home.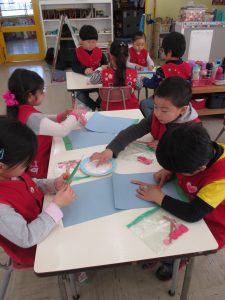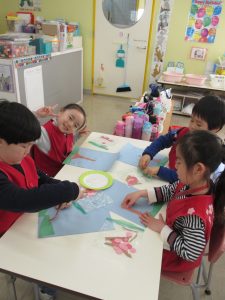 Japanese Postcard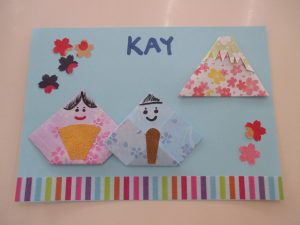 Our last presentation on Friday was kindly shared with us by Trin's mum who showed the children how to paste and make their own postcard of the Emperor, Empress and Mt. Fuji which were all made with origami. It was another peaceful and enjoyable activity to do together as a class.
Japanese Culture Day Parade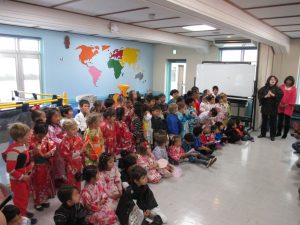 To end off such an amazing week of activities the children and teachers came dressed up in traditional Japanese costumes for a parade. We walked around for a photo session and then gathered all three Montessori classes for a group photograph so we could all remember this wonderful time together!
We then returned to the classroom and resumed our "work" in the classroom. Observing the children concentrating at their own activities while wearing their Japanese costumes takes you back in time to how Japanese children may have done their class work.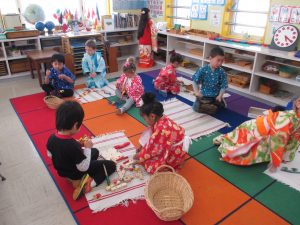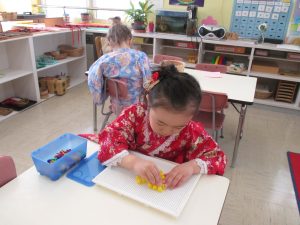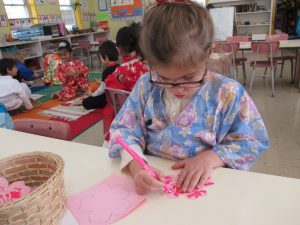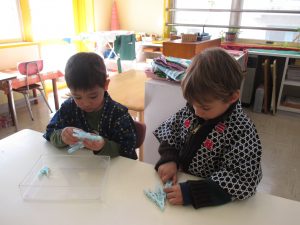 Many thanks to our classroom mothers for organising the activities for the entire week and to the mothers who prepared and presented such thoughtful activities for the children. It really was a fine example of team spirit and the chance to showcase this beautiful country, Japan.