Hello Parents & children,
How are you today!
I'm happy to be sharing a story with you all today
called, "Larabee" written and illustrated by Kevin Luthardt.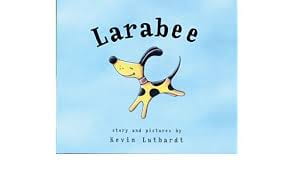 Click for the story HERE
*Please note: After clicking on the link, if you see a screen that says download you can, but if you wait a little bit as it processes the file, you will be able to go directly. 
Questions to ask after the story:
1.What kind of dog do you think Larabee is?
2.Is he a working dog or a stay at home dog?
3.Why was he feeling a bit sad after delivering the mail with
Mr  Bowman?
4.Who mailed him a letter?
5.How was he feeling after he received the letter?
6.Have you ever received a fun letter? How did you feel?
Activities to try:
*I love puppets and I know children do too, so I thought this would be a great activity to make at home with some paper & coloured pens! Click HERE