Hello Parents & children,
Today I'd like to read to you the story "I Went Walking" by Sue Williams & Illustrated by Julie Vivas.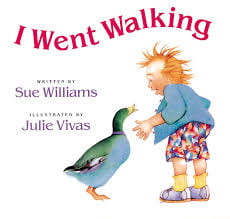 As I am reading, see if you can remember the animals that the child saw on his walk and then challenge yourself to remember them in sequence!
Let me know how you go in the comments below.
I went walking click HERE
Questions to think about and answer after the story.
1.Where do you think this child lives? Why do you think that?
2.Do you think the child told his mum or day that he was going on a walk?
3.Is it important to let an adult know if you are leaving the house?
Why or why not?
4.Why do you think the animals were following him?
5.Do you think the animals know him? Can you really climb all over animals like that? Why or why not?
Activities to try:
Print out the 2 pages here, colour and cut them out.
Now mix up the pictures and see if you can put them into the same sequence as the storybook. Then staple them together to make them into a book.
For extra writing practice try rewriting the sentences by yourself.
1.If you are in Language Arts 1 (LA1) you could practice writing the beginning letter sound of each animal. An example being: c for cat & h for horse on a separate piece of paper. 
2. LA 2 children might like to practice writing out the sentences by themselves on a separate paper. Can you also think about other animals the child might have seen on her walk? Add these to your story by writing your own sentences and drawing a picture to go with them. 
Indoor Scavenger hunts
Now, another fun activity to try while we are indoors is when you can go on a scavengers hunt looking for items.
 
I have included some below. 
 *One you will need to look for as many objects that are the same colour. Write in the number or tick how many you can find.
Click here
*The second is with clues. Ask mum, dad or an older sibling to read these to you and see if you can find them all. 
Click here
*Mum & Dad please hide away page 2 which is the answer sheet!
Good luck! Tell me how you go in the comments below!
Best wishes,
Ms.Catherine X