It has been a long slog, but my research study is finished! I took a deep dive into the state of online teaching and learning in the performing arts during the COVID-19 Pandemic. It was my hope to find a new approach to an old problem. 
Did you know schools around the world still struggle to provide arts programs to their students even though the value of the arts is well documented? Core subjects with unified standards and assessments are given priority in resource allocation, resulting in diminishing resources available for arts education. Many schools eliminate their arts program altogether to maximize time, money, and personnel available for other subjects. An arts-rich educational environment actually boosts outcomes in core subjects like math, reading, and science. Performing arts, in particular, has much to offer students in social and emotional learning, physical development, and of course critical and creative thinking. Some underserved schools and communities cannot provide these benefits for their students. But what if there was another option?
In 2020, performing arts teachers around the world discovered they could teach music, dance, drama, and more online! This may have been forced on us by a pandemic, but teachers stepped up, learned new skills, pulled together as a community, and took risks to provide performing arts to their students. Through my research, I was hoping to find teachers newly willing to teach arts online for students who have no arts program in their schools.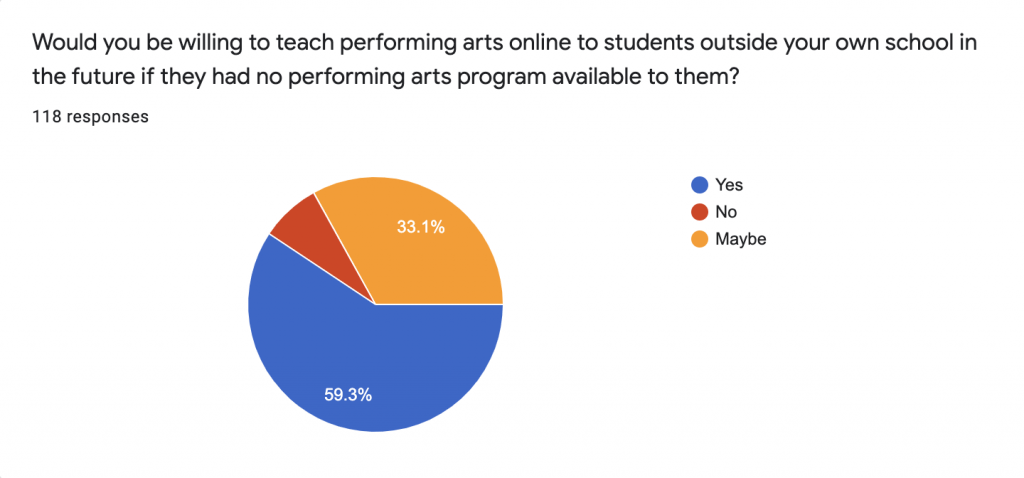 Guess what? A lot more performing arts teachers feel ready and willing to do this now. We can provide high-quality performing arts programs to these underserved schools through online teaching and learning! I wrote about all this and more in my final capstone project report.