What a month!
Online learning for Setsubun, Artic animals theme, Australia Day, Republic Day-India and then back to school for our pizza lunch, Chinese New Year & Valentine's Day. One thing is for sure is that the learning doesn't stop wherever we are together!
Please take a read of what all this learning looks like both online and in class.
Setsubun (節分, "seasonal division") is a festival held on February 2, 3 or 4, one day before the start of spring according to the Japanese lunar calendar. This year it was celebrated on the 2nd, the first time since 1897!! On this day of online learning we learnt about and enjoyed making our own "oni" masks to drive away bad spirits and welcome in good luck for the coming year. Children chat, "Oni wa soto, fukuwa uchi" while throwing soybeans at the oni in their house to chase him away!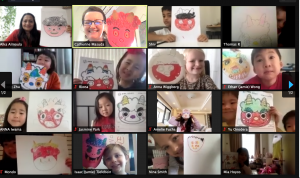 Artic Animals
Learning about the characteristics of the animals of the Artic and how they live and  survive was an interesting theme this month. We covered different types of penguins, the Artic fox & hare, lemming, polar bear, seal, walrus, reindeer & snowy owl. This again was done online with interactive activities and then revisited again once we returned to school. Learning about an animals "Life Cycle" is also another interesting way for children to visually understand how each living thing begins and ends as part of our culture curriculum.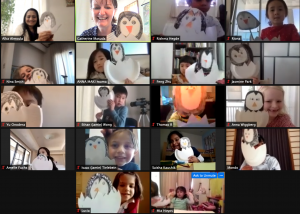 Australia Day & Republic Day of India
Did you know that both Australia Day and India's Republic Day both fall on January 26th?
Working online we coloured in and learnt about each countries flags and their meaning, the symbols of India and Australia, which helps the children have a visual of some of the experiences they may encounter if they to travel to these countries.  Like seeing a beautiful peacock or the famous Taj Mahal in India to the unique animals of Australia like the koala and the famous Opera House in Sydney.
We hope the children enjoyed listening to and learning about both some of their classmates & teachers  country.
Pizza lunch
Our pizza lunch was finally enjoyed after many delays, but by the looks of the children's faces they  all enjoyed their pizza together, which is what it is all about!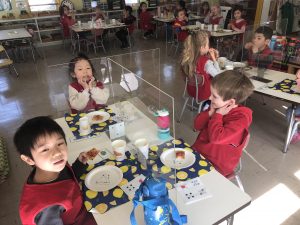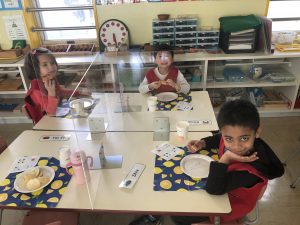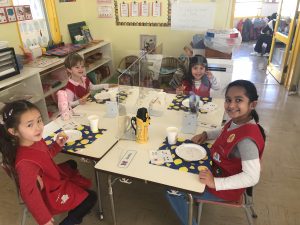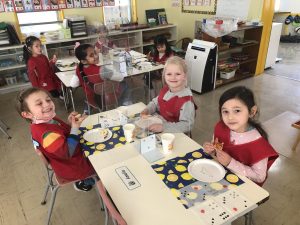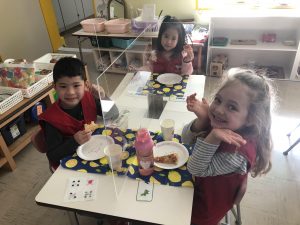 Chinese New Year- The Year of the Ox
This year we celebrate the "Year of the Ox". The children listened to the story of how the Emperor of China gathered the twelve (12) animals for his Zodiac many centuries ago, and how the cat was cheated of a place because of the sneaky mouse! One classmate wore his traditional Chinese coat and so did Ms Catherine.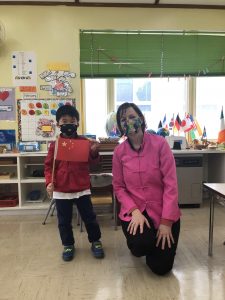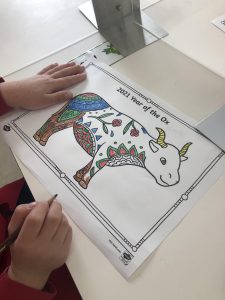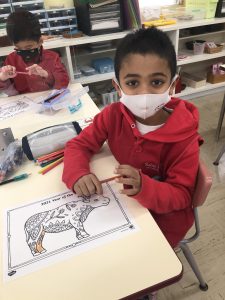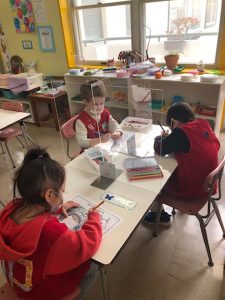 We were treated with some Chinese mochi from Mrs Wong, Ethan's mum. This sweet treat is traditionally eaten during the Chinese New Year celebrations by Chinese families in China and around the world.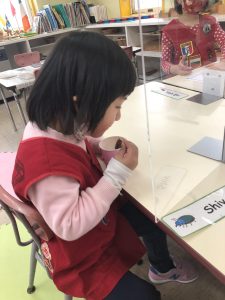 For many children it was a first time experience. In our class we are always encouraged to try! And often we find that we like it and can enjoy more!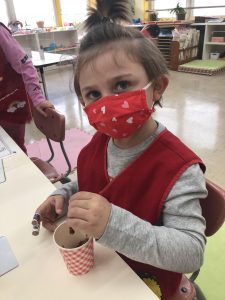 Valentine's Day
This Valentine's Day we painted the word LOVE with cotton buds in paint colours of red, pink and purple. This experience needed concentration and focus to hold the cotton buds while dabbing the paint around the letters. In the process the children were strengthening much needed fine motor muscles, which also helps with the child's pincer grip (thumb, pointer & fore finger) and control. And basically it was FUN!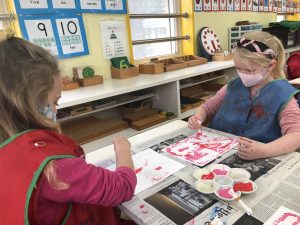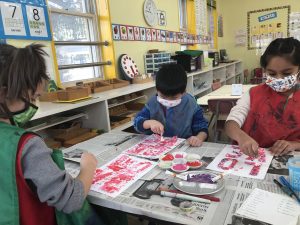 What activities and experiences will will learn about and enjoy next month?