Hi everyone,
I hope you are all enjoying the warm weather.
Today I chose a book but it's not a story, it"s called a non-fiction book.  It's a book that will teach us about opposite words.        It's called Animal Opposites by Stella Stilwell.
Click on title below
Animal Opposites – https://drive.google.com/file/d/1y71PNmp6Spas-JsuMXavAmxjoqcgzQMN/view?usp=sharing:// 
Let's learn more opposites
Can you say the opposite word?
happy
up
good
open
hungry
fun
high
start
first
left
quiet
awake
first
give
off
stop
day
girl
new
clean
easy
tall
cold
winter
far
inside
push
lost
laugh
front
Weaving – this craft you need go IN and OUT – cut a few lines on a paper and cut up some strips and
start weaving.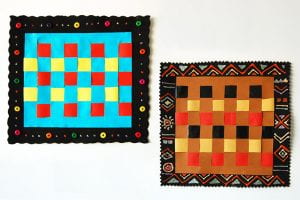 Bye – See you next time.