Hello everyone, are you enjoying the spring weather?  Did  you  see the cherry blossoms?
I just hope that next time we could all enjoy the cherry blossoms together.

The story I chose today is Good Night, Sammy by Cyndy Szekeres.
Click on the title below.
Sometimes it's hard to fall asleep, isn't it?  What time do you go to bed?
What is your bedtime routine?
What is your order?
Take a bath
Brush your teeth
Wear your pajamas
Get in bed
Turn off lights
Bedtime story
Do you want to make this moon/star craft?
You will need a paper plate and draw a moon face on one side and then draw a star the other side
and  cut the star out and hang it.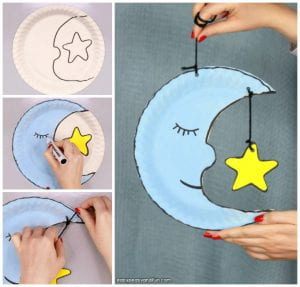 Did you ever wonder where the sun goes at night?
Let's find out:
Now, a bedtime song you can listen to or sing along.
Star light, star bright
The first star I see tonight
I wish I may
I wish I might
Have the wish I wish tonight
Good night – sweet dreams…