A part of school life is building community and a feeling that we all care about one another and feel safe in our learning environment. A few weeks into our school year the whole school takes part in safety drills for earthquake, fire & lockdown.
Prior to these practice drills occurring we all talk about how we can be safe by being prepared. One way is to protect ourselves by learning how to move as a group away from harm, such as when an earthquake occurs. The children learn to tuck their legs up to their stomach and to place their hands at the base of their head to protect their brain. We do this quickly and quietly, while waiting for further directions to move to the next safe area. As we partake in these drills the children are reminded that staying close together is important in staying safe.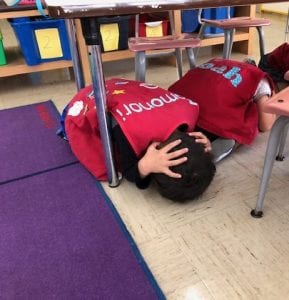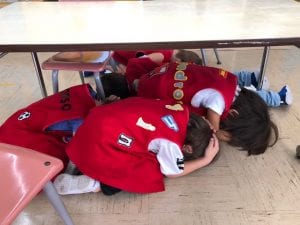 Also during the month of September our classroom received a gift from the Elementary School Student Council (ESSC) who were given funds from the Parent Support Group (PSG) to spend on school resources. We kindly excepted and love playing with new larger legos in class everyday! Thank you so much ESSC & PSG. This is another way that our youngest school students feel that sense of community, when teaching resources are shared amongst us all. We wanted to acknowledge this thoughtful gesture so we decided to make a poster. Those children who were interested in drawing and writing joined in.