In the Montessori school we are fortunate to have the whole week dedicated to classroom presentations of Japanese activities and experiences offered by our classroom parents. However, for the rest of the school they have an entire day for Japanese Culture, that we are also involved in with them. We began the day by singing the opening song of, Te o Tataki Masho for everyone in the auditorium and then showed off our cultural costumes with a photo taking time for our parents.
All lined up and ready to head to the auditorium.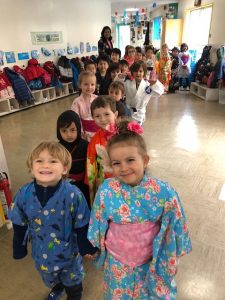 A sneak peek behind stage!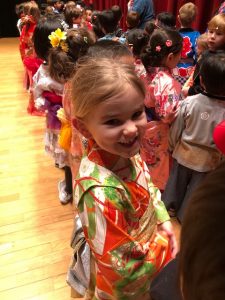 The curtain is about to go up!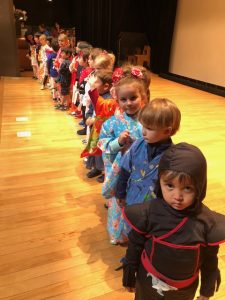 Smile and pose for the camera!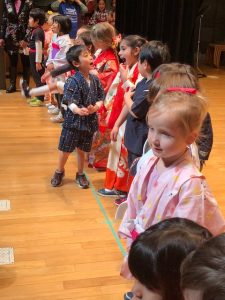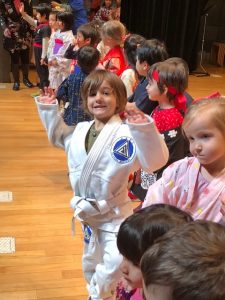 Afterwards we were invited to stay and watch Kyogen, a form of traditional old Japanese comedy. It is an art form that is over 600 years old!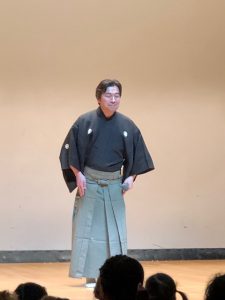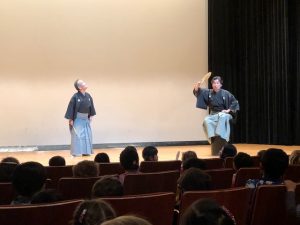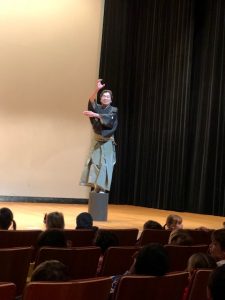 What a treat to watch such artists at work. After the short performance the children were invited to practice some of the ways a Kyogen performer would express themselves both verbally with their voices and physically move with their bodies. Not an easy task, but good to have a try!